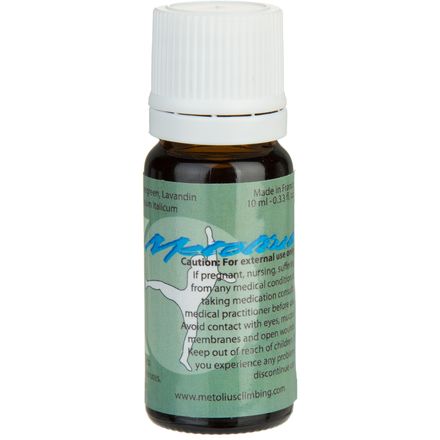 Colors
If you give them love, they'll return the favor.
Give your climbing-punished hands a little love with the Metolius Crimp Oil. Its blend of natural oils reduce pain and swelling in your tendons, joints, and muscles. This little vial might just give you an extra day of climbing on your trips.
Healing balm
Reduces pain and swelling
For fingers, hands, and wrists
That smelly smell that smells kinda....
Familiarity:

I've put it through the wringer
You know that vegan climbing friend you have who braids his armpit hair and sleeps on empty granola boxes he scavenged from behind a Big Lots?

This smells way better than that. It's good at keeping your hands from aching while you're off the wall and doesn't seem to affect the calluses. My only complaint is that it is a little "greasy" but in the way that it just takes some time to soak into your hands so you'll inevitably cover something in a thin coat of it whether that's a remote or a water bottle or something.

Get a small bottle and give it a try!
Forrest Russell
keep the fingers happy!
Familiarity:

I've used it several times
I think that Metolius' crimp oil is fantastic.
Massaging sore tendons is probably good habit to get into (with or without the oil) but, I am pretty sure that this stuff helps reduce inflammation, and seems to restores mobility to stiff finger joints.
That said, Metolius' elixir is a far cry from pharmaceutical relief, and if you're expecting it to work like rub on Advil, just take a rest day.
Conor Hampson
I picked this up to rub on my hands during river trips when your hands get thrashed after rowing and paddling all day. Crimp oil smells good, feels good, and seems to provide a decent amount of comfort and relief when you're roughed up and in pain.

Matthew Pizza
Customer Account Manager
801.736.5363
mpizza@backcountry.com
Matthew Pizza
Smells Great
Familiarity:

I've used it several times
I got this stuff just as an add-on item, and because my hands were getting rocked..
I wouldn't say this is anything magical or will solve all your aching hand needs, but it is worth the money.
I would buy this again. I think it does help a little bit. It's nice to massage it into your hand and relax your hands after a rough day on the rock.
Benjamin Knight
Why does the product photo look like it's been used??
Chris Mendez
Hey Chris - Not sure why the photo looks like a used product, definitely not the best picture! This Metolius Crimp Oil will be new, unused upon delivery. Feel free to contact me directly with any additional questions.

Kyle L. - Expert Gearhead
Kyle Livingston
I bought this during my desperate attempts to keep climbing through injury and it has certainly helped. Maybe it's a placebo affect but even if it is I don't care because when I regularly massage this stuff into my fingers, hands, and elbows I have far less joint and tendinitis pain. Some of my friends gave me crap about it but then they tried it and changed their tune. Buy the big bottle because you'll use it
Adam
Smells of wintergreen and. . flowers?
Familiarity:

I've used it several times
I thought I'd tack this on to another order I placed as I didn't currently have any good lotions or balms left for my beaten hands. . That being said, this stuff actually does reduce swelling and pain in the hands/fingers and is made of various natural oils. I like it, and worth the dough. Thoroughly tested after a 3+ hour session on several burly, crimpy, and rather finger unfriendly 5.12 accents at the local plastic crag. My fingers were quite achy, until after some of the crimp oil. .

One other note, "crimp oil" is also made by an independent company and I have yet to determine if Metolius licensed this from Crimp Oil or made their own. .

http://www.crimpoil.com/en/
Brent Allen