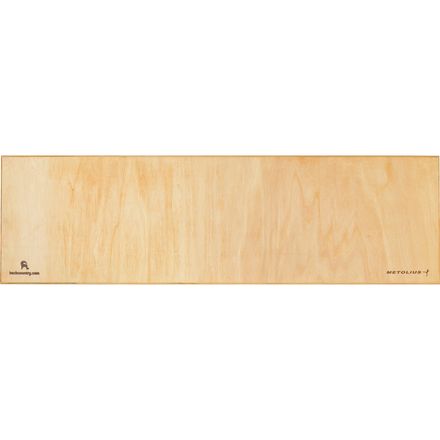 Spotter and crash pad highly recommended.
You may end up in a world of pain if you drill your hangboard directly into the drywall above your doorframe. The Metolius Backcountry Backboard, on the other hand, has larger diameters than most hangboards so you can drill the backboard into the doorframe's supports on each side, and then drill the hangboard into the backboard. That way, when you fall, you won't take the hangboard with you in a dusty cloud of destroyed drywall.
Plywood mounting board with Backcountry.com's goat logo
Fits all Metolius hangboards and many others (except Contact)
Includes instructions and mounting hardware
Great Backboard
Familiarity:

I've used it several times
Couldn't ask for more when ordering a precut piece of plyboard. The beveled edges are to die for. The burned Backcountry and Metolius logos send chills down my spine.

So much more convenient than a trip to the hardware store. I did sand it down and threw some stain on it to match my wood.

I'd buy it again, but I have a feeling this one is going to last a lifetime.
Sean Krajacic