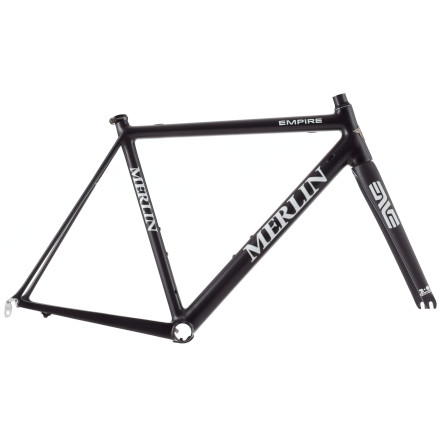 Colors

Detail Images
Enter the Empire.
Standing as Merlin's maiden voyage into the carbon realm, it comes fully armed with the bird-of-prey engineering prowess revered by so many, along with a platform that's been built from the ground up by a team of cyclists and composite experts hell-bent on delivering the best carbon road machine in the world.
The new design pays homage to Empire Pass, one of the most difficult climbs in North America, which served as prime testing grounds for the new this UCI-approved, EN-certified frameset. Coming from the world of titanium, Merlin knew that the root of any sound frame design begins not only with material selection, but also tube shape. So, for its inaugural carbon fiber endeavor, Merlin's US design team partnered with a group of Italy's top carbon engineers for the handmade construction of the Empire.
First glance reveals that, while not titanium, the Empire's sleek tubes flow in a manner reminiscent of metal. Absent are the aggressive swoops and curves commonplace on so many of today's road bikes, which, to Merlin, are seen as unnecessary to the overall function of the machine. Starting with the most obvious in appearance, the Empire's pencil-thin seatstays draw inspiration from those of the Extralight, but carry a modern ovalized curvature. These have been paired with chainstays that flow from the dropouts into stout, box-section tubes as they move into the bottom bracket junction, resulting in a rear triangle that provides the tuned-compliance necessary for hours in the saddle, along with incredible torsional rigidity.
The bottom bracket itself wears an oversized BB86 profile, contributing to an ultra-stiff platform that directs pedaling forces directly to the rear wheel. From this junction, the Empire's large down tube moves up to the tapered, 1 1/2 to 1 1/8in head tube, which is responsible for its rock-solid tracking and stability at speed. Supplementing this razor-sharp handling is ENVE's Road 2.0 fork, which has been given a custom graphic treatment to perfectly match the Empire's stealthy matte-carbon finish.
Continuing with the Merlin tradition is the iconic metal head badge, but the Empire gets the royal treatment in that every one is handmade in Pennsylvania. The details continue, complete with a Thomson seatpost collar, replaceable hanger with ultra-rigid sandwiched construction, internal cable routing, and clean graphics throughout.
Please note that if you plan on running electronic groupsets, the frame only accepts seatpost-mounted battery packs.
Will a 25mm tire fit in the frame and fork?
Is the frame a Sarto Davanti or custom Merlin?
Thanks,
Dan
Daniel M.
I am running a Bora Ultra clincher with Vittoria Open Pave 25c's. No problem at all.
Cuaresmatic
One of the best all around bikes we carry. The kit calculator may not show all available options for a custom build and can be a bit tricky in configuring but if we have it on the site we can build it. Often times we have items not listed on the site as well. If you need help in configuring this bike feel free to contact me direct. I'm always happy to oblige!

Wes- Account manager-Bike
wbranham@competitivecyclist.com
801-736-6396 x 4074
WesB
The BEST bike I've ever ridden
Familiarity:

I've used it several times
I've been waiting patiently for the Merlin Empire to go live on the website so I could have the chance to rave about the bike. Quite simply, its the best best riding and handling bike I have ever been on. So many companies claim "laterally stiff, vertically compliant" but few actually back that up in a way that you can feel on the road. This bike does it.



I'm a heavier guy and prefer bikes that are stiff and can handle my weight and power. The Empire is stiff and very responsive. I've never been on bike that responded so quickly to rider input. With every pedal stroke I could feel the bike accelerate. When climbing out of the saddle, the Empire felt planted. In a sprint it felt like a rocket ship. The bike turned when and where I wanted it to without hesitation



While this is no comfort bike, the ride is smooth. The Enve wheels are stiff and aero and match the bike perfectly. The same is true for the Enve cockpit. I've never been on a carbon bar/stem combo that felt as stiff but comfortable as the Enve set up.



The Empire is the real deal. Aero tubing, fancy nomenclatures and other industry buzzwords don't apply here, just an incredible bike that you can truly feel a difference riding.
Ben Towery
One of the Best Bikes You can Ride
Familiarity:

I've put it through the wringer
With most bikes, you're sure to make some compromises - descending for climbing, climbing for instability, stiffness for comfort, etc.. This is not the case with the Merlin Empire, however. It climbs better than the BH Ultralight and descends with confidence, not far off of the TMR01. In other words, it's sprightly up the mountain and fast as hell coming down.



The construction is flawless, and the possibilities of making this into a weight weenie bike is super high, considering that the current build that I'm on is 14.11 pounds without pedals or cages. Seriously, do yourself a favor and check this one out ? it's carbon with soul.
Jeff Stewart
Climb, Baby Climb!
Familiarity:

I've used it several times
This frame is a climber's dream. Absolutely as smooth as can be, propelling with grace and ease up the steepest of grades and wasting no energy in doing so. Most impressive was how quickly this bike responded to the slightest increase in cadence, position or power. Honestly had the most fun I've ever had on our local climbs when I had a chance to demo this frame for a week.



Though responsive to your every move, I certainly would not consider it "touchy". Descending was almost as fun as the climb; stable, smooth and very fast. This bike was no doubt fast, but still one the most comfortable bikes I've ever been on.



The Empire is very appropriately named; after the famed Empire Pass climb beginning in Midway, Utah. It's a climb I know well, as the foot of the climb is literally at my family's front door in Midway. Can't think of a better bike to conquer 20% switchbacks along such a grueling climb.



The partnership with a group of Italy's top carbon engineers at Sarto has resulted in a truly beautiful frame complimented with the perfect name.



If you have any questions on the new Merlin Empire, please feel free to get in touch with me directly at tjackson@backcountry.com.
Trevor J
Actually, this isn't Merlin's first foray...
Actually, this isn't Merlin's first foray into carbon. Merlin has dipped it's toes (or rather its top and downtubes) into carbon with the Merlin Cielo, then went all in with the C110.



I think more needs to be said about the design and tech that went into this bike. Copywritten text alone is not going to sell this bike: it's currently caught in the no-man's land between the big brand superbikes (Specialized, Trek, Cervelo) and the boutique bikes (Parlee, Alchemy, Calfee, Crumpton) without the high-tech mass production of the former nor the cachet of the latter.



Edit: ah... the review was totally what the bike needed. The collaboration with Sarto is certainly worth highlighting - admittedly I totally missed that in my initial read of the product blurb.



I'm a big fan of Merlin and Ti, having had both a Magia and a Works CR pass through my hands (and I'm currently riding a Spectrum). It's in interesting direction that Merlin is taking right now, collaborating with established artisan builders (Form for Ti, Sarto for Carbon) to create stock frames. What's next... a stainless steel racer?
Chewie
Best Answer
Hey Chewie, you bring up some really good points.



Over in our "Learn" section, Jeff Stewart's has written a very thorough review that addresses these points, and also looks more at the actual tech and design of the frame.



You can take a look at this review here: http://www.competitivecyclist.com/learn/reviewed-the-merlin-empire?cmp_id=sm_fbcc01



The Merlin designers have partnered with Italian frame build Sarto. You can find more on their process here: https://www.youtube.com/watch?v=_zF3zd12KlY and on sartocycles.com


Trevor J
Designed in the USA and Italy, with a...
Designed in the USA and Italy, with a headbadge from Pennsylvania, but where's it actually made?
SCOTT R.
Best Answer
The headbadge is made in Pennsylvania and the frame is hand built by artisans in Italy. This is one of the most efficient bikes I have ridden. This bike responds quickly and accurately to rider input; better than most bikes I've ridden. If you have any questions, please contact me at mdivall@backcountry.com. I'd love to help you with anything.
Marc DiVall