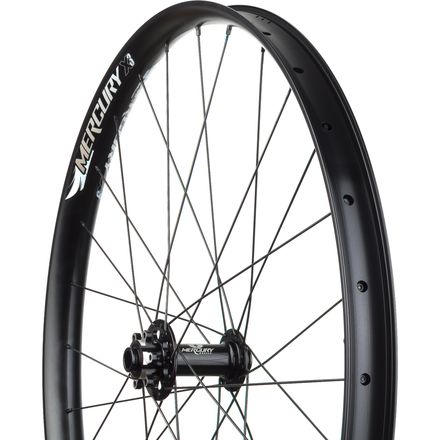 Colors

Detail Images
When "wide" is an understatement.
There are some virtues to the five-inch tires on fat bikes, including traction, plushness, the joy of riding not only off-road but off-trail. Unfortunately, those virtues come with the vice of a ride that feels plodding compared to a jittery, low-travel XC bike. Mercury Wheels' X3 27.5 Plus Boost Wheelset goes some way toward bridging the gap between those two extremes, combining an extra-wide footprint with Boost axles to complement today's breed of high-clearance, all-mountain framesets. These bikes tend to have aggressively proportioned rear triangles with slacked-out front ends, and the X3 27.5 Plus Boost wheels max out that dynamism with equal parts torsional stiffness and plus-sized traction. The only limit is a given frame's tire clearance.
The rims consist of all-mountain-inspired, lightweight, stiff aluminum that lives up to the trail-furniture-be-damned attitude that their efficient ride quality inspires. While alloy wheels aren't as stiff as carbon, a 40mm external width and the improved spoke bracing angle of Boost axles conspire to reduce flex while climbing and barreling through lines. This is a full 5mm wider than the standard X3 rim, and the internal width of 35mm means the Plus rims can just about swallow their skinnier counterparts. That width also lets plus-sized tires plump out to their preferred girth, allowing for a larger contact patch and lower PSI.
An all-mountain wheelset that maximizes traction
Rim width tailored for plush, plus-sized tires
Stiff Boost thru-axles reduce torsional flex
Mercury Wheels is the self-sponsored racer's best friend
Bomber wheels!!!
Familiarity:

I've put it through the wringer
These wheels have been great. Smooth rolling, light and tough as nails. I highly recommend!
William G.
Very well made at great price.
Familiarity:

I've put it through the wringer
These wheels are very durable and hold up to serious abuse. The laser weld truly is seamless and the wheels were as true as it gets. Very happy with my purchase.
Tyler S.
Strong and Fast
Familiarity:

I've put it through the wringer
These wheels were a great replacement for some heavier WTBs. The width fits a 2.8 tire perfectly, curious to see how a 3.0 fits, has anyone mounted some?
They've been plenty quick and durable so far. Hubs roll great. Good investment.
Matt
Killer Deal
Familiarity:

I've put it through the wringer
The weight of these wheels is rather impressive and they've held up great to the dangerously low PSI that I like to run, what more could you ask for. I would highly recommend them.
Greg
Unanswered Question
What is the Mercury model number for the rear hub on this product?
jeffrey_fu100061111
Unanswered Question
Are these too wide for a 2.4 or 2.6 inch tire?
Daniel G.
Very Nice Engagement
Familiarity:

I've put it through the wringer
Just got a set for my Scott Genius + and found them quite a bit lighter than the Syncro's wheels that came on the bike. The engagement is surprisingly quick, so I opened up the rear hub and found 6 pawls and a bunch of teeth on the ratchet ring. My eyes aren't so good, so I couldn't count them all.
I might buy a second pair of these to put a different set to put wider tires for snowy conditions (this is my version of a fat bike and works perfectly).
Woody
Fool Me Twice, Shame on Me.
Familiarity:

I've put it through the wringer
I really wanted to like this wheelset, so much so that I bought a second pair after the rear hub failed after 10 months. I figured with the great reviews, perhaps I was just unlucky. The wheels themselves are nice, light and sturdy, and you can't beat the price. But now, after just 4 months on the second set, the rear hub has failed again. LBS called Mercury and they wanted $170 to replace the hub, and apparently you can't buy just the rear wheel. Although the price is attractive, in the long run I would have been better off with a more expensive, more durable wheelset. On the plus side, I now have a surplus of front wheels :)
Brett Day
Delightfully Surprised
Familiarity:

I've put it through the wringer
I bought this wheelset to complete a build while on a budget. At the price, my expectations were not set very high. The build was true and solid while being delivered in no time. You have to love Backcountry's service! I have to say I am blown away by these wheels! They are stiff yet still compliant and the hub is smooth. They are not quite as crisp as a DT Swiss hub but are excellent for this price point. I now have almost 700 miles on these in varying terrain. The weight is relatively low for climbing and they have taken a beating without wavering a bit. They are as smooth and true as the day they showed up. I have been running 2.6 Nobby Nic's at 13 psi on my Mach 429 Trail. My build is a husky 190 lbs. and I am one that points and shoots more than finessing my way through rough sections. The durability has impressed me very much. If you are on a budget, I highly recommend this wheelset. They are a great bang for you buck!
ChrisRusso R.
What a great wheelset!
Familiarity:

I've put it through the wringer
I pulled the trigger on this wheelset a couple months ago and couldn't be more happier. Very stiff, and light enough. Lots of traction on the trails. They stay very true after a rocky ride with no burping. Love them!
Ron B.
Performance, Quality at Great Price
Familiarity:

I've put it through the wringer
Very stable ride and hand built quality. Lots of grip and traction on the trails. Very happy with my purchase.
Tom R
Nice and Light!
Familiarity:

I've put it through the wringer
This is a really nice 27.5+ wheelset. I've been running them almost exclusively on my Pivot Mach 429 SL. They are just as light as the 29er regular wheelset the bike came with but so much more fun. My only complaint is the rear hub is very poorly made. The first rear hub failed after just about 200 miles of riding. Mercury took the wheel back and installed a brand new one under their warranty. Nice! But! the new one failed after about the same amount of mileage. So, I installed a rear Hope Pro 4 hub and I couldn't be happier now. Perfect combo.
David
Plus goodness
Familiarity:

I've put it through the wringer
I put these on a Kona Honzo ST (steel hardtail). I bought them at a steep discount here thinking they'd get me through a season or two, but they've exceeded my expectations by far. Stiff, light enough, and holding up great! No issue running 10-12psi with Schwalbe Nobby Nic 2.8 tires. No squirm, no burping, just gobs of traction.
roseyscot
What do recommend for setting these wheels up tubeless?
m3mp1139865
I used black gorilla tape (like duct tape) trimmed to the right width. It's worked perfectly, and was easy to seal up with a compressor.
roseyscot
Great wheels at a great price!
Familiarity:

I've put it through the wringer
Couldn't be happier with these Plus wheels. I ride hard and aggressive and these wheels hold up. They're stiff and they stay perfectly true. I highly recommend!
Kelvin Smith
Holding up great
Familiarity:

I've put it through the wringer
About 200 miles on this wheelset, and in the past couple weeks I have nailed a big rock, slammed a big root, and landed a major endo totally expecting a wobble or a dent in the front rim. But, not a thing wrong! Perfectly straight, perfectly true. Also holding my Maxxis Ikon/Rekon 2.8's with 17r/15f psi without any squirm or burping. Really impressed by this wheelset. (other sets owned and ridden on other bikes for comparison include Reynolds carbon AM's, I9 Trails, Easton Haven carbons, Mavic Crossmax SLR)
Vic M.
Love these wheels!
Familiarity:

I've put it through the wringer
I bought these wheels because my stock wheels were only 29mm wide (inner) for my Plus bike. I stumbled upon this wheel set, mostly for the price point. I read some negative issues when I was researching them prior to the purchase - mostly that they are a bear to mount tubeless, and they burp easy. I found neither of these concerns to be true. I mounted RR's and WTB's 2.8's and 3.0's with NO ISSUE. Also, regarding burping - they havent burped yet, and they've been on the rockiest of rocky trails (rock paths). I called Mercury and spoke to Chris - what a great guy and awesome to be part of a company like Mercury. Also, call Clayton Otto for any orders... he ROCKS! cotto@backcountry.com
ROB D.
What is the difference between the HG and XD variant on these wheel sets?
jty5729715-0
Vu T.
Sram cassette(XD), Shimano style(HG)
Dominic L.
What is the difference between the XD and the HG?

Thomas M.
Vu T.
Not just for Plus tires
Familiarity:

I've used it once or twice and have initial impressions
Just got these delivered and put them on my Whyte T-130 last night. I was running WT Minions on 25mm internal I9's and the ride just felt too squirmy and wobbly at low speeds with the rounded profile but I love the traction and larger volume of the tires. Despite everyone telling me these were too wide I decided to give them a try due to their great price, and holy s*** what a transformation. Thing handled like it was on rails, never experienced this much traction on a trail bike. Wheels and hubs seem to be great quality, with a quiet hub buzz compared to my I9's. All in all great product, even better price. They were a breeze to set up ghetto tubeless with gorilla tape. If your frame is boosted, don't let anyone tell you they are too wide. I could probably go up to 2.8 in the rear still before getting close to rubbing.
Brent K.