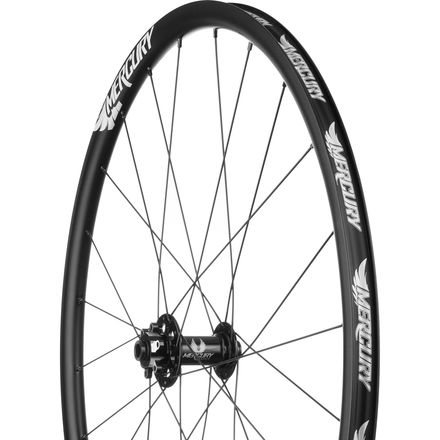 Colors

Detail Images
Solid training.
As much as you love your 'cross wheels, knobby tires just aren't as fun on pavement when you're trying to throw down for county sign sprints in a pack of skinny tires. What your 'cross bike needs is a solid set of affordable aluminum hoops like the Mercury Wheels M1 Disc Brake Clincher Wheelset for a dose of roadie speed to knock out summer base miles and pastry-fueled group rides. Made from lightweight yet durable alloy, these wheels are the ideal training companion to give your 'cross bike new life on the road and let your race wheels take a break from the elements.
The M1's 18mm internal rim width belies a road-focused intention to provide a solid platform for today's trend of 25mm tires, and tubeless compatibility empowers those of us looking to ditch the tubes and reap the benefits of lower tire pressure and a smoother ride. While we wouldn't necessarily recommend mounting 33mm 'cross tires on rims this narrow, the tubeless compatibility and a quick consultation of the ETRTO charts indicate that they'll also serve as pit wheels in a pinch when your usual spares are at the shop for maintenance.
A sturdy aluminum disc brake road wheel
Aluminum rim construction balances strength, weight, and cost
Shallow rim depth remains stable in the wind
Ideal internal rim width for today's wider road tire trends
Laser etched logos won't peel away
Compatible with 6-bolt disc rotors
Includes end caps for 12mm and 15mm front thru-axles
Nice!
Familiarity:

I've put it through the wringer
Great upgrade from my mavic stock wheels Two seasons so far with no issues. Have been running conti 28mm tires which feel great. Two thumbs up so far.
Tony B.
Unanswered Question
Mercury website has these at 20mm internal width while backcountry lists 18mm. Which is it? Thanks!
Evan R.
Pretty Pretty Good
Familiarity:

I've put it through the wringer
They may not be the lightest wheels on the market but they sure do roll fast. I've been using them on a CX commuter bike and they've been solid. They fit 40c tires pretty well, although setting them up tubeless took a little extra work.
The hub bearings have held up great to very poor conditions and have stayed true. Would definitely recommend
Blake
Really wish I would have seen these earlier! I have a set of their 55mm clincher rim brakes wheels on my Super Six. Love them! Braking is awesome with the Mercury pads, but they do wear quickly! An understandable trade off as the pads are reasonably priced. These are a much better option than CN carbon wheels...
John Anderson
LOVE THESE WHEELS.
Familiarity:

I've put it through the wringer
I upgraded my Ridley X trail to these from the stock wheels and I couldn't be happier. Very stiff and well made wheelset. I have been running Schwalbe 35mm on them and they feel great. So far, so good.
Jon Beck
Spacing might be a bit odd
Familiarity:

I've used it once or twice and have initial impressions
i bought these as road wheels for my 2018 Giant TCX w front and rear 12mm thru axles. When I swap out the stock wheels for either my Stan's Iron Cross or Grail, all wheel sets drop right in and I think I barely had to tweak the rotors once and I don't have to adjust the shifting between the rear wheels.

But for the Mercury, the 12mm front TA wouldn't go through. Well that's weird. Turns out the 12mm hub adapters for the Giant stock wheels and Stan's have an OD of 19mm, but the Mercury 12mm adapters have an OD of 21mm (measured w digital caliper). That 2mm is enough so when the hub seats in the fork, the axle hole is off center with the holes in the fork and the TA won't go in.

On the back, when I first put in the wheel, right off the bat it's clear the disc brake rotor will need a spacer, and the shifting is off. Neither of these issues are unusual swapping different rear wheels or hubs, but there it is.

I emailed Mercury and didn't get a reply which is disappointing.

But as others have suggested, these wheels hit a sweet spot between price and quality, so I'm going to have the front adapters machined, space the rear rotor, and deal with the shifting.
randy H.
WOW!
Familiarity:

I've put it through the wringer
What a set of wheels. They arrive in a double wall box first of all which is much appreciated due to my last set of Easton's showed up all banged up with holes through the box. I know it wasn't Easton's fault, but..... The M1's have their logo laser etched onto the rim which I haven't seen before.
Setting up for tubeless was a snap and only had to tape the spoke holes and valve hole to make them airtight due to the rim being laser welded. Honestly, I couldn't find the seam at all!
The width is perfect for my 28mm tires that have seen approximately 1K miles.
Roadie_51
Love my M1 Disc wheels
Familiarity:

I've put it through the wringer
I bought these about 8 months ago and have put over 1700 miles on these with no issues. Have been running 40c tires on them and they've been great. I haven't had to true them at all. Super smooth wheelset.
George D.
Love Awesome wheelset at a great price.
Familiarity:

I've put it through the wringer
I picked these up for my Gravel bike and couldn't be happier. I'm running Schwalbe G1's on them. They have stayed true, run strong all over the trails of CO. Also built in the USA. I would highly recommend these wheels.




Todd R.
Great Cross/Gravel wheelset!
Familiarity:

I've put it through the wringer
Pick these up for my Gravel bike. They roll nicely, we'll made and look good. Highly recommend.
John R
Great Spare Wheelset
Familiarity:

I've used it several times
Picked these up (like everyone else) to use as a spare set for my CX bike. At the moment, I have my road slicks mounted to them - 700x25mm - so that I don't need to mess with my tubeless gravel tires each time I want to put in some pavement miles.

For the price, you can't beat these wheels: purchased a cassette and two rotors to further make my life easier and the total cost still came out just south of my rear Zipp wheel. It'll be nice having a spare set when CX season starts, if my husband doesn't steal them for his bike.... that's the unforeseen downside of having a wheelset that can use both a QR and 12/15 Thru-Axle!

As has been noted, the bzzz sound from the hubs isn't quite like a swarm of angry bees, but it's still noticeable. On my last ride, I found myself pleasantly surprised at how smooth they are. I like the fact that Mercury tries to manufacture as much of the wheels in the US as they can, too.

If you're on the fence or upgrading a set of wheels for the first time, just do it!

(I haven't tried messing with the tubeless setup on these wheels and probably won't bother, given the other reviewers' experiences.)
Susan Hartmann
Great wheels, great price!
Familiarity:

I've put it through the wringer
You really can't beat these for the price. I got these as a second set for my gravel bike to more easily switch from 40c knobbies to 28c road slicks.

I'm running these wheels tubeless with 40c WTB nanos in the rear and 40c Maxis Ravager in the front somewhere around 35-40 psi and they are great! So great in fact that I'm getting a second pair for my 28c Conti gatorskins (not tubeless, unfortunately).

The wheels are light, run true, and have a descent "buzz" sound from the freewheel (not Chris King great, but better than the stock Niner wheels that came on my RLT 9 steel 2-star build).

The only issue with running these tubeless is you might need a better rim tape. I had my LBS set them up tubeless for me, and they had to replace one rim tape, but were able to use the other. Since I had it done for me, I can't personally speak to how easy or difficult they are to set up, but they've held air pressure VERY well since getting them set up.

Matt Adams
Unanswered Question
I've ordered the rear QR conversion kit from Mercury that was provided in the answers below. Now, will this allow me to use the existing QR that is on my bike or am I going to need a QR with a different spec?
Jon T.
Great price, tubeless and spoke issues
Familiarity:

I've put it through the wringer
UPDATE: After riding these for over a year now, I can say I'm disappointed and would not buy again. Although they hold air when setup tubeless, there is a constant leaking of sealant at various spots around the rim. They just don't fully seal - even with TL tires. I've also broken two spokes on the rear wheel. Would not recommend.

First off, the sale price on these is unbeatable. For under $400, I can't imagine finding a better set of wheels. Roll nicely, well-built, look great, quality hubs. My only issue is with the tubeless setup. They were challenging to setup tubeless in the first place, and have continued to be disappointing as far as holding air and being burp-free. I have sealant stain on my sidewalls after every ride, regardless of PSI.

That being said, I'd still buy these wheels for the sale price and just deal with the tubeless challenges.

FWIW, I'm running Panaracer GravelKing SK 35s. On my previous Stan's rims I had no burping or leaking.

Gary R.
Damaged Rim
Familiarity:

I returned this product before using it
I ordered these rims off of Backcountry. When we received them, there were 2 spokes that were bent and a scratch on the edge of the front rim. I contacted Mercury and the asked me to send pictures. About an hour later, I was told that a front replacement rim would be sent out in addition to a return label for the damaged rim. I received my new rim 3 days later with a complimentary shirt for my troubles. Which was really no trouble at all! Exceptional customer service. Very quick with the response and absolutely the easiest return I have ever dealt with. I can see me purchasing more rims from Mercury in the future. As a union employee with the United Auto Workers 249, it's great to know I can purchase and American made product!
Lynn Wilson
great wheelset
Familiarity:

I've used it several times
ran this with 15/100 front 12/142 rear TA with schwable rocket ron 33s and its perfect smooth light wheelset way better than the stocks i had. plus cant beat the price and exceptional customer service from CC
Jevan L.
Can I set these up with the SRAM XD for their 1x system?

Jason B.
hey Jason, this hub won't work with XD.


Kyle Br
Jason,



These can be run with an XD driver for a 1x system. If you have any questions about this wheelset or 1x setups please feel free to let me know.



adickinson@backcountry.com

(801)204-4686
Andrew Dickinson
all our disc hubs can run SRAM XD drivers.
Michael B.
Eric
Kyle Br
Great wheel at an even better price
Familiarity:

I've used it once or twice and have initial impressions
First, you can't beat the price point for a wheel as versatile as these. I put these on a CX bike with 15mm / 12mm TA front/back. I ignored the description around tire size and put some Schwalbe G1's in 35mm on. Took the bike for a ~40mile gravel / road ride and they worked out perfect. They worked every bit as well as some custom wheels I own which I paid a lot more for, and from what I can tell they are very close in weight also. Add to that the great service at Comp Cyclist, where they called to let me know the order was shipping, and a follow up call to see if I had any questions. I agree with the reviewers comment re: rim tape, however that was a quick fix. Thumbs up so far!
David
Do these come taped up for tubeless, or are they just rim strips?
Gary R.
David