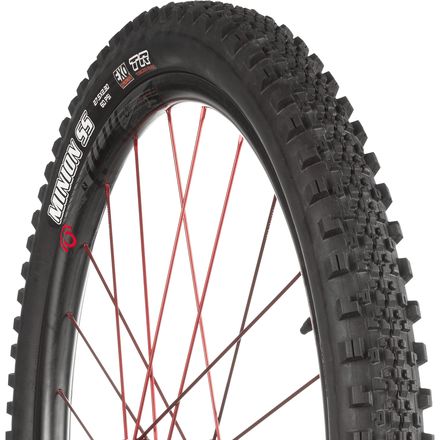 Colors

Community Images
Link up and shred.
New to the lineup for 2016, the Maxxis 27.5in Minion SS Tire bridges the gap between fast, low-profile XC tires and beefy downhill tires with a mixed knob profile that brings you the best of both worlds for maximum enduro fun. Featuring clumps of short, ramped knobs down the middle for rolling speed and the fat side knobs found on the original downhill Minion, the Minion SS rolls fast and grips hard in corners and loose trail conditions.
This tire's foldable bead is tubeless-ready and features 60 TPI casing and a dual compound for pliable durability and grip. As an added bonus, EXO sidewall protection fends off pesky rocks and trail obstacles to prevent ride-ending tire tears as you bomb towards the finish line.
Good, efficient rear tire
Familiarity:

I've used it once or twice and have initial impressions
Nice for summer conditions, not great for winter or wet conditions. Low rolling resistance.
James Bleuer
Awesome for hardpack and slickrock!
Familiarity:

I've put it through the wringer
I was skeptical to try this tire as I've never run a semi-slick for MTB. This tire was appealing because for years I've trusted Minion DHF and DHR's but wanted something fast rolling for hardpack conditions. This tire has the characteristic aggressive Minion side knobs, with low ramped center knobs for ultra-low rolling resistance.

These tires work super well for hardpack, loose-over-hardpack, and slickrock. It's a perfect tire for Southern Utah/Moab. The side knobs bite really well so this tire corners confidently like other Minions. I was concerned about breaking power with those small center knobs but on the proper terrain this tire brakes well. And of course, as designed, this tire rolls really fast! It seems to wear pretty well too, after several months of consistent riding there is still plenty of tread life left.

I would not recommend this tire if you ride a lot of muddy, silty, or sandy trails. As mentioned, it's best used for hardpack, rocky terrain, and loose-over-hardpack to minimize rolling resistance.
Brock Price
Unanswered Question
Is anyone riding these on wider wheels? I'm running wheels with a 31.6mm inner width. Not super wide, but I still want to make sure the casing doesn't get too square on the SS.
gromer
Better than those yellow minions.
Familiarity:

I've used it several times
I had been looking at this tire for a couple weeks but didn't have a need for it. As I was getting my 2016 Felt Compulsion 30 ready for a trip to Moab, I sliced open my Schwalbe Rock Razor and was forced to get a new tire. I loved the Semi-slick pattern of the Rock Razor, but wanted to try something different. That is where the Minion SS stepped in to save the day.

I have been a Maxxis fan for a few years now. I ran 2.4 Ardents on my old bike, and my wife is currently running a 2.4 Maxxis Ardent front and rear. I have never had any problems getting them to set up tubeless so I figured this would be a good tire.

When I first got the tire I was surprised with the size of the side lugs. Those things are huge! Now when they tire was actually on the wheel, they didn't seem so out-of-place so that was comforting. Just like any other Maxxis tire I have used, I put it on the wheel, put in some sealant, and boom, it beaded right up. No issues at all.

Now normally I would not recommend getting a brand new tire before a 3-day bike trip, you should ride what you know, but I don't regret getting this tire one bit. Our trip was to Moab so this tire was perfect for all the hard-pack and slickrock riding we did. It grips like crazy going up steep climbs, does't skid when coming down, and really grips in the corners. I love it! It also makes a difference when trying to get speed on a 6" trail bike. The tire rolls smooth, quick, and grabs when you need it.

For the riding I was doing that weekend, and living in St. George with a lot of sandstone and hard-pack, this tire has been awesome. I don't know about other terrain types, but for me it has been perfect. The 2.3 size is a good size for a rear tire, and knowing that I have EXO protection gives me peace of mind.

If you are looking for a Semi-Slick tire that doesn't break the bank, the Maxxis Minion SS has your back all day.
Austin Robbins
Best of two worlds
Familiarity:

I've put it through the wringer
This is what happens when a burly downhill tire and a lightweight, fast rolling tire have a baby. You get a tire that has a low rolling resistance through straight sections and it really holds its edge when you lean the bike sideways.

If you have any questions on this product, I will be happy to help you out. I am usually in the office Monday/Tuesday/Thursday/Friday 11:30am-9:30pm you can request me on by phone (1.888.276.7130 ext. 4646) during those hours. You can also send me an email @ dmyers@backcountry.com at any time.
Don Myers
Where have you been all my life
Familiarity:

I've used it several times
This tire is what I have been waiting for for a while now. I was running a Ikon last year, and loved the slide that tire provided. This has similar characteristics, but as soon as you lean it into the side knobs, this thing grips! I've had great luck with it so far the past month riding in Utah, the only issue is steep, loose over hard climbs where I tend to lose traction. I am excited to get this thing out on the Park City Trails this summer!
Perry Hall
squirrely
Familiarity:

I've used it several times
Fast roller, but squirrely through the esses. Imagine a Crossmark with fat side knobs. We'll see how long I run this during the winter. Might have to shelve it until things get dry on the trails again.
Groppler Zorn