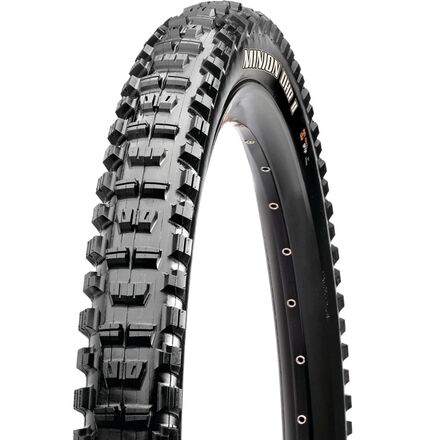 Colors

Detail Images
This sequel is better
The Maxxis Minion DHR II 27.5-inch Tire improves upon the solid design of its predecessor to give you reliable performance on the toughest, most technical trails. The DHR II's redesigned shoulder knobs offer a wider stance and better cornering than the original DHR, and the paddle-like knobs on the center tread improve breaking and provide better traction on loose ground. The center tread features ramped knobs for improved acceleration and sipes for smooth transitions. The Minion DHR II has 60tpi casing and is equipped with EXO sidewall protection technology, a semi-rigid fabric that is incorporated into the sidewall to prevent flats and abrasion.
Redesigned shoulder knobs offer a wider stance
Paddle-like knobs on the center tread
Improved braking and cornering traction
60tpi casing
EXO sidewall protection technology
Hold tight and Ripp
Familiarity:

I've put it through the wringer
This tire is so grippy! I can absolutely tell an immediate difference when I hit the trail on this tire. Climbing felt easy with how well it gripped to the dirt, I felt no slip what so ever. Very durable and would highly recommend.
Jesse Ramirez
Durable and Grippy
Familiarity:

I've put it through the wringer
Hands down the best tire for the riding I do. I have been running these for two summers now and outside of a blow out on the rear for a sharp rock that will remain nameless I have had nothing but high results from these tires. Great durability, about to replace, but after one full summer and the start of this year I am pretty amped on how long they have lasted.
Kyle Laudenslager
Grippiest rubber
Familiarity:

I've used it several times
The Maxxis Minions have the grippiest rubber and best traction. I feel confident carrying speed into turns. The tire is also quite durable. The tire comes tubeless ready and it was easy to set up on my own with a compressor. Would highly recommend.
david
I ride mostly downhill/gravity trails and these tires are the best for that. They are grippy, can handle anything, and will last you a while. I had mine for almost 1000 miles this season.
Sam Broome
My Favorite Tire!
Familiarity:

I've used it several times
I got these tires for my boyfriend and he loves them! "This tire have tons of traction both for climbing and DH. It brakes well too, when I tap on the breaks, its like dropping a boat anchor down. The slight draw back is it does have some rolling resistant, but not too bad at all. I gave up the rolling for the extra grip and assurance".
Natalie Ramon
Excellent grip
Familiarity:

I've put it through the wringer
Nice tire if you are worried about weight get this EXO version. Otherwise get the double down for more protection.
Ben B.
My Bronson came with one of these in the front but an Ardent in the back. The Ardent was beginning to show wear after a couple years so I decided to spring for the upgrade and am psyched to roll into summer with lots of tread. I failed the tubeless setup without a compressor of my own but my local shop was able to quickly and cheaply do it for me. The picture seems to be missing some of the features that are listed in the style/size dropdown and that are on the actual tire I received.
Than Volk
Grip it and rip it
Familiarity:

I've put it through the wringer
This tire (on a Santa Cruz Bronson) has performed superbly. Tubeless is definitely the way to go , and this tire has provided excellent traction in all sorts of conditions. Get out and ride!
Craig L
Love this tire
Familiarity:

I've put it through the wringer
This has been my favorite tire for the better part of a year now. The grip is great and the ability to set them up tubeless is another added advantage. Great Product!
Ryan P.
The Best.
Familiarity:

I've put it through the wringer
This is hands down the best tire I have ever used. I was pretty happy with my WTB Vigilante (front) and Continental Mountain King (rear) set up, until I put this guy on. It rolls better than those tires and I have more grip than I know what to do with. Tubeless set up was a breeze. I have no complaints.
Ember Manfred
Is this a 2.4 or 2.3?
Dropdown says 2.3. Description says 2.4.
Luke Humphrey
Hey Luke - This is the 2.3" Minion DHR II, the description is wrong and we will get that updated. Feel free to contact me directly with any additional questions.

- Kyle L. - Expert Gearhead
Kyle Livingston
Love this tire
Familiarity:

I've put it through the wringer
Ive got this on the rear of both my bikes and love it. Very predictable and last pretty long too. Not tried it up front yet but heard its great for that too.
Ben B.
Killer Tubeless Tire
Familiarity:

I've put it through the wringer
Great tire that can handle all trail conditions with no problem. We use these on most of our Santa Cruz demo's and they've held up most of the season with minimal wear!
Brett Allen
Unanswered Question
How does this compare to the HR II 3C? Seems the HR II has wider nob spacing.
Derrick T.
Keep the rubber on the dirt
Familiarity:

I've put it through the wringer
These are what came on my Bronson complete build a few months back and have been performing great. I've had solid traction with them on the climbs and then loved them on the downhill at Deer Valley.

I can corner pretty hard on them and not have them wash out. Only time I have issues is when the dirt is really soft/loose. So that is more a trail condition vs the tire.

After I got a sheet rock screw in my tire I was able to pick from all the tires on the market to replace that rear tire but ultimately decided to stick with this one since it does so well in all conditions.

I run these tubeless.
Jared Downs
great tire
Familiarity:

I've used it several times
Grippy and smooth. Currently running it as a rear tire.
greg.covel943502
Grip the trail
Familiarity:

I've put it through the wringer
Smooth rolling, good grip, feels stable and fast
Greg E.
Grippy
Familiarity:

I've used it several times
I'm a big fan of these tires so far. They are a little heavier and slow-rolling , but in terms of traction and control they are top-notch. I am running two of these on my all-mtn rig and think it's a great combo.
Matt Dombrowski
Rails on trails
Familiarity:

I've put it through the wringer
I replaced my Magic Mary with this tire up front since we were out of the DHF. I wasn't sure if this was the right tire on the front, but after riding it for a while I am convinced this tire works well as a front or rear tire.

**UPDATE**

Originally I purchased this tire and ran it as a front tire. Since then I've been running this as a rear tire. This tire DIGS! By far the best braking tire I've found. It'll haul your speed down from blistering to nearly stopped almost instantly. I typically get around 400 miles out of one on the rear and that's riding in conditions that tend to shred tires. Cornering grip is excellent! Rolling resistance would be the major drawback here, but compared to other nobbies this rolls as well or better. I highly recommend this tire.

The large side lugs provide confidence when cornering and the center lugs provide excellent braking performance. This tire isn't exactly the quickest rolling tire, but if you want a tire that will provide you with tons of traction no matter the conditions this is one to consider.
Dan Be