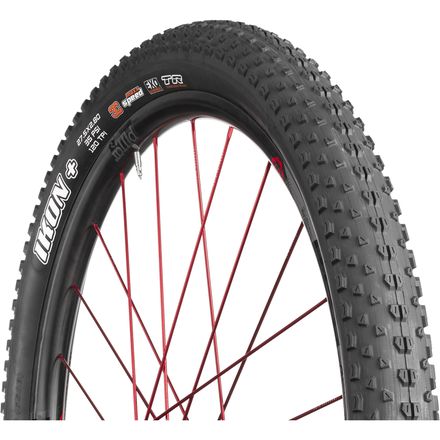 Colors
Pumped.
The Maxxis Ikon Plus 3C/EXO/TR 27.5+ Tire combines the sprightly, responsive feel we've grown to love in the original Ikon with updated knobs to best make use of a plus-sized tire's extra volume and contact patch for a screaming good time through trail conditions veering into the loose and sketchy.
This tubeless-ready tire mixes biting knobs with three rubber compounds to create a truly versatile ride. The supple 120 TPI casing is wrapped in a tread pattern that favors loose over hardpack conditions with moderate spacing between the center lugs and the raised side knobs. Those center lugs are also ramped to resist folding under braking and acceleration and the 3C Max Speed compound helps bridge the traction gap from packed to loose terrain.
Maxxis fashions the center knobs from a harder compound to resist wear and flex in the knobs while the supple casing allows the tire to conform to irregularities in the trail and lets the softer side compound hook-up and grip. As a result, you gain a positive traction over wet roots and rocks and seamless transitions from straightaways into turns.
Increased volume for better contact patch and traction
3C Maxx Speed compound increases grip
Supple casing for a smooth ride
Plus-specific tread makes the most of more volume and less pressure
These tires rip and last a while, have been running Ikon's on my 29er and now on the new 27.5+ bike. No complaints.
Jason True
When mountain biking in the Ozarks, it can be difficult to find a tire that can handle all of the flint rock. I have gone through several tires on the first ride and nothing can be more frustrating than mounting a new tire and slicing the sidewall first ride. The only tires that have held up the best in my opinion when sharp rocks are all over the trail is any tire from Maxxis with their thickest compound. I have gotten the most life out of tires with the 3C/EXO/TR sidewall compound. I am also a huge fan of the Ikon tread pattern, it is super fast rolling, with alot of traction. It's a go to tire for me.
Clayton Otto