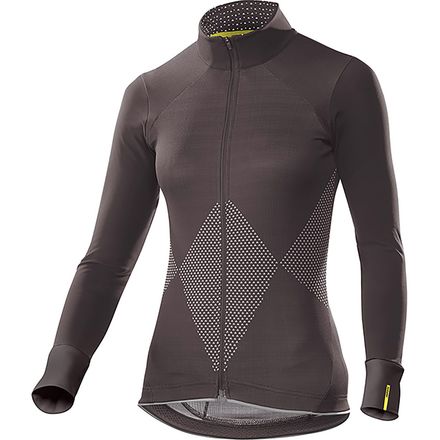 Colors

Detail Images
A chill to the air and a skip in your step.
We love saddling up when there's a light chill to the air, when the breeze feels cool against your sweat, and the sun cascades down on you. Its days like these that have us wanting to ride all day long, plus the added bonus of enjoying the sights of changing seasons —a mosaic of colorful leaves in the fall, and green life peeking out from underneath a blanket of white in the spring. For days like this, we reach to jerseys like the Mavic Sequence Long Sleeve Women's Jersey, to give you just a touch of thermal warmth to cut the breeze, and eye catching style with a streamlined fit.
The Sequence Long Sleeve is made from Mavic's Warm Wick ST+ fabric, which offers gentle stretch and a brushed lining that's soft and cozy against your skin. The fleecy lining has a knack for pulling sweat away from your skin to keep you dry when you power up long climbs, and is equally skilled at trapping your body heat within its fibers to insulate on breezy canyon descents. Featuring Mavic's Pro Fit, the jersey is cut to be slim and form-fitting, contouring to your body to flatter a feminine shape, without skimping on performance elements that keep us riding hard, like an elasticated hem that holds the jersey in place when you're out of the saddle and laying down the power, and a high collar that keeps drafts from blasting us when we come around the bend on a coastal byway. The high collar also happens to be hit with a new fabric that Mavic has designed especially for women, with an extra soft feel to protect soft skin from irritation caused by rubbing rough materials.
A jersey that makes shoulder seasons all the sweeter
Light thermal insulation keeps you warm on breezy days
Super breathable fabric wicks away sweat
Soft, highly elastic material contours to your body
Pro fit gives the jersey a streamlined look
Elasticated hem locks into place on the ride
Back pockets stash your essentials tools and treats