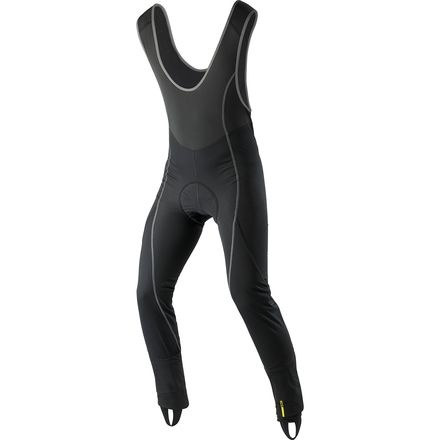 Colors
Tights for the brave.

Cold-weather cycling isn't for the faint of heart. Your eyelashes will freeze, your lungs will hurt, and your fingers will scream, but that just means each completed ride is that much more rewarding come spring. Mavic's Ksyrium Pro Thermo Men's Bib Tights can't save your digits or unfreeze your lashes, but it can keep your legs warm on the chilliest rides, so you'll be able to get your miles in even in the depths of winter.
Strategically located fabrics make the Ksyrium Pro Thermo Men's Bib Tights the warmest, most windproof tights in Mavic's lineup. Around the body, Teflon-treated Super Roubaix fabric traps heat and sheds light moisture, while a Warm Shell Wind windproof membrane prevents cold gusts from penetrating all the way to your soul. Polyester side and leg panels provide a body-hugging fit and plenty of stretch, while wide stirrups — designed specifically to work with the Ksyrium Pro Thermo Shoes — keep the legs in place to prevent gaps.
All the warmth in the world isn't very useful if you're in pain after five miles, so Mavic integrated its Ergo Pro 3D Endurance chamois into the tights to provide reliable comfort on long rides. Three different densities and six different thicknesses of ergonomically cut foam relieve pressure points and reduce irritation, while a new wider cut provides increased protection when you shift in the saddle.

The Ksyrium Pro is focused on warmth, but Mavic made sure to incorporate the details that make the difference. All seams use flatlock construction, which allows them to lie comfortably against your body without chafing or causing irritation. Reflective highlights help you stay safe, and small zippers at the ankles make the Kysrium easy to get on and off.