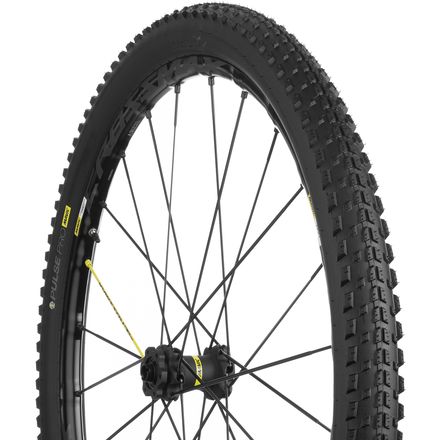 Colors
Race proven.
Mavic has proven again and again that you don't need expensive carbon hoops to leave your competition coughing on your dust on the cross-country course. The aluminum Crossmax Pro WTS 29in Wheel boasts classic Mavic reliability and nearly bombproof durability in a lightweight, race-ready package at a fraction of its carbon fiber contemporaries' costs.
The standout feature setting the Pro apart from the rest of Mavic's Crossmax line is the inclusion of Zicral spokes. Most spokes of the knobby wrapped wheel persuasion are steel, which is reliable but heavy and fairly elastic. Zicral is Mavic's secret weapon, and plays a large role in shaping the Pro's trail presence. Stiffer, lighter, and stronger than steel, Zicral represents Mavic's road-race A game adapted for the XC world. The trade-off is a slightly harsher ride, but lower-than-clincher tubeless PSI tolerances balance that out with a bit of extra cushion.
At the rim, Mavic's Inter Spoke Milling 4 Dimensions (ISM 4D) process is the newest version of its signature milling process. ISM 4D removes unnecessary material to eliminate grams and reduce rotational mass along the wheel's circumference. The OG ISM limited milling to the rim's inner face. It's successor, ISM 3D, expanded its attention to the sidewalls, and ISM 4D takes things a step further, smoothing the rim's transitional angles to further reduce weight without sacrificing strength.
While Mavic's ISM 4D keeps rotating weight low, the Instant Transfer System 4 (ITS-4) rear hub ensures that efficiency isn't wasted by sluggish, unresponsive engagement. IST-4 is a four pawl system that alternates engagement between two pairs of pawls. Since both pairs engage at different points in the freehub's rotation, the gap between engagement points falls to just 7.5 degrees of free play.
This snappy engagement stands out when surging for position off the line and jumping out of corners, but it shines even brighter with knife-like precision on technical climbs that require you to pick through root systems and pop over rock ledges. The sharp engagement angle is further complemented by the stiff, 17mm axle, which tapers down to 12mm to take advantage of the new, more efficient standard of oversized dropouts.
The Crossmax Pro's rims incorporate Universal Standard Tubeless (UST) design, which eliminates tubes and tape when running tubeless with Mavic's UST tires and is compatible with nearly all tubeless and clincher tires. It comes outfitted with Mavic's own Pulse Pro tires, featuring a dual compound designed to match well with the Crossmax Pro's XC and light trail preferences.
A lightweight, race-ready XC wheel
Durable, lightweight Maxtal alloy rim
Zicral spokes are lighter and stiffer than steel
ISM 4D milling process reduces rotating weight
UST tubeless design fits most tubeless tires
7.5-degree freehub engagement for snappy responsiveness
Includes Mavic's dual-compound, 2.4in Pulse tires