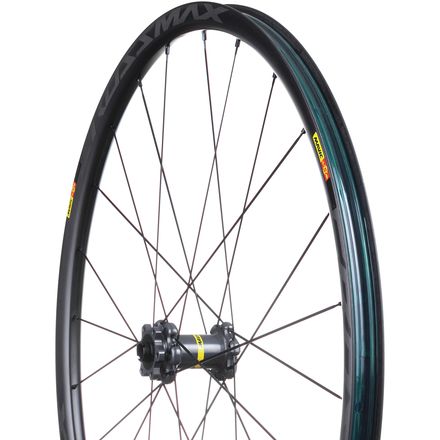 Colors

Detail Images
Crossmax Pro Carbon Wheeelset
Mavic took its time getting there, but the French brand feels that carbon technology is finally up to its demanding standards for reliability and safety. The Crossmax Pro Carbon Wheelset is the brand's first XC model to go full carbon with no alloy spine or reinforcement. When compared to the standard, alloy Crossmax Pro, the results speak for themselves: lower weight, higher drive stiffness, and—counter-intuitively—a more forgiving ride on rough trails.
The technologies that induced Mavic to go full-carbon include things like hookless beads and the ability to encircle the tire bed in layers of uncut, uninterrupted carbon fiber, both of which increase the wheel's ability to take hits without folding. The hookless bead does so by eliminating the tiny, fracture-prone shelf of a bead hook; the uncut tire bed eliminates the structural compromises of rims that are drilled for spoke holes. When combined with meticulous lay-up schedules and precise resin impregnation, these construction features give the wheels a reliability on par with Mavic's alloy rims.
The lay-up itself targets radial flex (read: squishy cushion for unruly runs) in order to balance the inherent lateral stiffness of carbon with the forgiving vertical compliance of low-profile alloy rims. We like laterally stiff wheels while hammering, but wheels that are too radially stiff presents issues beyond just comfort. Cushion aside, the lay-up's real benefit to aggressive riders is that it helps maintain contact with lumpy terrain by absorbing impact through engineered flex, bouncing less, and keeping tires glued to the dirt. This is further aided by the Crossmax Pro Carbon's use of steel spokes instead of the aluminum Zicral spokes featured on its aluminum-rimmed cousin. Since the carbon rim is laterally stiffer, the added stiffness of Zicral spokes isn't needed, so the carbon rims can enjoy more comfortable steel spokes without the usual tradeoffs to responsiveness and tracking.
That focus on traction, stiffness, and comfort is obviously well-suited to a tubeless setup, and Mavic's UST design—first developed in the mid-90s—returns with some appropriately impressive developments. The most transformative of these is the lack of a bead hook. In addition to handling bottom-outs with stoic aplomb, the XA Pro Carbon's hookless rim actually holds the tire more securely and reduces blow-offs (while you've got the wheels hooked up to a compressor) and burps (while you're getting sick).
The rim owes these properties to two features not included in rims with bead hooks: a more pronounced central channel and a pair of bead locks, not hooks. These two additions more effectively divide the duties of traditional bead hooks. The central channel centers the tire and helps it seat while inflating, and the bead locks keep the tire bead in place so it doesn't unseat during hard cornering at low PSI. We should note here that tubeless-specific tires are, among other things, less prone to bead stretching, so we recommend sticking to them with these rims.
The rim's ability to damp bumps is further enhanced by the two-cross lacing spoke lacing pattern, which does sacrifice a small amount of lateral or drive stiffness compared to radial spokes, but it also increases that bump compliance, requires less baby-sitting without risking spoke failure, and (most importantly) better handles the torsional load transferred from hub to rim while stopping with disc brakes.
As with its road line, Mavic demonstrates some XC-appropriate restraint with rim width, sticking to a tire-to-rim ratio that makes sense for practical applications rather than scoring on-paper points in the rim-width arms race. A bit of lateral fold in the tire actually benefits cornering, so the vertical side walls produced by the latest high-volume rims aren't necessarily the best solution for flowy handling. Instead of the 30mm+ rims we're seeing, Mavic opts for a more appropriate external width of 28mm, which is better suited to 2.25in tires. Wider rims risk migrating the tire's shoulder knobs onto the center rolling strip and exposing the side walls to the trail furniture that the shoulders are meant to protect the casing from, but the Crossmax Pro keeps knobs and compounds where they're supposed to be.
The Pulse Pro tread's specialization is further boosted by Mavic's X-Mix dual compound, which features a slightly harder center strip and a slightly tackier shoulder strip for faster straights and more confident cornering. Finally, and despite all the radical changes to the rim, Mavic sticks with the same ITS-4 freehub design. With two sets of alternating pawls, the design limits engagement to XX degrees, providing a bit more bounce while popping over rocky cruxes or struggling across that last root at the top of a roller.
A cross country wheel that pushes carbon to the next level
Carbon rim with engineered flex for cushion and traction
Rim width lets mid-sized tires sit perfectly for flowy handling
Hookless bead burps less and makes tire installation easier
Freehub with two pairs of offset pawls for fast engagement
Two-cross spoke lacing stiffens torsionally but gives radially