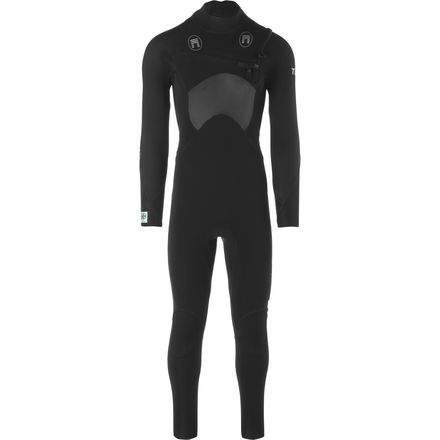 Colors

Detail Images
You don't even have to meditate.
Named after the Buddhist meditation technique where disrobed monks sit underneath a wet blanket in the snow only to dry it out with their own body heat, the Matuse Men's Tumo 3/2 Full Wetsuit keeps you covered in warmth when cold water is all around.

Constructed from eco-friendly Geoprene rubber(which is actually made from limestone, hence the name GEO), this suit's material is over 30% more water-impermeable than petroleum-based neoprene suits, far less water-absorbent for a lighter and quicker-drying performance, and offers 400% greater stretch than your own skin for an unbelievably flexible design that never gets stretch marks. Geoprene is naturally warmer than neoprene, so less of it needs to be used, resulting in not only a lighter design, but also a far smaller impact on the environment when manufactured. And don't worry about a single scratch destroying the suit's integrity, Geoprene rubber has a uniform microcell structure that, when scratched, allows new independent concave cells to be exposed for continued functionality and warmth.
Geoprene rubber construction
Waters ranging from 55-64 degrees Fahrenheit
Chest entry