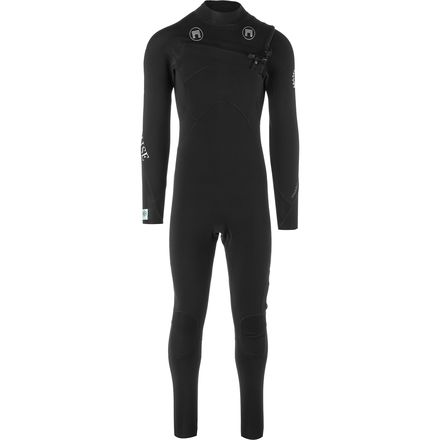 Colors

Detail Images
There's no arguing with science.
Comfortably and confidently charge headlong into the icy waters with the Matuse Men's Scipio Front Zip 3mm Wetsuit. Designed to handle waters ranging from 52-60 degrees Fahrenheit, this wetsuit is unbelievably light, comfortable, flexible, and incredibly tough to keep you going through intense sessions.
Made from the incredibly innovative blackZERO Geoprene (which is actually made from limestone, hence the name GEO), this suit's material is over 30% more water-impermeable than petroleum-based neoprene suits, far less water-absorbent for a lighter and quicker-drying performance, and offers 400% greater stretch than your own skin for an unbelievably flexible design that never gets stretch marks.
Geoprene is naturally warmer than neoprene, so less of it needs to be used, resulting in not only a lighter design, but also a far smaller impact on the environment when manufactured. And don't worry about a single scratch destroying the suit's integrity, Geoprene rubber has a uniform microcell structure that, when scratched, allows new independent concave cells to be exposed for continued functionality and warmth. Additionally, the front zip entry makes getting in and out a breeze.
BlackZERO Geoprene
3mm
Waters ranging from 52-60 Fahrenheit
Front zip entry
Blown Away
Familiarity:

I've put it through the wringer
For all you guys that surf in the North West this suit is a game changer. I never thought that I could be warm in a 3mm suit in Washington, but boy was I wrong. The Matuse Scipio is the lightest warmest suit I have ever worn. I must mention one key point, you need to keep moving in this suit.
Matuse has designed this suit around insulting and maintaining the body heat you generate. As long as you keep paddeling this suit will keep you warm. This first time I took it out was during a pretty flat session and I wasn't to impressed. I felt cold after about twenty mins and felt like all the hype around Matuse was kind of over stated. However, my second session was a dawn patrol with pretty regular sets coming in (I was paddeling my butt off) and let me tell you i was toasty. This suit does an amazing job of insulting the heat you generate. I was blown away that a 3mm suit could keep me so warm in near 45' water temp. Just keep in mind this suit works best when you are working your hardest.
Andrew Nunes
Warmest Suit I have ever owned
Familiarity:

I've put it through the wringer
After 3 seasons of trying to find a suit that lasted longer than one winter I came across Matuse. I have owned both Xcel and Rip Curl and I have to say Matuse is light years ahead. The Scipio is the warmest and lightest suit I have ever owned, somehow the guys at Matuse manged to make a 3mm suit feel as warm as a 5mm. I wore this baby from September to March in Santa Cruz and at times was almost sweating in it. Hats off to the Matuse fellas.
thomas F.