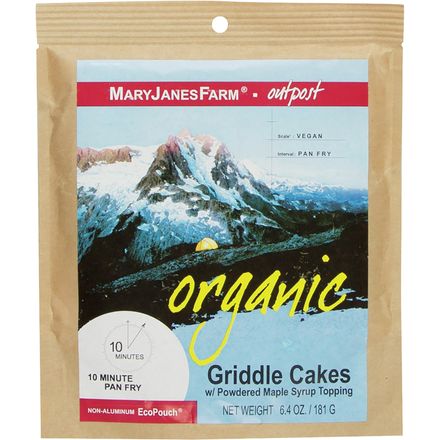 Colors

Detail Images
Delectable backcountry breakfasts.
Mary Jane has blended 12 organic whole grains together for a griddle cake that has a nutty taste and sourdough texture. Milled on her 100-year-old gristmill, these high-energy, protein-rich cakes have plenty of fiber and flavor. For sweet sprinkles, she's included a packet of maple syrup granules. She's even used organic rice startch instead of the non-organic corn-starch in her baking powder. They're the purest griddlecakes on earth!
So Good
Familiarity:

I've used it once or twice and have initial impressions
Had a chance to try this and it's pretty good.
taylor
I was surprised how good these actually were! Will probably get these again
Adam
Pancakes in the morning!
Familiarity:

I've used it once or twice and have initial impressions
If you've ever tasted sourdough anything you'll know what I'm talking about when I say "WOW". Some stick butter and maple syrup and you're in hog heaven.
michael geyer
As far as pancakes go, they're pretty good. But they're not amazing when standing on their own, which is what they basically do as packaged. There's a little maple sugar topping which is included, but for maple sugar, it's pretty bland, and doesn't add much to the flavor of the pancakes. If you eat these with syrup, they're wonderful. So either expect good but not amazing pancakes as packaged, or bring some syrup and have a great breakfast. For the record, ours were made with mostly whole wheat pastry flour, I'm guessing the flavor may change depending on what seasonal flour is used by Mary Janes.
Shari R
I like a lot of the Mary Janes products - and these were just horrible. My boyfriend will eat anything, and even he commented on how yuck they are. They were doughy with no flavor. Just sat in a big lump in my stomach.
My Favorite Backpacking Breakfast
Can life get any better then cooking up some amazing pancakes on your Whisperlite in the middle of the mountains. These pancakes are ones I would cook at home if they weren't so expensive for everyday use. Puts bisquick to shame!
Garrett Grove