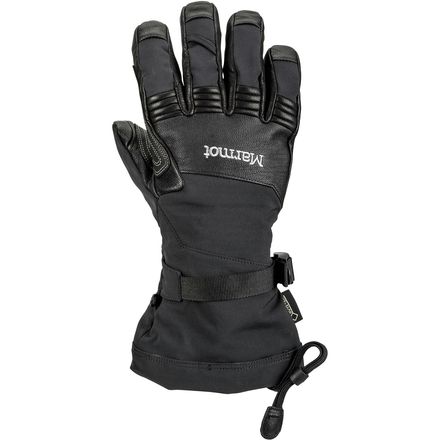 Old reliable.
From full-on whiteout conditions to freezing-cold bluebird days, the Marmot Ultimate Ski Glove protects your paws from the array of winter weather you'll encounter throughout the ski season. Marmot built this glove with a waterproof, breathable Gore-Tex insert, moisture-wicking lining, and water-resistant Primaloft One insulation to ensure reliable warmth in the wettest winter conditions. But the sweetness doesn't stop there, because Marmot reinforced the Ultimate with cowhide leather to ensure this glove is capable of withstanding the wear and tear mountain professionals can inflict on it, and it added accordion-style fingers so you don't lose any ski-grabbing, rope-handling, or beer-handling dexterity in the process
A burly gauntlet-style glove for skiing and snowboarding
Waterproof and breathable Gore-Tex insert
Water-resistant Primaloft One insulation
Moisture-wicking lining helps keep hands dry
Reinforced cowhide leather increases durability
Accordion-style fingers promote dexterity
Wrist cinch and drawcord cuff keeps snow out
Old Reliable pretty much sums it up
Familiarity:

I've put it through the wringer

Fit:

True to size

Size Bought:

XL
I'm now on my second pair, having gotten the first pair about 10 years ago. Those have been put out to pasture for running the snow blower and walking the dog. Great for skiing, I recommend applying something like Snow Seal or other product to the leather part of the glove before using them. Nice and warm on cold days, and my fingers tend to get really cold, but not with these. The seams are all sealed really nicely, and the leather is very durable, and I never saw any cracks or tears.
rob webb
Height:
5'10"
Weight:
215lbs
Great Glove, My hand is a size 8 and medium works for me. I like more of a snug fit for dexterity. I still have bit of room to wear liners if I want. The glove has all the right features, waterproof, wrist strap, good size gauntlet and the right compromise of insulation and dexterity. Warmth is a personal assessment based on what youre doing and base layers, the gloves are insulated enough to be as warm as you need.
Marcus G.
I've had a pair of Marmot Ultimate Ski gloves for more than a decade now, and although more than a few fingers are covered in duck tape, these guys still keep my hands warm and cozy. The wrist guard with draw strap works great to keep the heat in, and the leather palm provides great traction. Love these things.
Chris Shields
They don't make 'em like they used to.
Familiarity:

I've used it once or twice and have initial impressions

Fit:

Runs small

Size Bought:

xl
After several years contemplating replacements/backups for my original pair of USG's, which are going on 17 seasons including dozens of backcountry days doing lots of gear handling, buckle and strap tightening, etc that would have worn through most gloves in a few season or less, I broke down before a BC trip this year to ensure I had backups. While the new gloves are probably among the better gloves available today, they are not nearly as rugged or as warm as the originals. They seem to run smaller too. 3.5 stars
Peter M.
Height:
6'1"
Weight:
230lbs
Not as good as they used to be...
I had the older version of this glove for about 15 years. I replaced them with this new model. They are not nearly as good. My hands NEVER got cold with the previous version but now they do usually get cold, and I'm forced to wear a liner. The wrist cuff is very narrow and hard to get over a jacket sleeve. Forget about glancing at your watch with these on. The spring clip on the cuff sinch is totally useless. Etc. the materials are pretty nice but overall I'm very disappointed with this glove.
Adam Matthews
I recently gave these as a present and my husband LOVED them. He says they're the warmest gloves, still very dexterous, but not overly bulky. The cuffs are long enough to go over your jacket sleeves, but can be tucked under without too much hindrance if need be. The wrist straps are the most helpful aspect. Never buying another set of gloves without them again.
Emery Gaylord
This is my second pair of these gloves. I absolutely love them. They are warm, comfortable and durable!
Lee Klitzner
Let it snow!
Fit:

Runs small

Size Bought:

XL
Marmot gloves run small on me. Between M, L hand girth. Ordered XL on past experience with my 10 year old Marmot Radonnee gloves. Years of skiing, snowboarding, snow-throwing and shoveling finally put holes in outer layer.

No cold hands, ever, even in sub-zero conditions. Never use warmers, but will throw a thin glove liner on in worst conditions. Proper core/head/neck layering is essential. Gloves/mitts can't correct a cold core or head, but one can get by with a thinner glove/mitt with proper, sufficient layering. Managed to get snow in my gloves, accidentally - they dried out in an hour or two while wearing them. Expecting same from these.

Would have gone back to Radonnee, but got a really good Cyber-Monday deal on Ultimate.

First impressions: Fits perfect, design appears to be same as my old Radonnee - with leather added. Gauntlet is same length. Have 20 year old, well worn work gloves of similar weight leather, no holes/tears - will be disappointed if I have Blake D's experience.

Ordered Marmot Warmest Mitts for my wife. Thought they would run small, ordered L. Turns out, for my wife, mitt size doesn't run small. Backcountry was great to work with. Having M pair sent - will check, side by side, returning pair that doesn't fit for full refund (don't cut tags off!).

Used REI in the past for Marmot gear, and REI was great to work with. First Radonnee set let go on a seam after a year. REI replaced them, no charge - clearly a manufacturing defect. The replacement pair lasted 10 years. Would have gone back to REI, but they didn't have the model/size in stock. And the Backcountry Cyber-Monday deal was impossible to ignore.

Heading west with these. May throw the old Radonnee in as well - they're kind of like old dogs, even sporting a bit of gray. As long as they can have a quality life, hate to put 'em down.

Picture: Old dogs, meet the new dogs.

If you don't see a negative follow-up at end of season, I'm happy-happy!
Dale S.
Height:
6'3"
Weight:
182lbs
solid glove
Familiarity:

I've used it several times

Fit:

True to size
This glove does exactly what it needs to do. Keeps you warm, dry, and has wrist straps. Only complaint I have was the price was a little higher than I liked, they're worth it.
Kevin Flanagan
Solid glove, not great when frigid
Familiarity:

I've put it through the wringer

Fit:

True to size

Size Bought:

XL
I've skied with this glove for 3 years through a variety of conditions and temperatures. It's a great glove for keeping dry, it's got solid grip, great dexterity, and I love the wrist gaiters. Once they wear in, they're much more comfortable than my other ski gloves. Also, they're total beasts outdoors - I've had other gloves fray or rip if my hand hits a branch or a rock, which is a huge pain - these guys have held up amazingly. The only drawback is temperature. My extremities ski a bit cold, so I was looking for a tough cold weather glove, and they're great at most temperatures, but lacking in the true cold (although they even breathe pretty well and my hands haven't sweat that much on bluebird days when I should probably be skiing with a lighter glove). Skiing in really cold weather, most recently Jackson, the wind seems to flow straight through these gloves and my hands freeze. This has only been a problem in very cold weather (<15 F), they work great in moderately cold weather.

Also, safety lashes popped off pretty early on (was really disappointed with that, since it was just from normal use, nothing extreme), so I just use the gaiter drawcords as a backup.
Will
Good quality, not ultimate
Familiarity:

I've used it once or twice and have initial impressions

Fit:

True to size

Size Bought:

xl
For the suggested retail price, these are far from ultimate. I have gloves from Black Diamond (Guide)and Hestra (Heli) and the Marmot's fall short in major areas that I consider necessary to boast as being the ultimate ski glove.
The gauntlet is a bit short compared to the Heli, has a smaller diameter opening and is too soft to my liking. I find that a shorter, small, soft gauntlet is hard to get over bulky layers especially when you have one glove on and must work the other gauntlet down using your now glove-fattened fingers of the opposite hand. A soft gauntlet collapses more easily down to the wrist eventually bunching up during the day. The gauntlets on the BD's and Hestra's slip over bulky layers without much coaxing, the Heli goes up farther on the forearm and both remain in place without collapsing down to the wrist.
The liner is not removable so they cannot be dismantled to enhance drying overnight in preparation for the next day. I have purchased winter work-type gloves from other retailers and side by side the $175 Marmot's look more like $70-$90 winter gloves. In contrast, you can see and feel the difference in the BD's or Hestra's.
I've been doing this outdoor thing for many years and am confident the glove is going to be about as warm as most gloves of this general class and weight of insulation. I believe the glove to be of high quality, but at $175, not high value and the design does not push it to the lofty title of ultimate.


bob105820886-0
Height:
6'1"
Weight:
235lbs
Very happy with my purchase. I have yet to experience cold hands with these gloves!
Luke T.
solid glove
Fit:

True to size

Size Bought:

xl
these gloves appear to be very well-made-solid sturdy construction, fit true to size. i got these to replace a previous pair of marmots that were 7-8 years old and starting to fall apart. these gloves seem a little sturdier, although aren't quite as warm--older marmots used down insulation-these use primaloft. they are warm down to 15-20 degrees. my fingers were cold in temps under 15.
frederick W.
Excellent Glove
Familiarity:

I've used it several times

Fit:

True to size

Size Bought:

XL
I've used these gloves for a couple of seasons skiing in the Sierra. Well, maybe just a season and a half, as 2014/15 hardly counted. Anyway, these gloves are fantastic. They keep my hands warm even after they get wet from sweat or snow, and they dry pretty quickly overnight (in a warm lodge). The adjustments on the wrist and cuff are both easy to use and the gloves seem quite durable so far.

They are pretty expensive, but I've had two other gloves before these that were not warm or easy to adjust, and together they cost more than these. If I'd have bought these first I'd have saved a decent amount of money.
Kevin M.
too tight
Familiarity:

I've used it once or twice and have initial impressions

Fit:

Runs small
These fit ok if I don't curl up fingers. Driving the car I find my knuckles pressed hard against the gloves as the upper leathers don't provide any stretch. Putting pressure against the inside of the gloves this way crushes the insulation diminishing their effect. I wear same size in any activity: golf, motorcycle, you name it. This is a design problem and not a breaking in issue. Looks good but I don't like a pair of gloves that fight me all the time.
chuck8jone413002
Solid...solid gloves
Familiarity:

I've put it through the wringer
Skied these gloves two seasons and they have been excellent so far. Construction is top-notch, leather is soft and feels broken in from the start. As for warmth, tested em down to 15 F and felt comfy. The rest of their features are very solid as well. Mobility in them is good, warmth-movement feels in good balance. They fit true-to-size, usually wear a medium and that's what I went with. I expect to be enjoying these gloves for many seasons to come, they're definitely gloves for the long haul.

Aaron L.
Cold hands
Familiarity:

I've used it several times

Fit:

True to size
These are not the same as the older version. Had the older version of these gloves for 5 years and they were the best. Not anymore, your hands will be cold in these gloves. Very disappointed in Marmot for lowering the quality of this glove. Not recommended if you want to keep your figures warm.
torey_tref470773
Great long lasting glove
Familiarity:

I gave it as a gift but have feedback to share
These are some pretty spendy gloves. But they may be worth the cost. I use the big mountain glove because they're a little more affordable for very similar materials. For the quality of materials in this glove, I don't know that you'll find it much cheaper. Other gloves in this range use insulation inferior to the primaloft one and not as good of gore tex.
Spencer Oliphant
Expected an oven, got a heater
Familiarity:

I've used it several times

Fit:

True to size

Size Bought:

Large
You will need liners with these when they are your solution in 10 degrees or less if you are an old guy with failing circulation. Fit is true to size and the extended wrist cuffs should be properly tightened to maximize warmth, and they clearly do help. Overall happy with glove but it isn't a solitary solution in the coldest weather.

Bode Mitchell
Height:
5'11"
Weight:
210lbs
Ripped after 3days, no replacement...
Familiarity:

I've put it through the wringer

Fit:

True to size
I had these gloves for 3 days and they ripped. The rip looked like it was from an edge or something sharp, however I never experienced anything that would have caused it. The real problem is that the leather is pretty thin and had they not ripped after 3 days, I wouldn't have been surprised if they ripped for other reasons later. The stitching near the effected area also ripped but wasn't directly subjected to whatever caused the leather to rip.

I'm hard on my gear and have owned gloves at half the cost from Burton, Dakine, EMS and Northface, yet never had a rip like this in under 3yrs of heavy use.

For $180 they weren't especially warm or what I would consider an "Ultimate Ski Glove".

After expressing my concern with Marmot, they wouldn't replace them for free. They did offer a 50% discount on a new pair, but since I already got them with a 50% discount and had such a poor experience with them with in 3 days and dealing with a company who's not willing to back their gear 100%, I wasn't interested in spending any more on Marmot gear.

Maybe backcountry.com, EMS, REI, or other stores would provide a refund, but Marmot wouldn't. Disappointing...
Blake D.