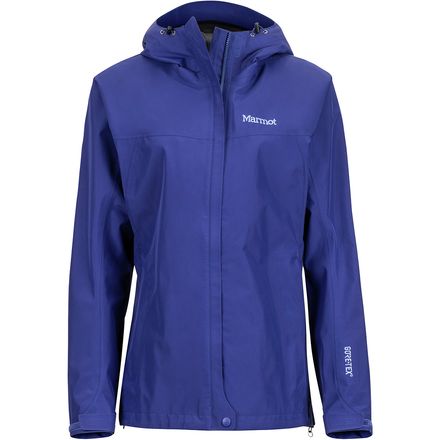 Colors

Detail Images
If I only had a Marmot.
Marmot never had much of a market share in the Land of Oz, presumably because of astronomical shipping costs. As it turns out, it's a good thing. If the Wicked Witch of the West had a Marmot Women's Minimalist Jacket, things would have been very different for Dorothy and friends. The Minimalist uses Gore-Tex Paclite laminate fabric to shrug off the nastiest downpour. Paclite was developed to be lightweight and packable, while remaining completely waterproof and as breathable as Gore-Tex Classic.
100% seam-taped Gore-Tex PacLite laminate fabric means water has no chance of melting anyone wearing the minimalist
Underarm zips offer ventilation when you need to cool down
Angel Wing articulated shoulders give you complete freedom of movement without the torso of the jacket moving around
Marmot Minimalist in Hawaii. The BEST lightweight, breathable, price-point piece to add to your collection. Layer over fleece if it's cold, but is a great stand-alone if it's warm with precip!
Natalie Wall
Can anyone compare this to the Marmot PreCip? Specifically the fit and "noise factor". I find the PreCip NanoPro makes too much of a crinkly sound. Is PacLite quieter?
S. G.
This is definitely a step up from the Precip. The fabric is very soft to the hand and makes no noises. It's a really nice jacket that is not only functional but really nice and clean looking.
Meg Fogg
I agree. Much heavier feeling fabric, and not noisy.
WC Outdoors
Much quieter!! I have owned both :)
Natalie Wall
Best Answer
I am wondering the same thing.



Is this jacket warmer than the PreCip or about the same weight and ventilation?



Thanks!
DanaNaya
Better ventilation - better material quality. Might be a tad bit warmer - but I doubt it. Both are definitely not warm stand-alone pieces. I would layer if you're looking for warmth. Precip might be a smidge lighter, due to material quality. But the Minimalist is definitely a light jacket, also!
Natalie Wall
i'm just shy of 5'11...145lbs and slender but am leaning toward a L for length. yes/no?
Tre
The center back length of this jacket is 27.25 inches for a medium. If you plan on wearing any layers under it, I think that L would probably work.
Meg Fogg
Best Answer
I am those exact measurements - 5'11, 145. Medium still gives me plenty of room for layering and is long enough.
Katie C.
What is the center back length of a medium?
Grant Kates
Grant Kates
Meg Fogg
Does this jacket have a 2-way front...
Does this jacket have a 2-way front zipper?
Molly Y.
Best Answer
Molly,



Great choice, great product, great manufacturer and great price. Unfortunately the Minimalist doesn't have a two way zipper and you'll not find a 2 way on any of the Marmot light weight jackets. Many manufacturers have eliminated two way zippers (for the weight weeny) on most of their products and it's a real bummer.



Stay dry and enjoy!



Scooter
Scott Sowle - Scooter
Does this jacket stuff into a pocket for...
Does this jacket stuff into a pocket for easy packing?
Lisa
Best Answer
Hey Lisa,



No this doesn't have an official pocket for packing, but it does condense down very small.



Cheers~
Meg Fogg
Has anyone tried to fit a light coat such...
Has anyone tried to fit a light coat such as the Patagonia sweater coats under this? I like to layer while backpacking et al.
AnjuliGlobal
Best Answer
This is an awesome shell that is designed just for what you've described. Marmot sizing is generous and you'll find that adding a mid-layer such as the Patagonia down sweater or Marmot Sol down jacket will increase the warmth and comfort during the cold weather. There should be no need to go up a size to allow for the mid layer.
Scott Sowle - Scooter
Marmot Minimalist Jacket - Women's
Backcountry Video
Zach Parrott
Hi, I'm only familiar with European sizes....
Hi, I'm only familiar with European sizes. According to sizing charts I would need an M, but am not sure if I then will be able to wear anything underneath. My height is 170 cm and weight is 66 kg. Is M or L recommended? Thanks
Petra
I would go with the medium if you only intend to have a base layer underneath or a tshirt. If you hope to regularly layer for warmth, size up to the Large.
Artur D.
It's the light blue one. This jacket is perfect for keeping you warm and dry in all conditions.
Karen
Does anyone know if this jacket has a liner...
Does anyone know if this jacket has a liner of any kind in it (mesh or nylon)? or is it one of the straight single layer jackets. I can't find a photo of the interior anywhere!
carneyl
Best Answer
There isn't a separate liner in this jacket - but it does use gore tex paclite. There is a driclime material on the chin area that makes for a nice soft layer where the jacket hits your face. On the inside gore tex paclite shells use a specific gore tex membrane with a protective layer made of an oil-hating substance and carbon. So the interior doesn't feel the same as the exterior - it's that protective layer that will be against your skin. Not a liner since everything is welded together, but I find paclite jackets to be perfectly comfortable against your skin.
Mark Parrett
Marmot Minimalist does the trick
Literally chillin' in my Marmot Minimalist jacket on a sunrise summit of Mt Bierstadt (elev. 14,060'). It was pretty cold and the wind was blowing and this jacket kept the chill out of my bones. The pit zips were great on the way back down when I started warming up a bit. It works wonderfully in the rain, too.
Sonya H
I am vacationing in Australia and New...
I am vacationing in Australia and New Zealand this summer (June). Would this jacket be appropriate?
Carol Nelson
Yes, this is an excellent shell, it will keep you dry and happy. Consider wearing some sort of insulation layer underneath, as this jacket does not provide much warmth at all.
Thomas Ogasawara
Best Answer
Yes! I just returned from Australia myself and this was the jacket I brought. Despite it being summer there now, it was a wet and wild summer (for Australia) and the Marmot Minimalist worked like a charm. (Why fiddle around with an umbrella, when you can stay dry and hands free?!?)

As another respondant mentioned, you will want to layer for extra warmth when needed, but otherwise, this is a great, lightweight Gore-Tex jacket -- perfect for travel.
ZadZack