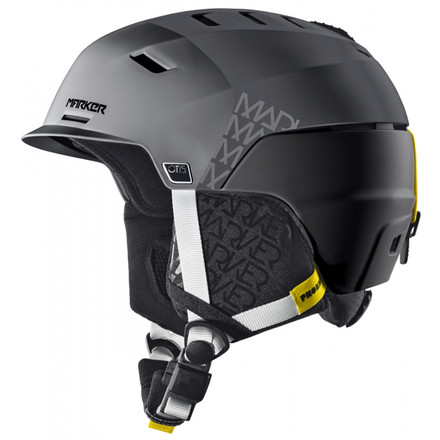 Colors

Community Images
Nothing but the best.
Your brain is the most important part of your body, so why wouldn't you demand the best to protect it? The Marker Phoenix Otis Helmet features MAP protection, which protects 22% more effectively than standard EPS helmets while also providing a more comfortable fit.

Exclusive to Marker, the MAP pads featured in the critical areas at the back of the head, forehead, and temples regains its initial form almost instantaneously so it can protect from multiple impacts during the same crash. The material is also temperature-resistant so it doesn't become less effective in bitter cold conditions, and it also adjusts to your head for a more comfortable fit.

Quickly adjust the helmet fit with a dial in back, and secure the strap closed with an easy-to-operate sliding magnetic snap. Both are easy to operate with one hand and without having to remove a glove. A low-profile strap system at the back of the helmet keeps your goggles secured in place, even if you push them off your eyes and back on the helmet. Ear pads offer added warmth and are audio-compatible to accommodate your MP3 player or cell phone, and can be removed if weather conditions don't call for them. The antibacterial performance lining inside the helmet provides thermally-efficient, moisture-wicking comfort, but can be removed if you prefer the feel of your own beanie. Finally, adjustable vents allow you to allow more or less airflow so you can regulate your head's temperature as conditions change.
MAP protection
Thermally efficient, moisture-wicking Xdry antibacterial performance lining
RTS dial adjustment fit system
2-position adjustable climate control vents
Removable, washable, audio-compatible earpads
Secure, comfortable, and easy-to-operate Fidlock OG closure snap
Goggle safety straps keep goggles secured to helmet
Accommodates your own beanie with performance lining removed
Good ski lid
Familiarity:

I've used it several times
Good fit, good protection, isn't bulky or heavy on the head
Greg E.
Brother/Ski Patroller Approved
Familiarity:

I've put it through the wringer
Got this for my brother for patrol season, here is his review -

"This helmet has fulfilled it's purpose. Lightweight, the shell thwarts branches and other debris(takes a beating), the ear pieces are removable and it's a great fit with or without them. The boa system seems to be superior to any that I've used on previous helmets(Smith Vantage, Scott Chase to name a couple) and provides a tight comfortable fit. The color scheme is unique and overall I'm pleased with the product and would recommend it."
Geoff Conner
Did not really like it, returned.
Familiarity:

I've used it once or twice and have initial impressions
Not sure why people so positive about this helmet. I did not like it at all and returned and here is why. Note - coming from user of Uvex p1us and a bit of Smith' helmets).

-Really not light at all(comparing with my Uvex and Smith' i tried)
-Feeling bulky, shell is just bigger than other helmets with comparable sizing.
-Forward inside area is visibly flatter than , say, Uvex', which creates some pressure points(prob. not for oval heads?).
-Lock magnetic mechanism is a joke, not so convinient at all. here again, Uvex has much better one.
-Earpads are so thick that when turning your head you often touch your coat parts.

I guess I'll try to find Uvex somewhere, it just so difficult to find nowadays from some reasons(i mean not the racing ones).
Smith (one that costs 179) is also better, it just seems that half of people wearing Smiths on my home mountain.

To be fair, overall looks like solid built helmet just can't see how to wear it 6-8 hours a day on a mountain.


igor I.
Also Dad approved
Familiarity:

I've used it once or twice and have initial impressions
I got this helmet for my Dad based on my brother's glowing review. This was a great upgrade as his previous helmet was REALLY old. Based on initial use, it fits great, and he found it warmer than his last helmet and didn't need to wear a balaclava with it at 19 F (when he would have with his old helmet). The vents work much better than his last helmet as well, and he likes that the closure is intuitive where "back" is closed, and "forward" is open.
Re Wikstrom
Brother approved
Familiarity:

I've put it through the wringer
After a really bad concussion and cracking his old helmet in half, my brother went full nerd to research the latest in ski helmets. This is the one he settled on, largely based on the MAP protection. He's been using this for close to a year now and no complaints.
Re Wikstrom
RTS dial adjustment fit system broke up
Familiarity:

I've used it several times
I like everything in this helmet except the fact that RTS fitting system has broke up after my first serious fall from the snowboard on the back of the helmet. There are 2 parts of this system over the ears where it sticks to the helmet - and both of them are now flying in the air inside the helmet.
Oleksandr K.
Great
Familiarity:

I've used it several times
Best helmet I have owned superb color great workmanship
James H H.
Do the ear pieces come off?
Hanbin S.
Bill Porreca
Unanswered Question
Would the oakley flight deck goggles fit with this helmet?
Robert Mikkelsen
GOAT IS GOOD
Familiarity:

I've put it through the wringer
Helmets are a necessity, and this helmet is BOMBER. This helmet works great. It has great padding all around. The vents are great for those hot spring days and the earmuffs make it so you don't need any beanie or balaclava under. The magnetic clip is one of the main reasons I got this. I wear mittens and at times it gets difficult to get buckles to snap correctly. With the magnet it is a piece of cake. I was hesitant at first with how the helmet was going to fit with my goggles I already had. My Smith IO/7s fit almost perfect , only issue is they seem to bunch up with the goggle strap/clip in the back (no biggie). This is a great helmet it is lightweight durable and PROTECTIVE. Cant ever spend to much on safety.
Josh R
Initial Impressions
Familiarity:

I've used it several times
First, I own this helmet but have not used it on the hill yet. As such I can not speak to warmth, airflow, etc. Second, I did not purchase it through backcountry.com.



My head measured to 59cm so I opted for the large to allow for room for a balaclava without pinching my head. Compared to my older burton helmet this thing is a monster. It is much larger in the thickness of the helmet material. This makes sense if you've read about the construction materials and safety tech.



The helmet is very light and quite comfortable. The magnetic buckle is really slick and it much better than fiddling around with a more traditional buckle. The vent adjust was easy enough to operate with gloves on.



One thing I ran into is that my older Spy goggles do not fit will within the confines of the helmet opening. I'm sure more current goggle designs better fit the opening in terms of shape and width.



I would advise you to check it out/size it in a local shop. Bring your goggles and other bits to make sure it all fits.



UPDATE

I've used the helmet a few times on the hill and it has been incredibly comfortable and warm. Sounds is pretty muffled but I'll take that over frozen ears. Newer goggles should fit ok, I'm going to retire the old Spy's for the Smith Squad. Overall this helmet rocks and I recommend it.
Joel
Is there a Manufacturer Warranty?
Ron McCain
The booklet indicates a 1 year manufactures warranty against manufacture defects and and workmanship.
Joel