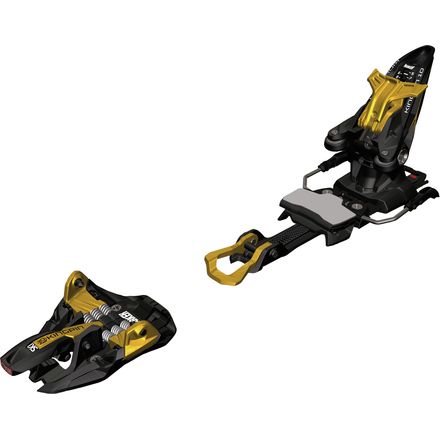 Colors
Kneel before the king.
Tech bindings have been more or less the same for a while now—two pins, four springs, one pivoting heel—but Marker saw the potential for some serious improvement, spent a few afternoons tinkering in its basement, and emerged with the brand-new Kingpin 10 AT Binding. It cribs the locking pintech toe from classic tech bindings while throwing in a twist or three. Marker pretty much reinvented the heel, creating a binding that offers the climbing performance of a lightweight two-pinner and the elasticity, power, and security of a traditional alpine clamp.
Let's start with the toe, which is the most recognizable piece of the Kingpin. In classic style, it uses two spring-loaded pins to secure your boot, has a locking ski/walk switch, and sports adjustable boot stops for easy step-in. The differences are in the mounting pattern (a super-wide 38mm for efficient power transfer on wide skis) and the spring configuration, which uses Marker's Six Pack setup to provide greater energy absorption and contact pressure than a four-spring setup, reducing unwanted release in ski mode and giving you a smoother ride. There's also an integrated crampon adapter for stress-free ascents up bulletproof snow or in no-fall zones.

The toe's cool, but it's in the heel that the Kingpin really finds glory. Marker's XXL Power Transmitter is damn similar to an alpine heel—the step-in function is the same, it has a beefy anti-friction device, and it rocks alpine-style brakes that lock up in walk mode—but with a few key differences. First, it's TUV-certified, making it the first tech binding that can actually claim to have real, measurable, and repeatable DIN settings, not just "release values." Second, it pivots laterally to provide consistent release and retention, with plenty of vertical elasticity as well, so you have a powerful alpine connection instead of that rattly tech-binding feel. To engage the heel walk mode, you just flip the underfoot lever to slide the heel back and step down, locking the brakes in a raised position. That'll give you a free, flat heel, and the dual risers can be flipped down with a pole to give you 7 and 13 degrees of climbing comfort. Reverse the process to engage ski mode, and psych yourself to rip the biggest, baddest, remotest lines you can find.

First fully DIN-certified tech binding (range from 5-10)
Plastic and hot-forged aluminum body with carbon rails
Six-Pack power toe springs with traditional ski/walk toe lever
XXL Power Transmitter alpine-style heelpiece
Adjustable easy step-in with boot stops
One-motion underfoot ski/walk switch
Two heel risers
Automatically locking brakes and an integrated crampon adapter
Backcountry.com is the exclusive North American online source for the 2015 Kingpin
Amazing
Familiarity:

I gave it as a gift but have feedback to share
Gift recipient says: These bindings are amazing! During downhills I can't tell the difference between these and my alpine bindings. Haven't had to test the release on these yet (cross fingers) so I'll update this review if I happen to fall over. Walk mode works as advertised.

Kate Cronin
I love the Kingpins
Familiarity:

I've used it several times
They're light, easy to use, and feel the same to me on the downhill as alpine bindings. Toe piece takes some practice getting into- ice can build up around the pins, which interferes with clicking in at first but gets easier with additional reps. It's a minor annoyance. Heel piece is solid and issue-free. Simple transition from walk to ski mode and back again. Overall they seem simpler than the Radical 2.0's my SO is on. I would buy them again for sure.
Trevor Linthorst
The Binding to End all Bindings
Familiarity:

I've put it through the wringer
These bindings have just about nothing wrong with them. The only issue I had was learning how to step into the toe, but that took all of one day to figure out. Transitioning from walk mode to ski mode is incredibly easy, and they ski beautifully down powder and provide effortless control. However, the best thing about these bindings is the DIN settings. Most every other Tech binding doesn't have the option to adjust the Din which is a bit scary. So having that makes a big difference. I would definitely recommend them to everyone. They are great for Backcountry skiing, as well as resort. The only reason I would not use them constantly in resort is just to avoid the wear, but they preform great anywhere you take them!
Courtney Scott
Recalled Binding toe pieces
Familiarity:

I've used it several times
The first version of these bindings have an unannounced recall. After light use of Kingpin 10 bindings purchased from Backcountry. I had pin failure discovered after ski fell off and yard sale insued. My new skis have been in the shop for 6 weeks waiting for toe pieces to come back from Marker. Marker will not let shop just replace toe pieces from their stock because Marker is repairing my broken toe pieces. Marker will not responded to my emails and I haven't found a phone number. Terrible customer service for a know defect. I would not buy theses bindings again.

ChrisJ
All around great binding
Familiarity:

I've used it several times
I've used this binding for a couple day trips in the Midwest and I am impressed. I've got them mounted to some Rossi Soul 7 HD skis and it's the lightest set up I could ask for. Easy to use binding, just make sure you get in with no snow in your tech pins. 10/10
Matthew G.
Marker Kingpin 10 AT Binding
Familiarity:

I've used it several times
Just replaced a Duke... super light, and bomb proof.. so far loving it.
erhan ayan
Patrick Kilbourn
Light weight, rock solid
Familiarity:

I've used it several times
Mounted these to Volkl BMT 109s, have used them for several daylong trips in the Idaho panhandle. Flawless downhill performance so far, in a dramatically lighter setup than I have used in the past. My first tech binding and light ski combo and I'm very impressed. Heel lift adjustment is easy to use and seems well thought out. Plan to take this setup on a multi day hut to hut tour next season and am confident it will get the job done. Would go with these again without a doubt.
Olfatdad
Hello, are the Dynafit Vulcans compatible with the Kinpin bindings? Mainly concerned about the heel. Thanks.
Doug W.
Hey Doug - The Dynafit Vulcan boots are compatible with the Kingpins, they are a solid pairing for downhill performance. Feel free to contact me directly with any additional questions or if you are interested in a new Tech AT set-up..

- Kyle L. - Expert Gearhead
Kyle Livingston
Best bindings out there. Period!
Familiarity:

I've put it through the wringer
Bomb proof, burly, stylish, super light, and people are just awed by it. I had the Kingpin 10 for I am a 120lbs. skier and they performs as good or even better as the din bindings ones. I had these bindings mounted on a Volkl Katana VWerks 186cm and the pairing is just unbelievable.
Nelson
Is this binding compatible with the new Salomon MTN LAB boot?
Scott H.
It sure is!



Contact me directly if you have any other questions or would like to pick some up.



TREY SCHANZENBACH

Expert Gearhead

Office: 1-800-409-4502 ext. 4689

tschanzenbach@backcountry.com


Trey Schanzenbach
Blown Away
Familiarity:

I've used it once or twice and have initial impressions
I used these for the first time on my new Icelantic Nomad RKRs yesterday and was blown away. They feel exactly like an alpine binding in my opinion. I am used to alpine skiing on Marker Griffons and touring on Marker F12s. Needless to say, touring on the Kingpins feels almost weightless compared to what I'm used to.

I was able to ski a mixture of terrain yesterday, including bulletproof garbage in the morning, knee-deep powder when I found it, breakable crust, and railing big turns on the groomers.. These bindings handled all with flying colors.

I'm 6'0, 185lbs and have the Kingpin 10s. Will probably upgrade to the 13s when my wife decides she wants to tour more but the 10s held up wonderfully!
Jared R.
Is the break removable/swappable? I'd like to swap this binding on two pairs of skis using inserts. A really fat pair (117 underfoot), and an all around pair (95 underfoot) without getting any break drag. I know this is a big limitation on the Dynifits and G3 bindings with breaks.

Thanks!
Robby Stout
Best Answer
You sure can! We unfortunately do not sell the brakes. I did a quick Google "Marker KingPin Brakes" and found some sites that have them for around $50.00.
Bill Porreca
Does this binding require special toe pieces or can you use a regular Alpine boot?
I have Cham 127's, will the 125mm brake work with bending?
Robert Quinlan
Robert you would need a alpine touring boot with the tech inserts.
Bill Porreca
I am considering this binding to put on Savory 7's. I bought the mt. collective pass and want to do a mix of inbound and out skiing. I have a fatter pair of skis with dynafit bindings for powder days but want to bring another pair of skis for in bounds and groomers. I'd like to only haul one pair of boots around. The same boots - Scarpa Geas- will work for both bindings, correct? Will I enjoy the Kingpins on the groomers at the resorts or should I get a whole other set-up for that?
Elizabeth O.
The Scarpa Gea's will work in your Dynafit bindings and the King Pins. They wont be the best on the groomers but, they will work. Though the KingPins have probably the best feel in terms of skiing in a touring binding its still not as good as a traditional alpine binding.
Bill Porreca
Tech Binding Innovation!
Familiarity:

I've used it once or twice and have initial impressions
I was able to hop on these bindings last year at the Outdoor Retailer show. Volkl paired them with many of their skis, I tried them on the V-Werks BMT 109.

People are constantly looking for a tech binding that can ski well. It seems the lighter you go the less performance you get. With every innovation the sacrifices become less and the Kingpin is proving that in a big way.

The first thing I noticed was two extra springs in the toe piece compared to my current bindings. With this you get a lot of holding power and more power transmission than current tech toe pieces on the market. On the Kingpin 13 they change tweak the springs a bit to generate even more power transmission than the 10.

The big deal about this binding really lies with the heel piece. The way it clamps onto the boot is what I thought gave it a true alpine feel. When you tip the boot on edge the binding is right there with you as its such a better connection than 2 pins in the back of the boot. Just like a true alpine binding would clamp down on your heel, the Kingpin Mimics this.

The binding is TUV certified meaning its a lot safer than more traditional bindings on the market. The design of the binding allows for changing lengths within the ski due to flexing which is huge compared to what we have had. Ive never had an issue with pre-releasing or not releasing with a tech binding and didnt see any issue here. I usually try to ski the bindings hard in bumps just to check them out and I didnt have an issue.

Two years ago you either had to go full on tech binding route or a frame binding. Either 4 pins connecting you to the ski or an actual alpine binding built into a frame that could hinge at the toe. True efficiency in a tech binding comes from the ability to hinge with your boot and not have to lift up an entire binding every time. Sure the Kingpin is heavier than other tech bindings with a 10 DIN but, if you want something close to true alpine performance AND dont want to pick up the entire binding every time you take a step this is the best option out there.

I still wouldnt use these everyday in bounds. If you are going to ski that much in bounds a frame binding like the Baron is a better option. I would trust these in bounds but, wouldnt want to put unnecessary wear on them, plus if I am skiing that much in bounds its more fun on a traditional alpine binding anyway. This binding really makes sense for backcountry skiers that want a true alpine feel with actual efficient touring capabilities. Not the hard-core in bounds skier that is going to slip out of bounds every now and again. That person should probably have two set ups!

The binding requires a ski boot that has a normal length heel welt. For boots with a smaller welt Marker has created an adapter to fit over it. The boots without a normal heel welt are commonly found on really light weight touring boots such as the Scarpa Alien or Dynafit TLT 6. I should have the full list of boots that need the adapter and then there are some that just wont work. Like I said though those boots tend to be very light and are probably better off in a lighter traditional tech binding anyway. Ill update once I get concrete information.

If you have anymore questions feel free to send me an email or call!

Bill Porreca
bporreca@backcountry.com
801-736-6398
Bill Porreca
Is this the 2016 model with the updated (fixed) toe section?

Axo
Hey Axo,



These are the 2016's with the fixed toe pins.



Contact me directly and I can set up an order for you and answer any remaining questions.



Ben

brabinowitz@backcountry.com

801-746-7564
Ben Rabinowitz
I put about 50-50 in-bounds and out with full day tours. Does anyone have any idea if these would hold up to that kind of use? Ill be putting them on some Moment Exit Worlds 178cm. I cant wait to try them Im hoping this is what they were designed for. I'm Tied of the weight and lack of efficiency of the Dukes on longer tours.
Bo
Bo, these will hold up to that kind of skiing. Its exactly what they are meant for! Glad to see you have graduated from the Duke's to a set of tech bindings, wait till you tour without the extra 2lbs attached to every step!
Bill Porreca