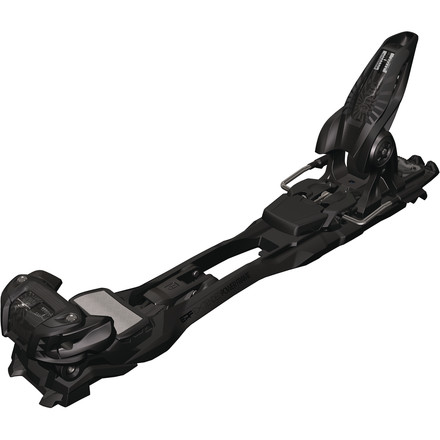 Colors
Charge hard up, charge harder down.
Earn your big mountain turns in the light and powerful Marker Duke EPF Alpine Touring Binding. With backcountry Climbing Aid technology, you can set the Duke to flat, 7 degree, or 13 degree positions easily with your ski pole, while integrated elastomer padding dampens impact, to reduce those annoying clacking noises. A 6-16 DIN range allows you to bomb the mountain and huck cliffs without fear of kicking a ski when you need it most.
A widened platform featuring Power Width Design and a 28% larger EPF Extended Power Frame give supremely smooth transmission of power from boot to ski, even on those fatty boards that have a love affair with powder. A Triple Pivot Elite toe, Inter Pivot heel, and stainless steel gliding AFD all further enhance power transfer while providing optimal energy absorption to reduce the risk of pre-releasing. This hard-charging monster of a binding has to be super heavy, right? Wrong. Magnesium parts and a Hollow Tech fiber-reinforced frame provides impressive stability and strength with minimal weight.

6-16 DIN range
Power Width Design
EPF Extended Power Frame
Hollow Tech construction
Magnesium parts
Stainless steel AFD gliding plate
Inter Pivot heel
Triple Pivot Elite toe
Backcountry Technology three-position climbing aid
Great Binding
Familiarity:

I've used it several times
Super solid binding and definitely built to last. As a frame binding they do set you up a little higher than most alpine bindings but you adjust to the change fairly quick. Not the lightest frame binding on the market but it gets the job done.
Luke Fortune
Solid Build
Familiarity:

I've put it through the wringer
The Marker Duke EPF is a great inbounds binding, it really charges hard with no slop from the new EPF platform. If you are looking for a really strong binding to send it big, this is your choice. The major downside to this binding is it's weight, it is very heavy for backcountry travel. I would not recommend putting this binding on any backcountry specific ski set up. If you are looking for a 25% backcountry - 75% resort binding this is your best option for a hard charger.
Being that this is a frame binding you are higher up on the ski, giving you more leverage on the ski, so these bindings pair well with a wider ski.
Samuel Nichols
fun and durable
Familiarity:

I've used it several times
I have really enjoyed my dukes. Although maybe just a tad on the bulky side they charge great, easy to switch modes and Im not worried about them breaking in the backcountry. definitely recommended
Andrew Oaks
This is my second pair of Dukes and I absolutely love them. They are very easy to switch into touring/hiking mode and very durable.
Lee Klitzner
Can I use my alpine boot in this binding when I'm not touring?
Ellicott D.
Hi Ellicott. Yes you can. This is a good option for someone who is interested in doing some touring as well as resort riding and will work with a normal downhill boot. I will give you a call to see if you have further questions!


Karsyn Ansari
Great bindings
Familiarity:

I've used it once or twice and have initial impressions
These bindings are a good binding if you dont want to go buy a full touring setup. They have a good sturdy construction and are a little bulky but not to bad. I have used them a handful of times and they seem to be holding up well. i recommend these to anyone who mostly skis on trail but need the touring option sometimes.
William Krempa II
Security and Durability
Familiarity:

I've put it through the wringer
For an alpine touring binding, the weight may not be desirable, but it's definitely manageable. For me, the advantage of a tech binding isn't as much of the weight factor, but the different climbing leverage you get with the pins attached to your toes. If you don't share this opinion and are looking for a lightweight alpine touring binding, the f12 or aaambition are better choices. However, if extra weight isn't a huge problem, these bindings are amazing.

They are great in the resort - I've never had any unwanted release no matter what terrain I am using them in. They are awesome for little half hour to an hour sidecountry tours that put you just beyond the resort ropes - this is how I used them in the video. If you are going to be starting ascents at a base or valley floor with significant approaches and/or elevation gain, a tech setup will be much more desirable.

In saying this, I have used them for 3-4 hour ascents, and didn't have any problems with them icing or any problems with the function of the riser bar, so I was very pleased.

I would say the weakest area of this binding are the transitions, as switching from hike to ski can take some effort. Snow can sometimes build in the binding, making it difficult to activate the ski/hike mechanism. As well, if the ski isn't relatively flat, the frame can miss the rails when transitioning the binding. This all may sound problematic, but it isn't that big of a deal, personally. And that is what this binding comes down to; if you're willing to sacrifice ascent capabilities to emphasize the descent (and on the topic of descent, these perform exactly like the jesters - ive dropped 15-20 ft'ers and felt no play in the binding).
Ty Werbicki
If you're not ready to take the plunge on a full blown tech binding set-up, these Dukes are as good as it gets for a frame-style touring binding. Plenty of edge to edge power when you're charging the descent but these have also been lightened up enough so that they're not a complete drag on the ascent. For a side-country style binding that you can ride in-bounds but that gives you some mobility when you leave the gates, these are top notch.
Pace Measom
Bomber
Familiarity:

I've put it through the wringer
This is a great binding if you want to be able to tour, but refuse to give up the super stiff bomber feel and reliability of alpine bindings. The weight of the bindings paired with the fact that you generally use a normal alpine boot means major sacrifices on the up hill, but in return you get a full on alpine quality ride down the hill. That makes this bindings perfect as long as you don't care about racing to the top or doing crazy long tours, and if you plan on skiing aggressively wherever you go. And as long as you don't mind the bit of extra rise, they are perfect for resort skiing as well so you get quite a lot of bang for your buck.

If you want to cover a lot of ground on your tours and are getting a dedicated touring setup I would recommend low tech bindings like dynafits, but otherwise this is a great option. I've owned both types of setups and they both excel at what they're built for. So read the descriptions and reviews, pick your poison, and have fun!
Vinny Mauro
My boot size is 305. Would I go with the small or large bindings? Thanks !
Christopher M.
Hey Christopher,

If your Boot Sole Length is 305mm you want to go Small, if your Mondo size is 30.5 you'd want to go Large. Contact me if you have any other questions.

Ben
Ben Rabinowitz
will these fit my tom wallish full tilts

Bryce Serpe
Yep, these will fit those just fine.



Ben
Ben Rabinowitz
I've got some K2 Sean Pettitor skis that are 120 underfoot and my boots are Technica 275 315mm. I'm mostly going to be resort skiing with a little side country hiking. Are the Dukes the right choice and which size do I need?
Scott I.
Hey Scott,

The Marker Dukes are great bindings for someone looking to ski 90% resort/10% sidecountry or backcountry. The only problem is you need a wider brake than the 110 mm to fit your 120 mm K2 Pettitors. Check out the Salomon Guardian MNC 16 Bindings (Item # SAL00KP) in the L/115 mm brake as a solid alternative. Feel free to contact me directly with any additional questions.

Kyle L. - Expert Gearhead
Kyle Livingston
I have a 92mm midpoint on my skis is the 110 mm brake going to be the right size on the marker duke?
Lee C.
Hey Lee,



Go with the 90 mm brake and bend them slightly to fit around the 92 mm waist of your skis. The 110 mm brake will have too much overhang. Feel free to contact me directly with any more questions about the Marker Dukes or other ski bindings.



Kyle

Expert Gearhead

klivingston@backcountry.com

801-736-4337
Kyle Livingston
Great for the resort or some sidecountry
Easy to use, works great. A little heavy for an all day excursion into the backcountry but perfect for those quick sidecountry adventures.
ROBERT BETHKE
How these works with dynafit mercury boots?
Thanks
yel105493902-0
Hey,



The Mercury boots will work with this binding. They are a tech boot so ideally you would want to get a tech binding but you most definitely can use an Alpine Touring binding.



I have an email headed your way with my contact info. Feel free to contact me directly if you would like to discuss further.



Eric Watford

Expert Gearhead

801-736-6397

ewatford@backcountry.com
Eric Watford
I just bought a pair of K2 Coombacks with 104 mm underfoot and my ski boot is 306 mm in length. What size Marker Duke binding do I need and what width size of the ski brake should I get? Thanks.
Larry P.
Larry, you need the 110mm brake, and the Small will fit better. Leaves a little more room for adjustment.



If you have anymore questions feel free to send me an email or call!



Bill Porreca

bporreca@backcountry.com

801-736-6398
William P.
Unrelenting security
Familiarity:

I've put it through the wringer
Heavy? Yes
Reliable 16 Din? Yes
Decent tourability? Yes

I have a hard on for Marker. I've never really been swayed from them ever since I've been skiing. I've skied Griffons, Jesters and Dukes, and have never had a complaint. People will bitch about what they will, but I like them and they work for me.

I love this binding. Is it heavier than I would want it to be? Sure, but its a framed AT binding, so it is what it is. The stack height is ok lower than the competition, which I love. I really like to be as close to the ski as possible. The reassuring THWAP when clicking in puts a smile on my face. I can throw my skis on edge and feel no waiver in the transfer of energy. Rail them down groomers, nose butters off rollers, slashing pow. Do it. These binders wont hold you back. They tour as well as any frame binding . Smooth with little torsional flex. I like the ease of the touring bars. It seems like many people complain that the tour mode lever is under foot. I really like it there and out of the way. Im not flexible and have to take my ski off to remove skins anyways.

Ill ski these until the quirks get worked out of the Kingpin. Then Ill mount a pair of Jesters on my resort skis, and a Kingpin on my Touring skis.

Add: Im 6' 205-210lbs. Ski at a 13 DIN with a 317 BSL. Mounted +5 of Rec on 188 Fat-ypus D'Riddums

John Duke
Good choice for short tours & resort use
Familiarity:

I've put it through the wringer
I've used Dukes for a few years now on a couple pairs of skis. My first pair was the non-EPF version, but honestly I can't tell a difference between the EPF and non-EPF version.

Pros: Skis very much like an alpine binding. Solid downhill performance. Some folks don't like the stand height, but it's never really bothered me. The heel risers work well and are easy to manipulate. It accommodates alpine & AT soles.

Cons: Yeah, it's heavy. But it's comparable to other bindings in its class (Tracker & Adrenaline). And you can't switch from skin to ski mode without taking off your ski. But I think most folks who use a Duke aren't too concerned about an extra 1-2 minutes at the transition. Honestly, if weight and speed are a concern, you're not going to tour with a Duke. I've had no major durability issues. I did get some fore-aft slop at the lever pivot (it's well described) in my early generation Dukes, but this was after more than 50-60 days of resort bashing. But it wasn't a huge amount and didn't really compromise performance in a meaningful way. The toe pivot point feels more awkward than a tech binding, but this isn't a surprise.

So if you're looking for a binding for mainly resort use (90% resort/10% touring) and the occasional short tour, this is a good option. Or if you only do short sidecountry tours, this is a good option. And I guess if you really go big and value ski performance over touring performance, these are near the top of your list. But for true touring, get a tech binding. These are too heavy and cumbersome for long tours if you ask me.
Mike
My boots are 320 mm long, do you recommend I get a small binding that fits up to 325 mm or a large that is from 305 mm to 360 mm. Thanks!
George L.
Best Answer
I would recommend the large. The large is easier to re-sell.



You can call or email me directly. 801-736-6398, or bporreca@backcountry.com
William P.