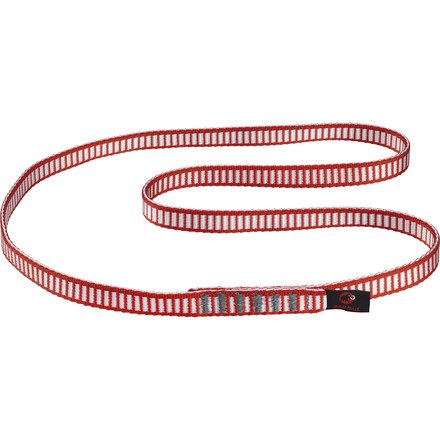 A classic for a reason.
The Tubular Sling 16.0 is a classic in Mammut's collection for climbers and alpinists alike. This skinny sling has a higher breaking strength than most cams; just let that sink in.
Not a big fan
Familiarity:

I've used it several times
As mentioned these slings are extremely stiff and slippery and do not handle well at all. Doubled up as an "alpine draw" they turn into a big circle and don't sit flat at all. I have only used these a handful of times so I cant speak to whether or not they "break in" but I would highly recommend looking elsewhere for slings.
Craig L
I will mostly use these are leaver sling
Familiarity:

I've used it several times
They're fine, but I prefer the handling of a more supple nylon.
It's nice that they come in a 120cm version, though.
In the end, dyneema/spectra/whatever is just more convenient
t_j106049842
stiff & slippery
Familiarity:

I've put it through the wringer
whooops, that title is suggestive. But its true.

the nylon sling is stiffer than BD nylon slings. Probably because its thicker in material. It's also very slippery, like BD nylon slings, and unlike DMM nylon slings. I don't think these qualities make the sling better or worse, but it's something to keep in mind. And maybe it'll 'break-in' with time? who knows.

So combined, the knots don't 'set' tightly the same way as the softer slings do - it makes it easier to undo the knots after they've been weighted. I used the blue 120cm sling a lot in the Rockies to tie off two-bolt anchors.
Eric C.