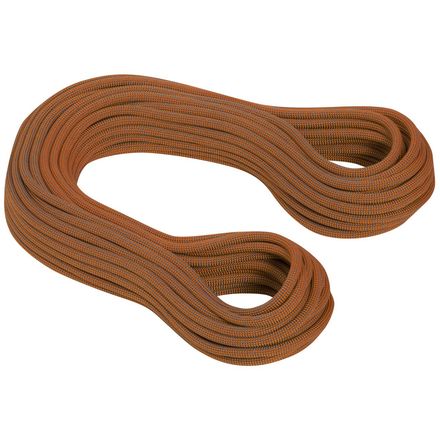 Colors

Detail Images
Take the whipper!
Mammut's Gravity Dry Climbing Rope has the robust reliability that beginners and hard projects call for. The Gravity gains its high fall rating and durability from a big 10.2mm diameter that's also friendly for learning how to belay. Even though it's very suitable for gym climbing, Mammut added a Dry CoatingFinish water-repellency treatment to both the sheath and core for the outdoors. A center mark makes for easy rappels after redpoints and a good day at the crag.
Dry CoatingFinish treatment
Center mark
Big Solid Rope
Familiarity:

I've put it through the wringer
I've been using this rope for single pitch sport & top rope climbing and it certainly does the job, and does the job well. I don't mind the extra weight that comes along with a rope of this diameter but I can imagine it feeling a bit heavy on long approaches and multi-pitch adventures. It doesn't flow as nicely through my gri-gri as some of my friend's thinner ropes but that was expected from the day I bought the rope. I've gotten caught in a few rain storms in which the rope got a bit wet and I dried it out properly, however it will still start to twist by itself which can get a bit annoying.

Overall, I knew what I was getting into with a 70m 10.2mm dry rope and it does have it's drawbacks, but those are heavily overshadowed by perks of having a big bomber rope like this! As I progress I will most likely end up going thinner.
Joe Coughlan
Mammunt 70m dry dynamic rope 10.2
First review on dynamic rope have to say it's exactly what I needed, I've been climbing top rope ND drop a few icey rappel's so far with this rope durable dry sheath this rope can take a beating, weight is a little on the heavy side feeds find threw my ATC and gri gri, and has a mid marker witch is a plus, Also thanks Dan Goodman for the help, ND fast delivery backcountry!
Michael J.
Durable and Solid
Familiarity:

I've used it several times
I've now put a number of days on this rope and I can say it will hold up. So far I've got no complaints in the durability department. My only concern is the diameter. As the rope breaks in it increases in thickness to where it is getting close to the max to feed through my atc. If I did it again I would go with the Mammut Eternity Dry. My climbing partner has the Eternity and it holds up very nearly as well but feeds noticeably better and is lighter wieght.
Patrick Dailey