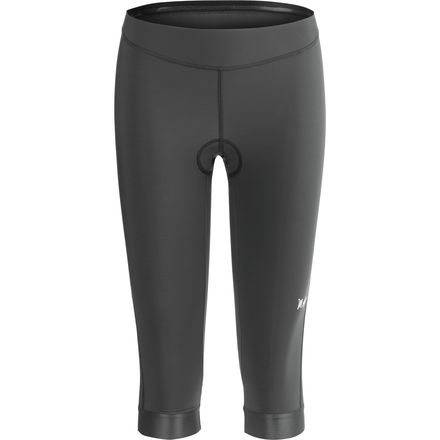 Sleek, stylish, and warm.
Sleek and supportive, the Maloja TorontoM. 3/4 Knicker is ready to ride through chilly fall days when you need a bit of extra coverage from cool canyon breezes. With a smooth blend of nylon and spandex, the TorontoM. 3/4 Knickers are designed to cut through cool air, with a soft and fleecy touch on the inside for a bit of insulation if the temperatures start to dip. Generous stretch allows you to have total flexibility in the knickers, enabling you to put down the power out of the saddle on strenuous efforts, and cruise along bike paths without feeling restricted.
Underneath your sit bones you'll find the welcome addition of Maloja's HD Ergonomic Women's chamois. Using Multi-density foam, the chamois supports you where it's needed most and tapers off to minimize bulk. The pad uses Poligiene technology that fights odors and wicks away perpiration while you pedal, keeping you feeling fresh from start to finish. Skin strap cuffs at the ankle fit snug, but don't cut in, so you seal out the elements from below, and up top, a flat waistband holds in place, with thanks to an elastic-silicone laminated insert on the backside. The TorontoM. Knickers use flatlock seams to minimize chaffing for a completely comfortable ride.
Knickers for keeping knees toasty on cool fall rides
4-way stretch offers full freedom of movement
Basic insulation provides a trap for heat against skin
Wicking materials offer fantastic moisture transfer
HD Ergonomic Women's chamois supports sensitive spots
Poligiene pad in chamois fights odor and keeps you fresh