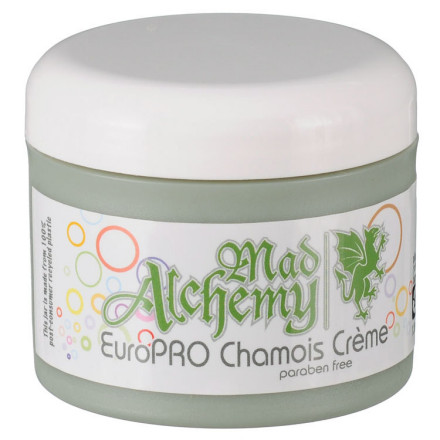 Colors
Ride with the Alps in your chamois.
Racing is racing, but it's still pretty nice to feel like you're pedaling through the Alps, even if you're rolling through the Rockies or cruising through the suburbs. Mad Alchemy's Euro Pro Chamois Crème uses alpine herbs—like "from the Alps" alpine—to provide a burst of freshness with the smell of a Swiss meadow. The vegetable-based formula is also packed full of essential oils to help ward off potential infections, because nothing's worse than a saddle sore, except an unhappy saddle sore.
Vegetable based
Essential oils
Excellent chamois cream
Familiarity:

I've put it through the wringer
Moderate menthol scent, mellow (lower than 'Medium') on actual menthol effect on your chamois application skin regions. Mild to mellow menthol sensation on crotch skin during rides over 50 miles, just right, even in late fall and winter. Imagine this will be best in heat of summer! Have used on 50, 60 and 70 mile rides, works great, no issues on skin, washes off easily (no double scrubbing needed) and also easily washes out of chamois in bibs or tights. Highly recommend trying, great value for an excellent product, this is the third MA product i've used, been happy with all of them.
Michael N.
My everyday chamois creme
Familiarity:

I've put it through the wringer
Though I prefer a bit more "tingle" and bolder scent, I like MA's Euro Pro creme most of all of the competitors that I've tried. That includes all named in other reviews here as well as many more at the full spectrum of price points. It has the right balance of viscosity, scent and tingle. IMHO, it's essential for chamois creme to be all natural and not pores clogging and MAabsolutely fits that bill. The fact that MA is a US-based small business is a bonus. MA Pro+ is the same product without tingle or scent. For rides over 3-3.5 hours, I prefer MA PURE Chamois Creme even though it's unscented and not tingly.
aaron Daniel
Try it, you'll like it
Familiarity:

I've used it once or twice and have initial impressions
I got clued in to Mad Alchemy when I was racing on the road and used their embrocation (warning, the 'medium' is HOT). I have used a lot of different chamois cremes in the past ranging from Assos to A&D ointment and wanted to give this product a try....

Very good texture (and smell), not too greasy which is important because I want it to wash out of my chamois. I'm pretty stoked so far.....

Chamois creme (just like a saddle) is a very personal thing so give this a try at least...you might just like it.
Mike Newberry
Not bad
Familiarity:

I've put it through the wringer
The icy feeling form this Euro cream seems to keep the nether region from getting to cold on cool Fall days. So far I am pretty satisfied and am starting on my second jar.
Bobby Sorensen
Height:
6'1"
Weight:
190lbs
Game changer
Familiarity:

I've put it through the wringer
I ride a pretty low and forward TT aero position. This puts a ton of pressure (well 165lbs.) on the you know what. This stuff has completely ended discomfort, and chaffing. I'll never ride again without it.
T Bruce B.
Fresh
Familiarity:

I've used it several times
Used this with several shorts. Much better feel and consistency to the product than others I've tried. Definitely stronger in icy feeling than the DZnuts brand, and has prevented chaffing better as well.
Ascary L.
EVERGREEN TINGLES OF COMFORT
Familiarity:

I've put it through the wringer

Fit:

True to size
It gets a little awkward when I'm riding and people ask me "what smells so good." Truly the best scented creme out there. The menthol is pretty strong though compared to Assos or the Butt'r Eurostyle, but also the best feeling on a humid summer day. For added effect, be sure to make eye contact with a friend during under-towel parking lot application.
Myles L.
Does the job, but a little too zingy
Familiarity:

I've used it several times
I found the product lubricated well and I like that it is all plant based. It held up and worked for an entire century ride in hot dry windy weather. The menthol is just a little too pronounced for my taste. I will probably give the LaFemme version a try when this jar is empty. Great product just not my favorite flavor.
Craig C.
This chamois creme is quite tingly. The viscosity is thinner than most which I like- but if you don't like that menthol feeling on the undercarriage than try something else. I love the Mad Alchemy embro and sometimes feel they may have mixed some into the chamois creme.


Scott Gartman
Good Stuff
Familiarity:

I've put it through the wringer
Smells good, Works Great. Will probably buy again.
Calvin Tortorigi
Height:
5'10"
Weight:
160lbs
Great on the loins and opens the sinuses
Familiarity:

I've put it through the wringer
Straight to the point: This stuff rocks! I love the consistency, the smell is awesome, and it does the trick of keeping my taint free from chaffing. The smell is what I love about it, as it has a very strong and pleasant minty scent that cleans up my nostrils and gets me ready to ride. It's not strong as say "Ben Gay" but I do enjoy the smell as well as the feeling when I put it on. Seems like this company makes everything by hand with real ingredients and my seat area thanks it for me after very long rides in the summer heat. I mix it up between the Euro Pro and Pro models as they both are fabulous products.
yourDisplayName
Bring the woods...inside...
Familiarity:

I've put it through the wringer
The smell is what hits you first, fir, wintergreen, very fresh. Not overpowering, I really enjoy it. The viscosity as some others have stated is similar to mayo. I appreciate the fact that it is less chemical and more natural. It does it's job very well and holds up through summer, winter, fall and every discipline I've put it through. I would put it on par with DZ-Nuts but with a better aroma factor.
WiscoSkip
Great stuff
Familiarity:

I've used it several times
Over 100 miles MTB in Sedona in one week, Mad Alchemy kept me moving with no issues. My new go to favorite.

Nathan B.
Love it
Familiarity:

I've used it several times
I typically don't use a cream when i ride, but when i do, this is the best stuff out there. It has just the right amount of tingle when you apply. Only downside is it tends to wear off on long rides (50+ mi). Applying more than you think tends to solve this problem. Recommend!
astrawhacker
Different But Still Good
Familiarity:

I've put it through the wringer
My preface: this is my opinion, not objective fact.

I have used Assos for years and also have tried D-Z Nuts. Assos is my go-to but bought the MA when I picked up some of their embro creme. This is good stuff and if you are looking for something different from the others, MA is a nice option. Specifically, I find it less medicated/minty/tingly than Assos and much less than DZ. Also, it has a different viscosity...instead of pasty (Assos) or like lotion (DZ), it is kind of like gel. It feels a little like mayonnaise or yogurt. Once you get past the thought of spreading a condiment on your junk, it works well. It goes on thick but smells pleasant and seems to be more natural than its competitors. I still prefer Assos (or DZ if I can find it on sale) but the MA will do you just fine.
John Hart
I Like It
Familiarity:

I've used it several times
This chamois creme works at least as well as the other major brands I've tried. But it smells better and is somewhat easier to use since it comes in a tub rather than a tube.



I like it a lot.
Dave Ruben
You'll really like this
Familiarity:

I've put it through the wringer
Nice and cool on your good spots. Super smooth and not too creamy.
Feldy
Awesome!
Familiarity:

I've put it through the wringer
That's all you need to know, it's awesome. Works better, smells better, stays on and lasts longer than anything else I've used. Mad Alchemy is best in class.
Michael D.
Thicker, smells better, works the same
Familiarity:

I've put it through the wringer
Picked this up after stock-outs on DZNuts and Assos cream, my typical go-tos. It's much thicker than either of those, and smells much stronger, but in a good way. The thickness seems to work well; four to five hour rides aren't a problem, and it sort of seems to disappear, feeling-wise, after twenty minutes or so. It's a good product. Smells like the woods. I like it for mountain biking, too.
Brian Bernard