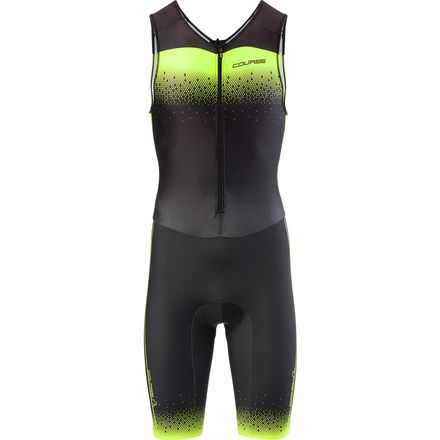 Fast, three times over.
The thinking behind Louis Garneau's top-of-the-line Tri Course Club Suit is simple — more seams mean more abrasion, a less precise fit, and more aerodynamic drag. So, the natural solution to minimizing seams is creating a one-piece suit. And with Garneau's One-Piece Technology, you enjoy a next-to-skin fit that increases comfort and speed over every leg of the course.
Garneau constructed the lower portion of the suit from its CB Gladiator fabric. This material features a knit that has a high percentage of Lycra fibers in its composition. This means that you'll experience more muscle support in comparison to heavy polyester blends. More support translates to less muscle movement from road vibration, and thus, less muscle fatigue. Additionally, even though the Tri Course Club isn't a designated compression piece, you can still expect a slight improvement to bloodflow, correlating to a reduction of lactic acid buildup. And since it's treated with a Coldblack application, it's heat-reflective. In other words, instead of absorbing heat like most fabrics, it reflects it, thereby helping to fight overheating during hot summer races.
You might be asking where aerodynamics come into the fold. Well, it's a two part story, with Chapter One being the materials, and Chapter Two involving the construction. Along these lines, Garneau designed the bottom half of the Tri Course Club suit with a minimal number of seams. Not only does this minimize the possibility of abrasion, but it also creates a smooth, laminar air flow over the legs. You'll notice that the inner leg features a seamless design, and that the hems of the legs have been laser-cut. Together, drag is reduced, and unwanted chafing has been eliminated.
For further comfort, the suit features Louis Garneau's own TriElite chamois. This chamois, developed with Beveled Edge Molding, uses a minimally-surfaced, pre-shaped design that moves in unison with your body. After all, a non-conforming insert is a leading cause of abrasion. So, to guarantee obedient flexibility, the TriElite chamois uses variable-density, perforated memory foam that's been shaped objectively towards every direction of movement and pressure. And unlike other forms of variable-density padding, the TriElite shape ensures that height transitions flow smoothly from region to region. This means that pinching and chafing are nearly eliminated. Keep in mind that this is a tri-specific chamois, so Garneau made sure that the insert is highly breathable, and, most importantly, quick drying. So, you'll experience a smooth transition from water to saddle, and from the saddle to the pavement. All the while, you don't have to sacrifice pressure relief for sensitive nerves in order to achieve comfort in your run. However, Garneau didn't stop there. Instead, it incorporated the medically-used Crabyon fabric. This antibacterial, therapeutic material adds comfort to raw, chafed, and even burned skin.
For the top of the suit, the natural fabric choice for the construction was Garneau's Speedtech material. As the name implies, this fabric is built for speed. It features a dimpled mesh design that's akin to the surfaces of aero helmets and golf balls. The reasoning behind this is simple — between speeds of 15 and 45 mph, the dimples reduce drag at the forward most point of your body. Additionally, this aerodynamic trait also has natural hydrophilic properties that assist in wicking away moisture. And even better, its 18% spandex content qualifies Speedtech as a true compressive fabric. This means that your upper-body will be less susceptible to the damaging effects of road vibration and general fatigue.
Speedtech is also responsible for the top's next-to-skin fit and comfort. It also doesn't hurt that it's been treated in order to wick moisture away rapidly, and it too has been given a Coldblack finish. To secure the fit of the Tri Course Club suit, the shoulders and torso have been pre-shaped for added comfort in both the cycling and running positions. Garneau also made the zipper around 15 inches long, with teeth that pull away from the skin, and with an inner flap that eliminates any abrasion between the skin and the zipper. You'll also notice that the arm and neck holes have been cut liberally to not only permit a full range of motion, but to minimize the amount of the fabric's surface area. Altogether, the stretch of the material, along with the thoughtful design of the cut, provides a next-to-skin fit that will feel unnoticeable over the stages of your race.
The Louis Garneau Tri Course Club Suit is available in six sizes, from X-Small to XX-Large, and in the color Black/white.