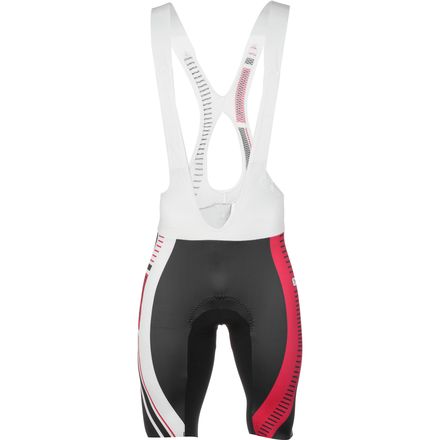 Colors

Detail Images
Limited and lust-worthy.
Produced as a collaborative effort between Louis Garneau and Competitive Cyclist, the Louis Garneau Mondo Primo Bib Shorts feature limited colorways with Competitive Cyclist's signature logo along the outer leg, along with technical fabrics and a compressive, highly supportive fit.

Tested in a wind tunnel to refine its aerodynamic efficiency, these bib shorts leverage One-Piece technology to reduce its seams, subsequently lowering the shorts' drag coefficient. Its seamless inner leg reduces bulk to eliminate saddle bunching on long rides. Overlock seams further enhance its aerodynamics, while promoting full mobility. Other functional features include a Nature Calls panel for fast and easy pit stops, as well as reflective accents for boosted visibility after dark.
The bibs are made of Kite Mesh, which maximizes airflow to combat perspiration buildup, as well as providing a supportive, well-bolstered fit. CB Gladiator fabric along the side panels and upper seat reflects heat with its UV-repelling Coldblack finish. Moreover, you'll find CB Lazer Rev along the inner leg for muscle support and stabilization.
Adding to the shorts, the integrated 5Motion chamois keeps you comfortable when you're riding long distances. Multi-thickness, perforated, high-density foam dampens road vibration and feedback while actively wicking moisture on hot, sweaty rides. Additionally, the chamois' Beveled Edge Molding provides a smooth transition between different foam densities to eliminate chafing and irritation.
Nice quality bibs
Familiarity:

I've used it several times

Fit:

True to size
Found these to be a nice set of bibs. Good multi-thickness chamois that disappears once you get on the bike. Nice straps. Good but mild compression and nice fabric with very few seams.

These have quickly become my favorite bibs, supplanting a pair of Pearl Pros. Fits true to size, similar to the Pearl bibs.
John L.
Good for warm weather
Familiarity:

I've used it several times

Fit:

True to size
It took me a few rides to get used to the amount of compression provided by the shorts, but I've come to like it. They stay in place well, the lack of seams make them quite comfortable.

Chamois pads are definitely a personal thing, so I'll just say this- the LG 4 motion has always fit me well. It's the only chamois I've use that I can wear for 6+ hours without chamois cream. I've had similarly good results with the 5 motion that comes in these shorts. So if your anatomy is similar to mine, you might have a similarly good fit.

I will agree with other reviewers that the bib straps are a little loose, however, they are still functional on me. I think my torso to leg length is pretty average. The straps are very light and thin, which make for a bit of a pain when dressing, but I really like them in warm weather. I've had no other bib shorts, even the meshiest of meshes, that disappear as well as these from a cooling perspective.

So in summary, if you're built with an average frame, the 4 motion has worked for you, and you want cool bibs, you just might want to give these a try.

I have two and I'll probably be buying a third. The sale price is a good one.
Marc M.
Not bad
Familiarity:

I've used it several times

Fit:

True to size

Size Bought:

small
I am 5'6" and 135 lbs and the small fits well. I have been wearing LG products for the last five years and this is not the best, but it is still pretty good. Other reviewers commented on the chamois. This is LG's best (most expensive) chamois and I like it. The bibs are kind of iffy. They are mesh with the part that rests on your shoulders being this elastic band of sorts. The part of the band that rests on your shoulders has some sort of tackiness that keeps it in place. It is certainly different than other LG products, but I didn't notice that it was loose or that it moved. All I can say is that I haven't noticed the bibs during rides. My one niggle is that it has a massive tag in the bag that can be uncomfortable. I don't understand that choice. The color scheme isn't my favorite, but it doesn't look bad. As others have said, the shorts are compressive, and I do like that. I have to comment on the jersey for these bib shorts and say that it is not good. So by themselves, I can recommend these, but not as an entire kit.
michael_lambert
Height:
5'6"
Weight:
135lbs
Worst Chamois Ever
Familiarity:

I've used it several times

Fit:

True to size
I am constantly on the search for good chamois, I previously had LG Team bibs that are a tight compression fit. I really like them and was hopeful that these bibs would be of similar quality but I am sorely disappointed. Pun intended. The chamois is like a piece of cardboard and despite several washes and rides, I can only tolerate it for about 45 minutes before it cuts a hole in the side of myleg. Not very flexible. The comparison may not be fair as I really like the Assos Equipe chamois along with Panache and Black Sheep from down under.
Shawn B.
Very snug shorts, loose bib
Familiarity:

I've used it several times
Took some getting used to the fit of the shorts. They definitely don't move, but I find them very snug from the hip down to the inseam. Much like other comment, I found the straps difficult to place as the have have a very loose feel and the material transition hits at an odd point.

Now that I'm used to them, I do enjoy them
Alex D.
Great shorts, just OK bibs
Familiarity:

I've used it several times
The shorts are great. 5Motion chamois is very comfortable for longer rides; it is much more comfortable than the LG Airgel for rides over 3 hours. There are no leg grippers on these shorts, just a lazer hem, but they do stay in place. They just don't feel as snug as the other LG bibs that have the Lazer Band at the bottom of the leg. The inseam also seems a little longer than the specifications. The Mondo Primo says it is 10.5" inseam on the shorts, but the medium size inseam is just as long other LG bibs I have that say they have a 11.25" inseam.

The kite mesh bibs are not nearly as comforable as the shorts. The kite mesh is a light material with good airflow and it stays dry on hot rides. It definitely feels like the bib portion stays cooler than other LG bibs I have, but the Mondo Primo bib is not as comfortable. The kite mesh portion of the bibs are pretty narrow and the seams rub the more sensitive parts of the chest if they are not manually positioned to avoid the chaffing. They can be positioned to avoid the discomfort and they tend to stay in place, but it takes getting used to. The positioning of the straps is definitely not something I have to do with on the LG Equipe or LG Lazer Elite bibs I own. The straps also don't feel like they stretch as freely as other LG bib straps. I am 5'6" tall and with the medium size the bib straps are about as tight as I want them to be. Not sure how comfortable these would feel for significantly taller riders.

Overall they are nice and one of the less expensive options for getting the great LG 5Motion chamois. The bib portion just isn't as comfortable as the shorts.


Raymond R.