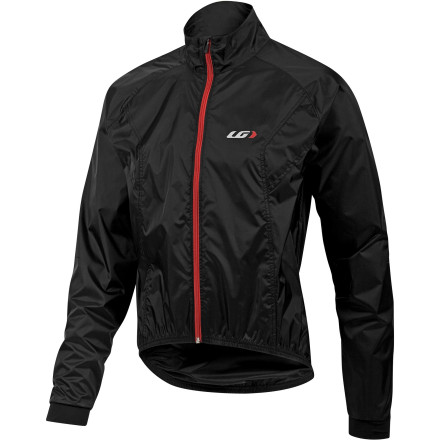 Rain protection in your pocket.
When the sky looks like it's going to open up the minute that you leave the house, but the weatherman keeps insisting that it'll be sunny in an hour, you need a lightweight, rainproof jacket to get you out the door and riding. In this circumstance, the Louis Garneau Granfondo Jacket fits the bill perfectly.
The Louis Garneau Granfondo jacket was constructed from the Sheltek fabric. Why? Well, because this material features a DWR (Durable Water Repellent) coating. Accordingly, this jacket has an 10000mm impermeability rating. And although you end up feeling wet in many rain jackets, due to internal moisture buildup, the Granfondo features both front and back vents and a full-length zipper to allow air to circulate and for moisture to dissipate.
Additionally, the zipper's inner flap keeps cold wind from creeping in, and the neck features a zipper garage to prevent the threat of neck irritation. And to further ensure both comfort and weather-protection, Garneau cut the Granfondo in a cycling-specific, form-accommodating pattern pattern. Even better, Garneau also extended the rear hem of the jacket to minimize wetness from wheel spray, and it also employed stretchable cuffs to work in harmony with your layers or gloves.
Reflective accents have been incorporated in order to increase your visibility to motorists in low-light conditions. And when the sun comes out, the jacket packs into its own internal pocket — it fits conveniently into a rear jersey pocket.
The Louis Garneau Granfondo Jacket is available in six sizes from X-Small to XX-Large and in the colors Black and White.