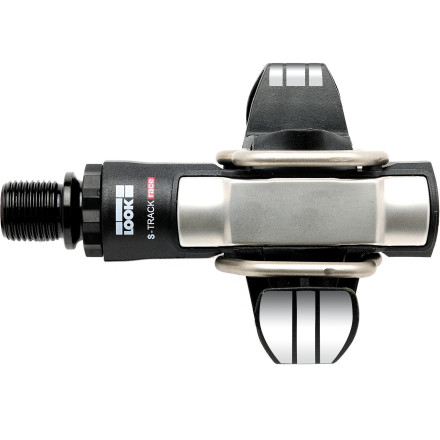 Colors
Nobody likes a clinger, especially when it comes to pedals.
Look Cycle has been designing clipless pedals as long as just about anyone, and the S-Track Race Pedals leverage those decades of expertise into a new pedal design that's user-friendly and highly-customizable. However, it's the new cleat design that makes these one of the best mud-shedding pedals on the planet. So, when you need predictable engagement, regardless of the conditions, consider these as your ticket to ride.
Arguably, the most important chore that your pedals are tasked with is efficiently transferring your power from your legs into your crank arms. To this end, Look designed the S-Track pedals with 460 square millimeters of contact between the cleat and the pedal. If that sounds like a ton of contact, well, it is. In fact, that's the most contact available from any pedal on the market. And if you want to carry that increased surface area over to the shoes, as well as the cleat, these are compatible with Look's aftermarket S-Track Cage. Essentially, this is an easily removable cage that yields a standing platform that's similar to a standard platform pedal. But, this direct connection is worthless if you're not comfortable. For this reason, the included cleats have three degrees of float and a generous 15 degree release angle. This means that your feet will stay put, with just enough wiggle room to protect your knees.
These pedals run on a strong steel spindle, which spins on two sets of ball bearings, and one set of needle bearings, all of which are sealed. This translates into smooth rolling and excellent stiffness when you're putting down the power -- even in wet weather. Speaking of which, the all new cleat design is optimized for mud-shedding, which makes these the ideal option for all manner of mountain biking, as well as cyclocross.
The Look S-Track Race Pedals are available in one size and in the color Black.