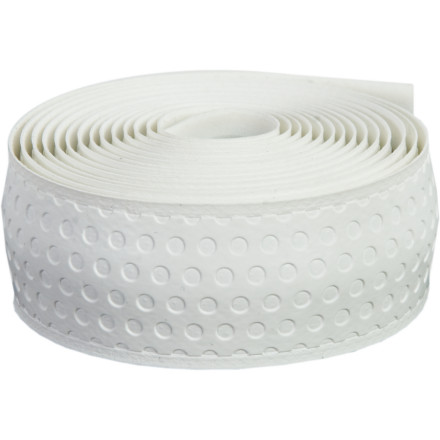 Colors

Detail Images
Slim down and get a grip
Boasting a claimed weight of 50 grams per set, Lizard Skins' DSP Race 1.8 mm Bar Tape is the lightest tape on the market. Even though it's light, the tape delivers ample padding, and the rubberized texture offers superb grip in all conditions. Each roll is 82 inches long, which gives you plenty of length to wrap any bar. The package includes 2 rolls of tape, 2 bar-end plugs, and 2 finishing strips.
Claimed weight of 50 g per set
82 inches long
Excellent grip in all conditions
best bar tape available
Familiarity:

I've put it through the wringer
nothing beats the durability, grip, and comfort of lizard skins tape.
rob
DSP 1.8 Race Bar Tape
Familiarity:

I've put it through the wringer
I have exclusively used this tape for the last 3 years on my fleet of road bikes. Feel is amazing and provides a grippy surface in wet or otherwise slippery conditions. I usually ride without gloves and this tape is extremely comfortable. Only downside is it tends to wear out fairly quickly otherwise this would be a 5 star review. I would highly recommend this tape to anyone looking for something thinner, lightweight, and that provides a comfortable, positive feel.
Todd
Lizard skin for the win
Familiarity:

I've put it through the wringer
thin, sticky, durable, and stylin. What more could you want?
Nick Watson
Lizard Skins DSP Race 1.8mm Bar Tape
Familiarity:

I've put it through the wringer
Thin and sticky. Love it, just what I was looking for.
Cory Heintz
My favorite
Familiarity:

I've put it through the wringer
I like all LS tapes but the 1.8mm is my favorite. I have it on my three bikes, ride 40 miles every day five times a week and they're still in great shape after two years. Very tacky in hot, humid San Antonio climate and a pleasure to not wear gloves.
Michael S.
top of my pics for tape
Familiarity:

I've put it through the wringer
I really liked the feel and thickness to the lizard skin tape, it really helped smooth things out over distance. Grip was great if you're not wearing gloves and so far has lasted really well.
Kyle Br
NOT AS ADVERTISED
Familiarity:

I've used it several times
The bar tape went on easy enough, and did look pretty sharp. However, in the south Louisiana humidity, the tape didn't perform as advertised. Riding sans gloves during group rides felt reckless, and even with gloves I did not feel confident. There was almost no noticeable tackiness to the tape. And the sweat/moisture seemed to build as opposed to being wicked away or evaporating.

After roughly 2 weeks of use, I ordered the 2+ mm tape. It works better, but still not as well as I had hoped.

Again, Louisiana is extremely humid so this may be a "regional problem".
Lance McCann
Good, not my fav
Familiarity:

I've put it through the wringer
So much of handlebar tape comes down to personal preference. I don't like too much sponge and i don't like tacky. Honestly I prefer to feel the bar through cotton tape or fizik microtouch. So this stuff didn't appeal to me that much. It's easy to clean and apply but the overall doesn't appeal. Girlfriend loves it though.
Robert Smallman
Tacky and Durable
Familiarity:

I've put it through the wringer
I have yet to find a more tacky tape than Lizard Skins. No matter how dusty, wet, or sweaty this tape gets, it's always provided a killer grip when I've needed it. Durability wise it's lasted well into the thousands of miles before needing to be replaced. I prefer the 1.8mm width for the best feel to bar.
Trevor J
Mostly great tape but...
Familiarity:

I've used it several times
Thought I would give this tape a try. I had been using the Fizik tape (I think the Performance) before.



The tape looks great, feels good and is very grippy. Probably the most grippy of the tapes I have tried. The included pieces of securing tape actually look really great. I thought it was a clear winner at first. However, after a few rides in the heat I am less certain.



While the tape is extremely grippy even when wet with sweat, it's just not as pleasant of a surface to be gripping onto. The Fizik tape was a little less grippy when wet but I didn't notice sweat on my hands while riding in the summer. Maybe it is more porous, breathable and/or absorbent but my hands feel a lot more sweaty with this LS tape. The LS tape feels like plastic. It doesn't absorb anything. It doesn't let your hands breath so they and the tape end up feeling wet like when you use plastic gloves.



I might be nitpicking but I will probably try something else next time around, especially during the hottest summer months.
Jonathan Nellis
Disappointing
Familiarity:

I've put it through the wringer
I had high hopes for this tape. First impressions were excellent: easy to wrap, cool style (grey), great feel. However, after about 4-5 months it's completely shot - wore holes straight through to the bar. I'm surprised by the overwhelmingly positive reviews. Maybe no one has reviewed this tape after using it for a while. I've never seen tape wear so quickly or so thoroughly. I've had pretty good success with the Deda Elementi and Cinelli cork but I wanted to try the Lizard Skins after reading the reviews. I would only recommend this tape if you want to spruce up your bike before selling it or ride flat roads less than 50 miles per week (in that case you might get 6 months to a year out of this tape). I ride a fair amount of hills (10,000'+ per week) and maybe grip the brake hoods pretty tightly on the steeper ascents. In my experience bar tape usually shows its wear by becoming slippery at the contact points (around the hoods and on the drops). This tape wore clean through right above the hoods. I suspect that it wears so fast because it has such a soft, high friction surface. It feels great and my hands never slipped, but it's possible that this stuff is too tacky causing it to wear out quickly. I'm going back to the classic cinelli cork - for now.


Fritz
Nice and sticky
Familiarity:

I've put it through the wringer
This tape feels sticky when you grip it but the stickyness doesn't come off in your hands. I have yellow on my road bike and black on my cross bike. Its very durable for how light it is.
Pete OBrien
Finally, found the ideal tape!!
Familiarity:

I've used it several times
This is fantastic tape! The black is a glossy black and matches well with my glossy Cervelo frame. Durable so far, and comfortable. 1.8 mm is the right thickness for me.
Gary
Great Tape!!! No Slip and Great Cushion
This tape is dynamite. I bought it when I switched out my Gruppo and decided to change from the traditional cork. I am very impressed. This tape is not only no slip but nice and comfortable too. I struggle with "Dead Hands" on my rides especially after doing 50 or more miles and I have never had that with this tape. I often times can wear no gloves. Awesome tape!
Lance D.
I have always gone with cork tape and never wanted to change until a friend tossed a roll of this Lizard Skins my way. It's super grippy, even when it's raining. The LS tape also has outlasted my old cork tape ways ten-fold. Buy this tape and you won't be disappointed.
chaz