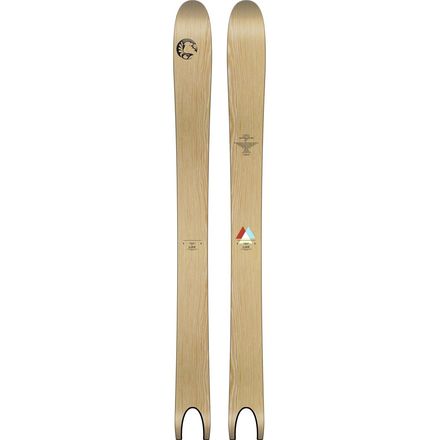 A pow-surfing work or art.
Shaped by the master himself, the Line Pescado Ski is Eric Pollard's pow-surfing masterwork. Eric's been refining the shape and design of the Pescado for years, and he's finally ready to reveal his vision to the powder skiing community. Inspired by directional snowboards and swallow tail surf boards, the Pescado has a directional shape and swallow tail that increases the effective edge while giving the ski an aggressive feel that will carve deeper and float faster than the twin tip skis Line has been producing since its inception.
The directional flex consists of a soft tip that floats through deep pow with ease and eases turn initiation when you're slashing quick turns through tight trees and stacked pillows. The stiffer tail delivers a more powerful feel that demands a more active stance, but rewards those willing to the resist the backseat with powerful and stable turns. The early rise tip only enhances the Pescado's powder-surfing prowess while keeping the ski inherently playful in the deepest conditions. And if that wasn't enough, Pollard hooked the Pescado up with Line's Early Taper to reduce trail drag and eliminate hooking in powder. The dimensions of the Pescado translate to one thing: powder skiing. The huge 125mm waist and mega-wide 158mm tip will keep you afloat whether you're slashing blower pow in Japan or skiing the steep and deep at Baker.
Dedicated powder skis with a progressive surfy shape
125mm waist floats the deepest pow with ease
Tip and tail rocker enhance float and ease turn initiation
Swallow tail increase effective edge and decreases tail rigidity
Sandwich construction with bamboo sidewalls has a consistent feel
Veneer topsheet with fish graphic on shovel
Shaped and tested by freeskiing pioneer Eric Pollard
Mischaracterized
Familiarity:

I've put it through the wringer
So, I've been waiting to write this review until I actually owned my own pair of Line Pescados. I rented these bad boys while in Japan for 2 weeks before buying them. I loved them and now I own them! I'm an expert skier (40 years) and I'm 5'8" 160 lbs. I've been skiing 184 Armada JJs and 179 Volkl Mantas for the last 5 years. The Line Pescado ski that has been mischaracterized by some reviewers as 1 trick pony and heavy. Those statements couldn't be further from my truth. These skis are super light at 1800 grams a ski (according to Blister Review actual weigh in). They float up on a plane like no other ski, just as they"ve been marketed. However, on groomers, they carve as well as most all mountains skis. Yes, the Pescado is a wide ski at 125 under foot. Even with that width, I've pushed this ski hard on edge at speed; from short slalom turns to super speed GS turns. In fact, they carve infinitely better than my Armada JJ's which are 115 underfoot. On groomers I find the Line Pescado to be super responsive, hold an edge, and spring load turn to turn. Again, the Pescado shines on deep light power days, but they also shine when the power turns into cement. While most skis are thigh / calf burners in deep heavy snow, these bad boys want to plane up and put you center ski rather than in the back seat struggling to keep your tips up. As for the backcountry perspective, my Pescados are mounted with Marker Kingpins 13s. I find my setup to be light weight and perfect for touring.



Would these be my only skis? Hell no! They are the other half of my quiver where a 100 under foot all mountain ski is the other half. We all know that there are plenty of 95-105 skis on the market. However, there's only one super playful and unmistakably gorgeous Line Pescado.
Adam B.
Highly specific powder boards, these things float waaay better than my black crows set up but they're absolutely monstrous, size-wise and weight-wise ... the fish style cut out, bamboo core, and wood styling are all sweet features that make the ski fun to rip on, just remember it's definitely not an everyday ski, anything less than 30 cm of fresh and these things are over kill
Richard Boyle
They're good, but very very heavy compared to the all mountain black crows set up I'm used to. The tip rises up and has the width to stay above the powder, it's noticeable too, many times with narrower skis I've found myself pulling my ski tips up out of the snow. These bad boys never had that issue, they stayed above the powder and floated like a Florida airboat. Good skis, highly specific though, wouldn't use for anything less than a 30 cm day ... also the wood styling, bamboo core, and fish tail are all sexy features
Richard Boyle
SERIOUSLY SHIT- 0 STARS
Familiarity:

I've put it through the wringer
3 pairs this year and blew out the side wall on each pair... Not the edge, but the bamboo sidewall; each time right under the heel of the boot. They were super fun to ski but LINE really needs to beef up a ski that should be skied hard.
Shout-out to Backcountry.com for replacing my skis when LINE wanted nothing to do with warranty.
MARK Z.
So much fun
Familiarity:

I've used it several times
I'm 6'1 200lb and I was hesitant that these would not feel stable especially when doing big airs. They do. They feel like a gazelle in the powder and handle just fine in all other conditions. They way I was able to slash, cut, and maneuver in the trees was great. Got them in the back seat and didn't ride out a few times but that would have been the case with any ski. They are obviously not a one ski to rule them all but If you have the cash I would not hesitate. I am doing a trip to Canada in a few weeks and these are coming.
Joseph Barclay
The 2017 LINE SKIS Pescado
An Entirely New Ski from Eric Pollard
Connor Johnson