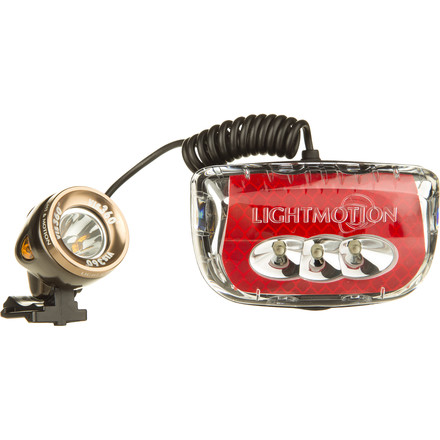 Colors
360 degrees of safety.
Light and Motion polled regular commuters, both online and on the streets, in addition to dealers and sales reps to determine what would constitute a real world change to substantially improve commuter-specific bike lights. Most agreed; what we need is greater visibility. Their Vis 360 system does this, not necessarily with greater power, but by increasing your cone of visibility. In fact, you'll be seen from any angle as you ride.
Before the Vis systems, smart bike commuters have used separate headlights and taillights. While this is a satisfactory setup, it doesn't necessarily make you visible from the side. Accident data tells us that most car/bike accidents occur at intersections, and not surprisingly, with cars turning into or across cyclist's paths as they thread their way through the intersection. Light and Motion made the Vis 360° system a better, safer option by incorporating both front and rear light together, using the same battery pack so you'll always know that you'll have ample juice for both lights. But what really makes it special is the inclusion of amber side lights. These side markers create a 360° field of visible light.
The system is designed to be mounted on the helmet, as accident data also shows that cyclists are more visible to cars when the headlight is mounted on the helmet. From our experience, this is also preferable for performance reasons -- your light will point directly where you look.
The Light and Motion Vis 360 mounts easily to any helmet with the lamp on front and taillight on back. It casts a bright, white 110 lumens so you'll see the path easily and be easily seen. It will run on the high setting for 2.5 hours, the medium will get you twice that, and it will pulse on the flash setting for 14 hours. The rechargeable Li-ion battery has a micro USB port and can be charged on your computer or by most cell phone chargers. Total charge time is 4.5 hours.
One month of use- wont hold a charge
Familiarity:

I've used it several times
I really like this lamps flash mode- I feel it makes me more visible to drivers.
Downside- I used maybe 10-15 times for extended periods and charged maybe 4-5 times. Last time I used the product its on/off button wouldnt respond. It went out on its own and now wont charge. Tried multiple chargers.
Mega bummer!
Elissa E.
Light Weight Nice Setup
Familiarity:

I've used it several times
I bought this setup to supplement my brighter handlebar mount light and the blinky I keep on my seatpost. My older headlight had a flash mode, and the new Light in Motion Urban 550 only has a "pulse" mode. All of the newer models have this pulse mode. I was concerned that, as daytime running lights cars might not see or notice me without flashing, so I bought this model (think it's last year's model), which still offers solid or flashing. It easily mounted to my helmet, charged quickly and works well. I don't notice the additional weight on my head.
Sandra F.
Fun but Heavy
Familiarity:

I've used it several times
It seems to work pretty well, if a bit dorky. Definitely not as cool a low profile handlebar light. But I am convinced that it helps getting yourself seen. I read somewhere that making eye contact with the driver helps get you noticed, and if you're light aims in the same direction as your eyes at night, even better. The only downside is that it does make the helmet heavier, which gets your neck pretty tired.
One thing that would make this better, is if there was a way to attach this to the bike, and also straps to double up for runs and hikes.
d_wp229053
Great Light for Safety
Familiarity:

I've used it once or twice and have initial impressions
This light fits well on the two helmets I've mounted it. The rear light proving slightly more difficult to mount, but with the adapter plate, I was able to mount it.

The focused beam is a great way to increase the intensity of the beam as this light has fewer lumens than my other L&M light. The side light feature on the front stands out quite well for cross-traffic to see.

The adjustable angle of the front light is greatly appreciated, as well.
cancinc
Is this just the light? Is the tail light included on the frost?
David M.
The wire visible in the photo extends from the back of the headlamp to the battery pack/tail light unit. The units are hard-wired together, so wherever the headlight goes, the tail light must follow. Presumably, if this was just the head lamp, then it would be indicated repeatedly in the product description since using it would require some soldering. Here's a photo (from the Light and Motion website) of what you should expect to receive up to differences in color. I'm not sure why Competitive Cyclist doesn't have a more comprehensive set of photos for this product. I hope this helps, :D!
Axel H.
You show the Light & Motion Vis 360 Light for two prices frost for $64.99 & Brown Shugga for $99.99 and the description for both implies a headlight plus tailight, but the photo of the frost only shows the headlight, not the taillight. Is the only difference the color or does the frost not include the taillight. Very confusing
Gary S.
It's one unit. The headlight is hard wired to the tail light. The battery is in the tail light - you can't separate the two, so I can't imagine how they could sell them separately. This setup is great as a second light.


Greg Balzer