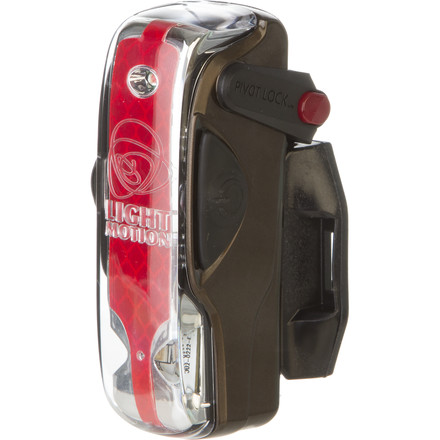 Colors
Be visible from every direction.
Light & Motion's Vis 180 Tail Light features amber sidelights to make you visible from a 180 degree range. Not only does the Vis 180 put out a wide swath of light, its 70-lumen output can be seen from far away. The Vis 180 is easily mounted and the built-in ratchet system allows you to position the light for optimal visibility. A rechargeable Li-ion battery pack powers the Vis 180 for 4 hours continuously and 8 hours on the flash setting, and it can be recharged from you computer via the micro USB port.
Amber sidelights
Visible from 180 degrees
4 to 8 hour run time
Rechargeable Li-ion battery pack with micro USB port
Bright and Safe
Familiarity:

I've used it several times
I almost feel safer riding in the dark than daytime because of this light. In the daytime drivers can be easily distracted, but at night, this light commands their attention.
willhuff.net
Grate price brite light
Familiarity:

I've used it once or twice and have initial impressions
Puts out a bunch of light grate for you commute.
Jarquette
Best taillight, period.
Familiarity:

I've put it through the wringer
I have had one of these lights since 2011 and used it all winter that season and have ever since. I needed another light for my son, and there wasn't any doubt to which light it would be.
This light is simply amazing at how well of a job it does for it's overall size. There's not another light of similar size, that will rival it, and if you take your visibility seriously, I encourage you to get this light and don't second guess.
I am happy to discuss Light & Motion product or any of our other brands.
Please reach out to me with your questions.
Scott Golsan
Excellent visibility and battery life
Familiarity:

I've put it through the wringer
I've owned this light for three years and use it constantly. There are three features that I really like vs. my other tail lights: 1) Adjustable mounting angle. Depending on the bike I ride, I sometimes mount it on the seat post, sometimes on a seat stay, sometime on a seat bag, etc. Its ability to adjust the mounting angle comes in very handy. 2) Brightness. Hands down the brightest tail light I have ever seen. Great visibility which I appreciate riding in a major city. 3) Excellent battery life. Even after 4 years and hundreds of charges, the battery delivers virtually the same performance as when it was new. The only thing not to like is the price. There are choices available that are 80% as good but 1/3rd the price, no doubt. But if you only buy the best available, this light is it.
Copywrites
Bright and functional.
Familiarity:

I've put it through the wringer
The undulating strobe of the yellow side lights and the red main light really brighten up your tail end. I'm not a big fan of the ratchet system it uses, but the rubber strap holds decently tight and it is USB chargeable which is a big plus.
Steven G.
Ultimately a complete waste of $99
Familiarity:

I've put it through the wringer
There's a lot to like about this light (brightness, amber light option, beautifully lit from the side, microusb rechargeable, long battery life, aesthetics), but what use is it, at all, if the mount isn't durable?



TWICE, after riding on a little bit of dirt road on my road bike -- nothing insane, the light has broken off completely because the mount at the top snapped off.



The first time, I write Light and Motion and they actually sent me a new one, gratis! Wise and satisfying.



(Then the replacement's mount had problems (wouldn't hold its ratchet position... which they again rectified by sending a new mount, gratis -- not as satisfying because it took them so long to ship it, but c'mon, another mount problem?!))



The second time, it broke off in the same way and I'm not going to bother to get a replacement. It's just going to happen again and I'm going to be riding in the dark, unaware that I no longer have a tail light -- e.g. so much for my safety and the law.



I think there are other reviews here that chastise the mount design and construction. They're right. It's a joke. Why make a bicycle light with a mount that won't withstand a bit of shock? It's ultimately incompetent and irresponsible. They should rename their company to Light and Inertia. "Our products thrive as long as you are in complete stasis! Get one now!"
Douglas H.
Numerous reviews stated how this light not only provides a bright light but that it has a wide beam so it is visible from numerous angles as the name implies. Can't put a price on safety as I do lots of early morning rides, this has not disappointed. High quality build, attachment bracket is unique and allows you to set it at many angles. Incredibly bright, wish it had a bit longer run time, only 6 hours on high, but you can see it clearly behind you, it is bright. There was a defect on my first unit, the button didn't work and the mounting bracket was deformed but second time was the charm and feel this was well worth the price.
Craig B.
Light & Motion Vis 180 Tail Light
Familiarity:

I've used it several times
Really bright - can be seen from long ways. Only negative is it runs out of a charge after 2 rides of 60 miles each. Easy to recharge though.
Allen K.
Great Light
Familiarity:

I've put it through the wringer
After using cheapy, throw-away lights for some time, I decided to splurge on a new bike light. This sucker will save your life. Super bright. It's built to last and holds a charge for days even with regular use. I cannot recommend this product highly enough.
Alexander S.
Hi ViS!
Familiarity:

I've put it through the wringer
Tail lights just are no that exciting to buy. They're a must however, both for commuting and any time you find yourself on a training ride that includes more than 0 cars on the road. The selling point of the Vis 180 for me was the "pulsing" function... i have read that impaired drivers are often actually attracted to a sharp, repetitive strobe flash (standard issue on most lights). The softer pulsing of the Vis 180 tail light is supposed to be a better alternative. I can't verify that, but I'll take any edge I can out there.

The excitement for the light came the first time I happened to notice my reflection in a large window as I rode past. The amber side lights are incredibly bright and :::definitely::: noticeable from the periphery.

The fastening strap is easy and secure, if not a little long. 3 x as long as it needs to be fro a seat post, but being able to strap it around your ankle may come in handy sometime.

I liked it so much i bought a 2nd one! Get your red pulse on!
Ed Kilbourn
Chasing Tail ... Lights!
Familiarity:

I've put it through the wringer
Great bright light. I don't know why it has both an amber and red light but more is better right? Maybe each color works better in a specific light... I like the method of charging. I seem to always have one of the right USP cables handy. I don't know how quickly it charges because I always do it over night. There are two things I have found I don't like about this tail light. 1. The charging port and the on/off button look almost identical and when you are tired or if it is dark and you can't see well it isn't easy to find the on/off button. I've memorized which side of the light is on now but that was annoying for several weeks. 2. Usually when I finish a ride I find the light is not straight as I had placed on the bike. Bouncing around on the roads must jolt it out of place and once in a great while it will have turn off mid ride and I don't know how long I rode along with no tail light.
Ed K.
Is the bag clip for this secure?
Karl
Yes, it is. just make sure that you 'ratchet' it down tightly; (the little red button on the side of the light enables the 'arm' to pivot outwards, or totally inwards towards device to accommodate a wide variety of attachment needs; but you must make sure the button 'pops' back out to 'lock' it into place. Also important of course is the type of 'loop', or whatever you are attaching it to must be sturdy and secure; as some seat-bags' loops are flimsy or very large. These are also perfect for the Osprey hydration packs! I mountain/road bike and yet to have this light bounce off, yet!
Debbie C
Is this really 35 lumens? Shouldn't it be 70 lumens for the current model?
Paul E B.
Hey paulbrown1037647,



You are correct, this has been updated and is now 70 lumens. The specs will be fixed on the site soon. Thanks!
Grant Kates
L&M Taz 1200 & Vis 180 Tail Light, clipped to a 'L' Lezyne seat bag...(bike frame 17.5) works!



Of course a smaller bag, or no bag, will allow you to clip the light right to the seat post. I just like to travel prepared, and so use the larger seat bag for tools, etc., and a hydration pack for first aid kit, food, extra clothes, or jacket, as needed, etc. Ya, kind of like campcycling! Better to be prepared as best you can, I believe.



Note the *side lights on both front and back lights; the side lights on the tail light alone a very, very bright...way more than appears in this shot.
Debbie C