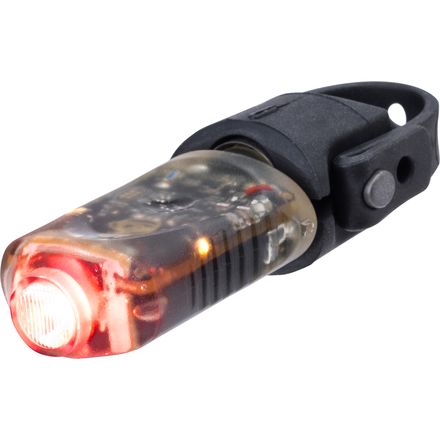 Let the light shine through.
It's probably no surprise that we love riding our bikes to just about any activity feasible, whether that's to the office, school, or to the pub. But, if you're anything like us, you've probably also learned the hard way to remember to turn your light off after your commute, or you may be doomed to a very dim and precarious ride home. Light & Motion bypasses the issues we've all faced with their revolutionary new Smart-light, the Light & Motion Vibe Pro tail light.
The Vibe Pro tail light offers you 100-lumens of pulsing red light, that senses when you are moving, and when it's plugged in, illuminating only when it's mounted on your bike, and when you're on the ride. The smart-sensor automatically turns the light on when you're in motion, and automatically turns off when you park your bike, or remove it from the mount. With side-illuminating amber lights, the Vibe Pro also offers increased visibility in intersections, so motorists have an easier time spotting you when they're gunning for a quick right turn.
Plug your Vibe Pro into your computer's USB port, or any USB charging port, and you'll find it full in 2 short hours to offer you 6-hours of illumination. With IP67 rating, the light, when inserted in its mount, can withstand water up to 1 meter, for reliability in any conditions you might encounter on your commute.
A pocket-friendly smart-light for safe commuting
Senses movement and turns on when you start riding
Auto-off when you park your bike or remove from mount
USB rechargeable by plugging directly into a port
Amber side lighting increases visibility in intersections