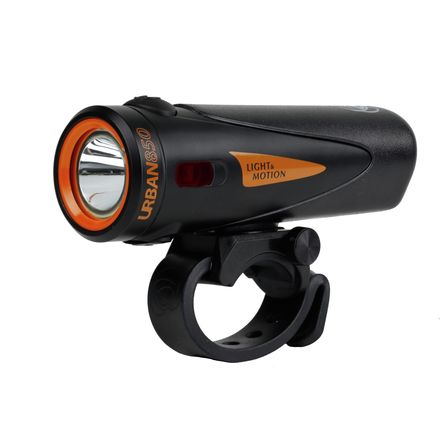 Light the way.
If you're in the habit of choosing to ride with the stars instead of the sun, you know that making sure you can see where you're going requires a little more planning than it does during the day. Light & Motion's Urban 850 Trail light was designed so that you don't have to stop doing what you love just because the sun goes down — or hasn't come up yet — and at 850 lumens, it claims to be the most powerful single LED bike light available right now.
You never know what types of animals you may be sharing your bike lane or trail with at night, which is why it's helpful that the Urban 850 includes red lighting on each side for added peripheral visibility. Light & Motion uses a light beam pattern meant to maximize riders' depth perception, and they developed a smooth spot beam to help you see clearly on trails. The light can be submerged in up to one meter of water for 30 minutes, which, if you're not planning on riding underwater, means that a rain shower won't hurt the Urban 850.
Take this light to the trails, the road, or through the city on your commute home, just know that on "high" the battery will last continuously for about one and a half hours. You can get up to six hours of battery life if the light is just on low, and it comes with a USB cable for easy on-the-go recharging. In addition to a regular handlebar mount, the Urban 850 also includes a helmet mount and a GoPro mount, and it adds about 121g to your frame.
Light is good but has serious issue.
I've had this light for just over a month. It works fine. Went to charge it for the first time last week and the cover to the charge port broke off when I opened it. It is a molded hard plastic cover so the "hinge" is just an indentation in the plastic. Well... when I popped it open to access the charge port it just snapped, like you'd imagine a hard piece of plastic with a deep indentation would after bending it. Maybe I got a dud or maybe its a pretty bad design flaw. While the cover still friction fits over the charge port, if and when it falls out or otherwise gets lost will have to use tape or some such to protect the port. What a PITA. Disappointing, wasteful, terrible aspect of its design.
Vincent C.
Cant believe how much light this puts out. I brought it camping and had to put it on the lowest setting so I didn't disturb people. On the bike, the bright setting is perfect
Steve U.
So Bright
Familiarity:

I've used it several times
Super bright and plenty of battery life.
Marcus Gracia
Bright as
Familiarity:

I've used it several times
Love this light. It makes my commute WAY less scary and it's the brightest light I own now. I bet it beats my cars...
Easy to clip on and feels stable even riding on mountain bike trails. Can't go wrong here.
Jake Ward
Unanswered Question
There isn't a flash mode listed for this great looking light. Is there a flash mode?
Tom H.
Be seen
Familiarity:

I've used it several times
This is an awesome commuter/trail light. Nice spread, solid battery life, quick charging, and really quite bright.
Sunn Kim
BRIGHT
Familiarity:

I've used it several times
WOW! All caps seriousness, I feel completely safe and secure with this light!
Samantha Fox
Great light, great price
Familiarity:

I've used it several times
Solid light at full price. Great light at the discount. I use this for commuting on my handlebar and for mountain biking, its the second 'directional light' mounted on my helmet (lights up where I'm looking) while my SECA 2500 illuminates the world wherever my handlebar is pointed.
Josh R
Brighter than a car?
Familiarity:

I've used it several times
Seems to be the case.
Classic Light and motion piece. Very bright, very reliable, very easy to use. Can't have too many of these things.
Sunn Kim
Excellent value (when on sale!)
Familiarity:

I've used it several times
For a little shy of $100, the light is an exceptional value. I use it for night rides around the neighborhood with my dog. Many trails in my neighborhood are not lit, and this light does a fantastic job of illumination. Very compact, and looks fantastic. Installation was a breeze and the rubber mount does not scratch your handle bars. The light stays in place even under hash bumps, which was my biggest concern. The battery lasts for about 40-50 minutes on high.
ae82gtm
Light Weight Versatility
Familiarity:

I've put it through the wringer
I bought this light to run on my road bike for evening rides and ended up running it day and night. It is bright and I feel like you can ride comfortably into the 30mph range in the dark without feeling like you are overrunning your light. I have also been using this with it's included helmet mount on my Mountain night rides, paired with a Seca 2200 on the bars, it is the best night riding setup I have run, and no cables running to your helmet to get caught on things. I am sold!

This version charges crazy fast too! I got home from work, plugged it in, prepped for my ride and did a few other things, and it was charged for my ride.
Forrest
Impressive
Familiarity:

I've used it several times
I have been using Light&Motion products for a while now in some of their other sectors and have always been impressed. This light has not been any exception. This thing is super bright and illuminates a pretty decent distance away.
While I have not drained the battery completely, I have noticed that the indicator light changes to orange about 30-45 minutes into a ride at the brightest setting which concerns me how long it will actually last. Most of the rides I have taken it on have been about an hour long so it hasn't been an issue yet.
FWIW, one evening I passed a few pedestrians who commented that someone had their brights on as I rode passed them. I wasn't on the highest power setting.
Kyle F.
Night becomes day
Familiarity:

I've put it through the wringer
Mountain biking with this in the dark is incredible. Great visibility, light weight, awesome except for a lousy helmet mount that does not hold the light well. The light rotates with the mount and ends up pointing down. I ended up buying a go pro mount and now it is perfect.
Jeff J.
Worth every cent!!
Familiarity:

I've used it once or twice and have initial impressions
This is a super bright light (the image shows the brighest mode on a trail with no light). It works perfect on those trails without light, because its range is wide and long enough to see all road section you need to.

On the other hand, it is pretty easy to mount and unmount and it does not move at all even during downhill; when you put it on the handle bar, it is easy to switch between modes.
Agnes Vanessa Alvarez Torres
850 fastcharge
Familiarity:

I've put it through the wringer
This light is as advertised! Great fit and finish, super bright and easy to mount and recharge.
Franki G.
Packs a Punch
Familiarity:

I've used it several times
This little light packs quite a punch for its size. It mounts easily to your bars or the included helmet strap (I have not used it with the helmet strap). The light did not rotate up or down while mountain biking. The light can also be rotated slightly to the right and left as well.



The on/off button is easy to find and use with full finger gloves on. Charging was quick with the included USB cable. The light was plenty bright to ride off road with but having one on the bars and helmet would be even better.
Steve Tam
Great Light
Familiarity:

I've used it several times
I've used this mainly for riding around dusk on the road. It provides more than enough light on the high setting. I generally ride with it in the pulse setting which gives me more visability to automobiles and other road users.

The 850 lumens provides quite a bit of light and I'm excited to try this for night riding on my Mountain Bike. If it's anything like the otherLight and Motion lights that I have it will do great.
Shawn Craig
Lightweight, affordable and reliable
For the price, get two and throw one in your pack for back up. I had two of the Urban 800s and loved them but gave them to my Wife and upgraded to the fast charge 850. The light is noticeably whiter and brighter than the 800. They are both lightweight and feature a small green/ red light to let you know when they're done charging. I also got the helmet mount designed specifically for the Smith Forefront helmet.
Pete OBrien