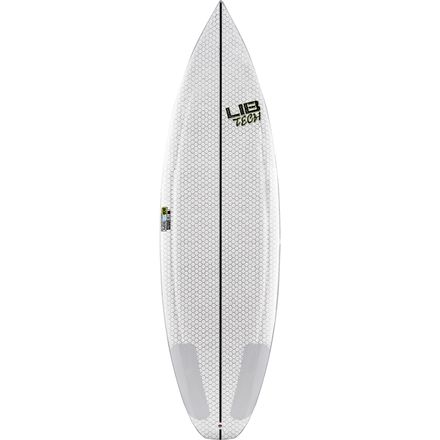 Rip the lip and boost airs.
Perfect for aggressive, progressive surfers, the Lib Tech Air E Ola Series Surfboard delivers fast and precise performance in all conditions. Whether the day brings you double-overhead barrels or mushy waist-high waves, you can paddle out with confidence that you're gonna have a good time of this versatile performance shortboard.
Lib Tech also made a point of producing this board in the most environmentally friendly manner possible. With the exception of the stainless steel fin screws, every piece of this board uses materials that are new to the surf industry to create a board that's environmentally friendly without sacrificing rideability. Completely waterproof Nitrogenecell foam is made from 25-40% recycled content, and woven basalt fibers increase dampening and impact resistance while reducing the use of plastics. Bio-Matrix Resin reduces VOCs and offers a longer lifespan than more toxic traditional epoxies.
Shortboard for fast, aggressive surfing in all conditions
Eco-friendlier construction eliminates need for epoxy
Blends durability and liveliness with flex and dampening
Hexzylon Fiber Foam Skin is ding-resistant
FOC adjustable slot fin system offers adjustability
Elasto Perimeter dampening adds precision and pop
Sprock Blocks in rear are crush-resistant
Aircraft aluminum leash plug for lightweight reliability