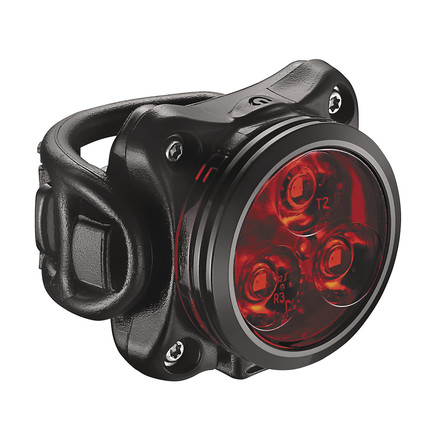 Colors
Light your tail.
Cycling in low-light conditions can be a risky proposition. While it's not always our first choice, sometimes duty calls. Whether you're commuting to appointments or fitting in your daily training ride when time allows, the Lezyne Zecto Drive Auto Light is a low-weight, unobtrusive, easily-stowed beacon of cycling safety.
The Zecto Drive Auto Light boasts three LEDs that produce between five and 15 lumens, depending on which of the six settings you're using. These include daytime flash, which is a bright, 20 lumen flash for use during daytime cycling, three flashing modes at 10 lumens that last from four to seven-and-a-half hours, an economy mode that provides five lumens for just over five hours, and a blast mode that produces 10 lumens for three hours and 30 minutes.
The inclusion of Lezyne's Intelligent Power Indicator ensures that the light will never unexpectedly die on the road, because red, green, and blue LEDs visible from the side tell you precisely the light's level of charge during use and while charging. The light's body features durable aluminum construction and parts that are precisely CNC machined, is water-resistant so you can use it in the rain with relative impunity, and it includes a clip to mount it on straps or clothing. You can also mount it onto your seatpost with provided silicone strap.
On top of all this, the Zecto Drive Auto has a motion detecting sensor built into it. When it stops registering movement for three minutes, it shuts itself off. You'll save juice at long stoplights and you'll also never have to worry about uselessly running through your batteries because you forgot to turn it off while your bike's locked up. The Lezyne Zecto Drive Auto Light kicks back on as soon as motion is resumed.
Bright light, useful for round seat post
Familiarity:

I've used it several times
I hadn't used the light for a year because the light doesn't fit on my narrow seat post. It's best used on a round seat post. Now, I'm attempting the charge the light and it won't charge! I hadn't damaged the light or kept it in the heat. Dead after only one year...
Jim Corriere
Good Taillight
Familiarity:

I've put it through the wringer
I bought this light because I own a Lezyne pump and Multi-tool and it has a clip and a strap system. I wanted the versatility to clip it on a bag or bike. I'm a daily 10mi commuter and this particular light has an auto-off/on feature. My kids will go in the garage and turn my lights on and then they are dead in the morning. I was happy with the battery life and the day time flash gives my wife a little extra piece of mind when I ride alone. Overall good light.
Brad
Mounts very securely and gives off great light. Unfortunately, the battery life is abismal! After a full charge and a few hours of riding, on day two the battery was all but drained.
Peter B.
Lezyne Zecto Drive Auto Light
Adam Saucedo