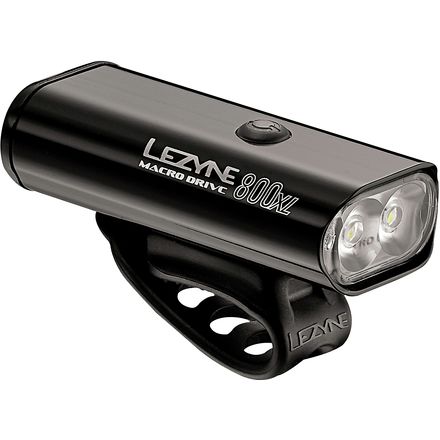 Brighten up.
Light up early morning commutes and post-work training sessions with Lezyne's Macro Micro Light Pair - 800 XL. Outfitting your bike with big visibility from nearly all angles, this light set mounts cleanly to your favorite ride to illuminate your route and put motorists on notice of your presence on the road.
The Macro Drive 800 XL front light provides up to 800 lumens of bright white light to illuminate the route and is powered by a USB rechargeable battery, with run time ranging from one hour and forty minutes on overdrive setting up to a massive 63 hours on femto setting. Its seven combined flashing and steady settings mean you can customize the brightness to meet your needs on the fly. Lezyne also incorporates its Side Visibility technology to help you stay seen from more angles, and the light's durable aluminum construction easily tolerates rainy weather.
The Micro Drive rear light provides up to 70 lumens of red light and is powered by a USB rechargeable battery, with run times ranging from four hours on blast setting up to 24 hours on the economy setting. This rear light boasts six settings to maximize your visibility based on riding conditions and location.
Add front and rear visibility to your commute
800 lumen front light illuminates the way
70 lumen rear light lets traffic know you're there
Strap mounts included
Durable construction resists miles and weather
USB rechargeable batteries