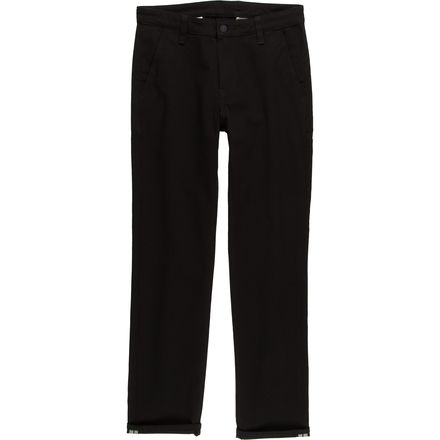 Live, work, and ride.
Sure, you tear up the tarmac after work, but Levi's wants to know why you're not riding everywhere, all of the time? Yes, we're referring to the two words that strike fear into the hearts of all Lycra-coveting men on earth—bicycle commuting. Perhaps you've tried in the past, and perhaps your momentary feeling of accomplishment was crushed by sneers directed towards your cycling kit? Trust us, whether it be at the liquor store or the office, we've all experienced that 'huh?' look. Enter the Levi's Commuter 511 Trousers. Finally, you're able to ride, work, and live in one pair of pants.
These aren't some run-of-the-mill, one-off attempt at appeasing a subculture. Instead, Levi's worked closely with cyclists in multiple cities around America, distributing prototypes and accepting feedback. And, as a result of developing the pants in accordance to critique, Levi's effectively dialed-in the fit, accoutrements, and finishes to what cyclists are actually asking for.
Accordingly, Levi's adapted its slim-fit 511s to the purpose of cycling. The Commuter 511s feature a water-resistant and dirt-repellent NanoSphere protective finish to make commuting in hostile weather a little more acceptable, especially if you're ending destination is the office. It's for this very reason that Levi's also incorporated an odor-resistant Sanitized finish to the pants, too. Levi's also made these pants perfect for trips where your bag is staying at home by installing a U-lock holster along the rear of the waistband. This way, you're not ramming your lock down your pants, wearing out your belt, or being forced to wear a fanny-pack—you're grown man after all.
In terms of durability, Levi's double layered the seat panel and the rear pockets, and the crotch of the 511 is gusseted in order to resist tearing and saddle abrasion. In terms of fit, it's important to note that Levi's considers the 511 a slim fitting pair of pants. They sit slightly below the waist and feature a skinny, slightly tapered leg. However, for the sake of coverage while in the saddle, these 511s have been cut higher in the rear than a standard pair.
For the pockets, these trousers have been given slashed front pockets, like a chino, with built-in stretch webbing at the corners. Meanwhile, the rear pockets feature a welted design. And to increase your visibility to motorists in low-light conditions, Levi's incorporated reflective 3M Scotchlite tape on the interior of the pant's cuffs.
Get your casual commute on in these performance trousers
Four-way stretch twill with water- and dirt-resistance
Slim from hip to ankle, high back for commuter coverage
3M Scotchlite reflective tape on cuffs
female equivalent? None available on the backcountry website- and on the Levi's website there is one but it is clearly not the same- no U Lock holster or reinforced crotch. And it got really bad reviews.


Corrine Yonce
People think I'm getting paid by Levi I've been ranting about these pants so much to everyone. They're so comfortable and look really nice. Who knew a pair of pants could be so versatile you could wear them to a job interview and then go climbing in them after. I'm going to have to buy more pairs now
Adam
BEST. PANTS. EVER
Familiarity:

I've put it through the wringer

Fit:

True to size
I have now owned several pairs of these pants and can definitely say they are amazing! I wear them just about everyday. The stretchiness makes every thing from watching a movie on the couch to climbing extremely comfortable.
Zack Stevens
From Tactical To Radical!
Familiarity:

I've put it through the wringer

Fit:

True to size
Do you ever find yourself riding your bike home from work and think, 'damn if only President Nixon didn't invent daylight savings time, it's dark as hell', and then Steve from accounting flys by in his brand new Audi nearly hitting you as he drinks a fresh lemonade? WELL, NOT ANYMORE with the Levi's Commuter 511 Trousers. Just roll those puppies up and reveal the super radical reflective 3M Scotchlite tape, Steve'll be able to see you from a mile away, cuz those Audi lights are crazy powerful...also your pants are reflective!! And heck yes you can wear them to work, they look like a normal person pant, but they give you the support and confidence to be the ultimate bicycle commuter. I have three pairs and I wear them on dates, to work, on city bike rides and climbing. They really are my favorite pants.

Also, they have extra support in the crotch, they have a loop on the back for a U-Lock and the reflective cuffs really work!
Vincent Mauro
ty
My favorite
Familiarity:

I've put it through the wringer

Fit:

Runs small
I pretty much wear these pants every day. The days I am not wearing these I am wearing the regular denim version of them. The fabric on these is softer and more stretchy than the denim version. Super comfy. The 511is quite slim so I ended up sizing up one size for a more preferred fit.
John Kutcher