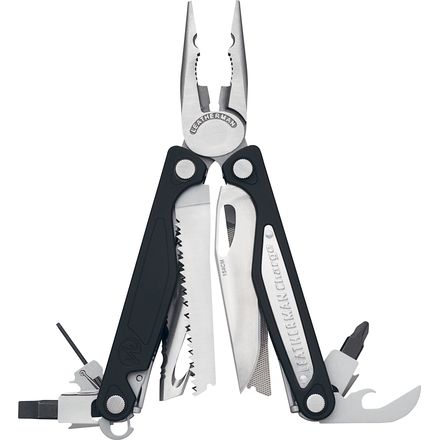 Colors

Detail Images
Take your toolbox out on the trail.
With its lightweight aluminum construction and veritable smorgasbord of tools, Leatherman's Charge AL Multi-Tool puts the solution to all your on-trail SNAFU's right in the palm of your hand (or hanging on your belt). Nail that velveted whitetail and go to town on the cape with the Charge AL's burly knife and serrated saw—bones never seemed more like hot butter. The folks at Leatherman gave this multi-tool a barrage of screwdrivers—no more stripping out those stubborn, hard-to-fit screws. The Charge AL goes anywhere without weighing you down thanks to Leatherman's lightweight but strong aluminum alloy and stainless steel construction.
Leatherman Charge AL Multi-Tool
Backcountry Video
Leatherman should be called Superman
They really are a tool you can't live without. I have the regular charge version with the titanium body it has never let me down, the sv30 blade stays super sharp if not abused or misused every person should own 1 I own 2, I keep one in car and one in the house and they have saved my butt on many occasions. Never know when you have to cut your seat belt off to save your life...
Joey Bowen
What a Tool! 5 yrs still holding up.
Familiarity:

I've put it through the wringer
Replaced my long serving leatherman PST with the Charge. I really love this tool. The handles feel good in the palm when using the pliers. The knife is made of S30V stainless that really takes and holds an edge. The tool lock is solid and trustworthy. The interchangable bits are smart and well thought out.

5 yr update- tool is still my constant companion. Sure I broke a screwdriver blade doing something I should not have, but I just replaced it, easy. The blade take a new edge and hold it well. Saw has been very useful cutting small branches.
Jonathan Wilson
To be quite honest I am addicted to multi-tools, so I own a few and I looked into some more.

Actually I am regularly using 3 different multi-tools,

The Leatherman Charge AL which is my preferred outdoor tool, it is rather light has one hand opening blades and is the most complete multi-tool I know (even with scissors).

The Victorinox SWISS TOOL which is my preferred tool when I really need to replace full size tools. Of all multi-tools I know it the the best one to replace full size tools. It has the feeling of being indestructible and it absorbs a hell of hard use and abuse. As an additional plus all tools are accessible without opening the pliers. A small minus is that one needs two hands to open the blade. So whenever I work around the house, on the car or motorbike the SWISS tool is my 1st choice. The downside is that it is rather heavy so I stays at home for outdoor use.

The Leatherman Skeletool CX is my everyday companion it is very small and light so that it can stay in my pocket all the time. It contains all the essentials for city survival like pliers, screwdrivers and a good blade. The absence of a saw, can opener renders it unsuitable for outdoor use.

Bottom line: The best multi-tool ever is very much dependent on what you would like to do with it. With the reight application in mind all of the above mentioned tools are perfect.

Have Fun

Chris
Chris
Having this on my belt is like having a Breitling on your wrist!!! This has got it all! Its heavy and bulky but its got a butt load of tools!!! I paid more for mine so your getting a good deal here. I love the locking mechanism and the blades are cut ur nuts off sharp! Comes with a bit holder for the additonal drivers and torx bits which are pretty durable and the nylon sheath just makes it look dress up classy! This is number five in my leatherman collection and the best I've had!!!
Jim Romaine