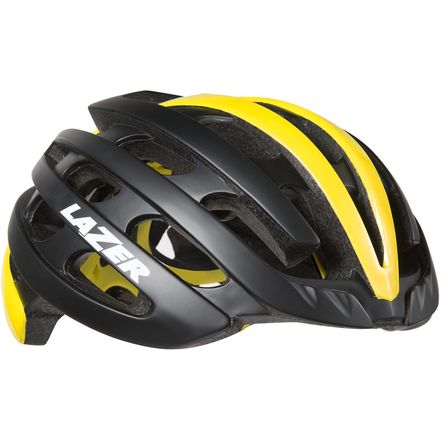 Colors

Detail Images
Lighter than Helium.
Known for their bikes, the Belgians are not to be left out of the accessories market. The Lazer Z1 Helmet is a step above its Helium and Genesis designs with more protection in a lighter design.
The shape of the Z1 moves the shell of the helmet down across the temple zone at the sides of your head for added impact protection. This T-Pro design uses Lazer's RBS design (rigidity brace system) to hold the shell together in the event of impact to further increase protection to your noggin. At the same time, the front sweeps back up to allow for a full range of vision.
More protection has no benefit with a poor fit, which is why Lazer uses its Advanced Rollsys Adjustment System to ensure that the helmet wraps your head with equal tension from all sides and culminates in a vertically adjustable cradle at the back of your head. The chin strap is adjustable to provide a secure fit as well as comfort.
A racing helmet with European pedigree
In-mold shell boost impact diffusion
Fit adjusts across multiple axes to ensure comfort
Highly ventilated shell shuttles cooling air on hot days
Favorite helmet
Familiarity:

I've put it through the wringer
My team used these helmets for the last couple years so I've had a solid two years of training and racing(12+ hours a week) using it. I live in Colorado but race in places like Arizona and Texas were its gets well above 90-95 degrees. I've used many other brands of helmet like Giro and Smith and this is the coolest and most comfortable by far. The tightening system is unique compared to other brands as well but I've actual preferred it because you can adjust it even with your glasses on the back of your head. I can't recommend this helmet enough, especially through backcountry where you've got nothing to lose with their return policy.
Sterling Watson
Great helmet! Would recommend.
Familiarity:

I've used it several times
I ended up buying two of these helmets. The first one was in the color of white and silver. The second in blue and black. I liked the blue and black better. I was going to return the white/silver helmet, but ended up giving it to my sister. She loves it. Some of the features that I like are:
1.) Light weight.
2.) Beautiful lines.
3.) The color scheme is attractive.
4.) The Advanced Rollsys System allows for a perfect fit. The mechanism is on the top of the helmet, making it easy to adjust.
5.) Plenty of ventilation.
6.) The helmet straps are easy to adjust.
7.) Allows for many accessories such as a tail light, aero shell, internal mosquito net, Lifebeam HR transmitter, and more.

This helmet is the best helmet I've owned. I owned a Bell helmet prior to this one. The forehead pad on the Bell kept deteriorating. I must have gone through half a dozen forehead pads in the course of two years. Also, the tensioning system recently broke. I was fed up and decided to buy a helmet from a different manufacturer. Time will tell if the Lazer Z1 will hold up.

I would recommend this helmet to anyone.
George R.
Not confidence inspiring
Familiarity:

I've used it once or twice and have initial impressions

Fit:

Runs large
I've owned two Lazer XC02's prior to this and figured I'd spend a few more bucks since I liked those helmets so much. The XC02 was unisized so I measured my head before purchasing this. It measured 24.5" (half an inch larger than the large), but I ordered the large anyway. This thing fit my head like a lampshade... It's huge. Try before you buy. I was able to get adjust it and get it snug feeling but it's not confidence inspiring, half inch gaps can be seen between my head and the inside of the hard shell in places.

Weight feels good, straps lay flat, breathes well, color looks good, but I don't recommend getting this helmet if you have a small frame. I'm a large human being and it still feels like an alien head.

The picture compares a medium kask proton (purchased from competitive cyclist and the girlfriend loves it), and the large lazer helium (to illustrate how big it is).

If you have problems with sizing (like I did) work with Competitve Cyclist and they'll get you sorted!
Nick G.
Lazer Z1 helmet
Familiarity:

I've put it through the wringer

Fit:

True to size
I had used many top-of-the-line model Giro helmets for nearly 25 years. But almost two years ago I tried on the Lazer Z1 and it was much nicer. Made the current Giro top model seem ultra cheap by comparison. So glad I made the switch to the Z1 because the fit is much more precise, adaptable, and comfortable. Very good ventilation and fabulous retention system. Looks much better too! No mushroom head.
Ed G.
Pretty cool
Familiarity:

I've used it once or twice and have initial impressions
I needed a new lid for this season and after everything I've heard (a few of my friends have this helmet), decided on Lazer. Fit is great, lots of venting..color is ok. Works like a helmet should.
Mike Newberry
Perfect fit (except color)
Familiarity:

I've used it once or twice and have initial impressions

Fit:

True to size
This is probably the best fitting helmet for my "difficult" head (rather narrow but elongated). Size L fits perfectly (59-60 cm head circumference). I like how it covers the back of the head and also the temples. Lots of adjustments and perfectly flat straps without the danger of getting them twisted. I had the black camo/orange version but sadly had to return it for a silly reason. It just wouldn't be safe where I live now (Aggieland; Texas A&M) since the front pretty much looks like a Longhorn (UT Austin) and orange is a difficult color around here as well, people prefer maroon ;)
Tobias
Great Helmet
Fit:

True to size

Size Bought:

Large
I have always enjoyed the fit of various Lazer helmets and decided to upgrade to a Z1 after putting 3 years on an O2. Love the comfort and style of the Z1, feels as though I am not wearing a helmet at times. Only had 6 rides on my Camo/Flash Orange helmet before crashing yesterday. Helmet did it's job and absorbed the impact while splitting up the middle. Love this helmet and just ordered a replacement.
William O.
Height:
6'2"
Weight:
190lbs
great buy
Fit:

True to size

Size Bought:

large
looks good. adequate vents. lightweight.
Dhenis D.
Height:
6'
Weight:
194lbs
Lazer Z1
Fit:

True to size

Size Bought:

Medium
The Helmet Fits Great an the Air Flow is Really Nice an you Hardly notice it on your Head , it is that Comfortable . The Color i bought was the Orange an it is really a Snappy Orange i Love it Matches the Trim on my Bike , SO a Thumbs Up Here
Mark S.
Height:
5'8"
Weight:
205lbs
It's all about the fit
Fit:

True to size

Size Bought:

Large
I tried every make and model out there - Giro, Specialized, Bell, POC and this Lazer fitted better than all the rest. Love it. Highly recommend.
Nicholas V.
Height:
6'3"
Weight:
200lbs
Comfy and light but a little loose
Familiarity:

I've used it several times

Fit:

Runs large

Size Bought:

Medium
I ordered the Medium which is typically my size in every helmet, this one is a little bigger than I would have expected and there doesn't seem to be a way to really tighten it up too much. Other than that it seems well made and is very light and comfortable, with a bandana or cap underneath it's a great fit for me.
Sandy B.
Height:
5'8"
Weight:
176lbs
Heritage - Development - Innovation
An inside look at the heritage, development and innovation that can only be found from Lazer Sport!
Lazer Sport USA
What a change...
Familiarity:

I've used it several times

Fit:

True to size
I have had this for two weeks. It is a little over 100 grams lighter than what I am used to and that difference is everything. The helmet simply disappears now and I feel nothing. It is easily adjusted, fits comfortably and is simply not noticed. I have been on two 5+ hour rides plus several shorter rides.
Doug S.
Great fitting helmet
Familiarity:

I've used it several times
I ordered this and Giro at the same time- kept the Laser. It's a very well thought helmet. Excellent fit, maybe one of the best fitting helmets I have ever owned. It also has a very clever adjustment system with a "roller" on the top of the helmet that can be adjusted while wearing the helmet.
Anonymous
Lightweight but white/blue looks cheap
Familiarity:

I returned this product before using it
Have cobalt blue bike and this helmet caught my eye. The white outside finish is dull instead of glossy and the blue part is simply blue dyed styrofoam which is ok but it reminded me of standard blue styofoam instead of a unique blue finish to the inside. For the same amount of money, would prefer LG course helmet which is similar in weight and size.
David B.
Lazer Stalwart
Familiarity:

I've put it through the wringer

Fit:

True to size
I've been a Lazer fan for years and wore the Helium and Genesis before moving onto the Z1. I'm a huge fan. Fits my abnormally large head quite well in large and the strap/retention system stays in place and is easy to adjust.
Does this helmet have the same fit as the lazer o2? I like the shape of the lazer helmets but do not like the straps. Are the straps smaller / softer on the z1?
Shane C.
I returned a Z1 for this reason. I hate feeling choked by the strap. It is too short and not adjustable.


Glenn S.
best fitting helmet I've owned
Familiarity:

I've used it several times

Fit:

True to size

Size Bought:

small
I have owned 3 helmets over the past year, and a different helmet every year previously. They included Bell, Giro, Smith, Garneau... But I have to say that the fit to the R1 beat them all. My head can be a little hard to fit, not the size, I'm always a S, they just don't fit perfect, they are ok, but the Z1 set a new level in fit and comfort. I would definitely recommend the Z1!
Kyle Br
*Crash tested*....unfortunately.
Familiarity:

I've put it through the wringer

Fit:

True to size

Size Bought:

Medium
I have had the sad experience of testing the Z1 to the limit. In addition to all the other positive remarks below, I would add that it's a winner in the safety department. The extra protection provided by the additional temporal coverage is a great feature, as is the Rigidity Brace System. My Z1 cracked in multiple spots, but stayed in one piece. I walked away (well... i was driven away) with a minor concussion. I would have been interested to see how things might have turned out with the MIPS version now available, but I'm happy to be here : ) I definitely "Put it through the wringer"!
Ed Kilbourn
Is the "Flash Yellow" Lazer z1 color really more "Floro Green" than yellow? Looks more green than yellow on your site? Wondering if if matches my Tarmac stripe?
Christian M.
Hi Christian! Having owned the Flash yellow Z1, I can say it's really close to your Tarmac colors. Mine matched my other fluo-yellow stuff really nicely.
Ed Kilbourn