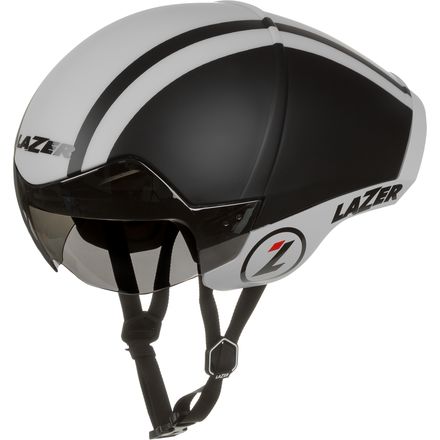 Colors

Detail Images
Ahead of the swarm.
The recent trends in aerodynamic headwear may be marking an end to the highly elongated and stabby time trial helmets of past years that acted like wind sails the second the tail separated from the spine curve. As such, the Lazer Wasp AIR Helmet with Inclination Sensor replaces the traditionally-shaped Wasp with a shorter, more blunt-tailed profile with a wider range of aerodynamic positioning than the old, neck-slammed helmet options. Adding in Lazer's new Inclination Sensor technology means this helmet isn't just aerodynamic, it helps you maintain position even when riding on the rivet and just trying to make it through the home stretch.
In addition to all the wind-cheating design, Lazer's Inclination Sensor is what really sets this helmet apart from the swarm of other TT head covers on the market. This little device integrates seamlessly into the back of the helmet, safely out of the way of the airstream, to provide sound and/or vibration feedback when your head moves away from your ideal positioning as a gentle reminder to get back into proper form. You (and your coach) determine the desired position and program the Inclination Sensor specific to that position, with additional programmability around specific angle of diversion to trigger feedback. The sensor's battery will last through six to eight hours of continuous feedback, and is easily rechargeable via USB.
The Wasp Air features a streamlined design and an integrated eye shield to create smooth airflow and reduce drag. While riders will see the most advantages when looking forward, the Wasp Air's shaping allows for a similar reduction in drag when looking down. You'll still go fastest focusing on the course ahead, but the helmet won't turn into a parachute when you peek down to check in on your watts, speed, and mileage left to the finish line.
The Wasp Air's customizable fit comes complements of Lazer's ATS Advanced Turnfit System and its Adjustable Head Basket, which combine to provide nearly countless fit options and are adjustable on the fly if needed. Lazer incorporates three vents strategically into the shell for cooling ventilation to keep you thinking clearly through warm summer races.
A TT helmet that keeps you focused on maintaining efficient form
Sensor provides form alerts to keep your posture on point
Aerodynamic shaping conserves precious watts
USB-rechargeable battery provides capacity for a 112-mile event
Customizable fit system dials comfort for all-day events
HERITAGE - DEVELOPMENT - INNOVATION
An inside look at the heritage, development and innovation that can only be found from Lazer Sport!
Lazer Sport USA
Definite winner!
Familiarity:

I've used it several times

Fit:

True to size

Size Bought:

M/L
I've never loved any of the TT helmets I've owned or worn. They have always been uncomfortable, hot, somewhat combersome and at least a little hard to see out of. Enter the new Lazer Wasp!



The first time I put it on and adjusted the "ATS" turn-fit dial, I knew that I could stop getting distracted by my TT lid moving around, poking me in the head and being a general pain. The Wasp fits well, is easy to adjust and most importantly to me, is nice and cool! There are few things worse than a foggy visor or overly sweaty head during a time trial. There are far more important things to worry about.



Which brings me to the inclination sensor..... It seems like a great idea and will undoubtedly help many riders shave seconds off an overall time, but I had to turn it off after about 100 meters : ) Time trialing is my weakest link, and I have not spent too many hours honing my form, so the sensor was working overtime to remind me (see included picture). The sensor will most likely be best for TT specialists and longer course Triathletes who are adept at keeping a more efficient head angle to begin with.



The integrated visor is the best I've used so far. It is a near seamless fit, completing an almost spherical leading surface of the helmet. This is definitely a difference that even a TT hack like myself can feel! This, combined with the short overall shape and light weight make the Wasp a joy to wear.



....And, in my opinion, it looks really, really cool!



If you have any questions or for additional information, please feel free to reach out to me directly.



Ed Kilbourn

Gearhead - Bike

Office: 801–736-6396 x4670

ekilbourn@backcountry.com
Ed Kilbourn
Height:
5'8"