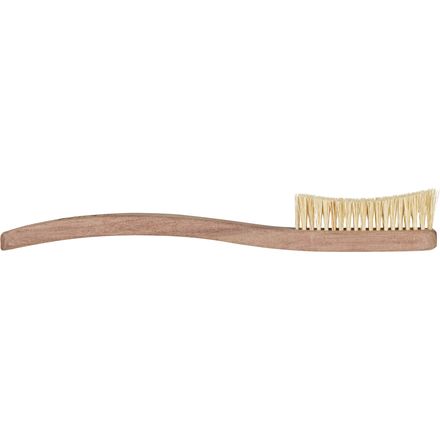 Colors
When you're working on a project, brushing off over-chalked holds is a must, but you don't want to destroy the rock you're working with. With Lapis's Boar's Hair Brush, you can crank away at getting rid of excess dust while still making sure you're not hurting the rock. Pick from plastic or wood to add some personalized style to your cleaning technique.
A brush to clear extra chalk off of must-have holds
Boar's hair reduces damage and polishing to rock
Plastic of wooden handles offer custom look
Boars Hair Is Better
Familiarity:

I've put it through the wringer
Plastic brushes leave a residue on climbing holds that feels like snot and looks like cement. Please just use these brushes, they're right around the same price and get the hold feeling way nicer anyway. Take it easy with pressure on softer rock especially and just use more brush strokes if needed. And thanks for saving the rocks!!
Luke Dordai
Great for your teeth too!
Familiarity:

I've put it through the wringer
Not actually though. This is a great climbing brush though; lightweight, and easy to fit into a chalk bag, and the boar's hair bristle's will clean up that over-chalked, greasy sloper in no time at all. If you're climbing hard, you need one of these!
Robert Lindsen
Great little brush
Familiarity:

I've used it several times
The handle is very comfortable, the boar's hair wont damage the rock or plastic holds, and the size is great for attaching to a chalk bag.
Rich F
All Natural
Familiarity:

I've put it through the wringer
Love this brush. It's super effective because the bristles get in every nook and cranny of the hold. Great for plastic and rock and since it's boar hair the bristles don't rub off into the hold like plastic bristles do.
Jane Hwang
Brush
Familiarity:

I've put it through the wringer
Awesome boars hair brush. Wish i could tell you how long they really last as most of mine either get lost or stolen.
Reagan Chung
Best Brush!
Familiarity:

I've put it through the wringer
These are the best hold brushes on the market in my personal opinion. They last surprisingly long for a boar's hair brush, and are really gentle on more fragile rock types such as sandstone, which makes me happy. I have one for every chalk bag. They also make gifts for your climbing friends!

If you have any further questions about this product I am happy to help! You can call me directly at 801-619-7488, or email me at kansari@backcountry.com.
Karsyn Ansari