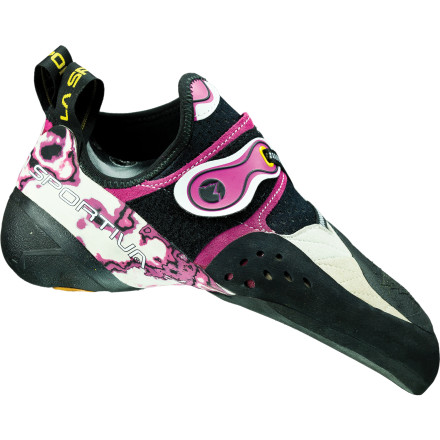 Colors

Detail Images
Banish boulder woes.
You're known as a problem-solver extraordinarie, so it's only fitting your favorite climbing shoe is the La Sportiva Women's Solution Vibram XS Grip2 Climbing Shoe. Made for women's feet, which tend to be narrower, straighter, and occupy less volume than their male counterparts, this downturned shoe will cause the corners of your mouth to turn up with joy, and the high degree of asymmetry lets your toes wiggle into hooks previously uncatchable with other shoe bait.

The Lorica synthetic leather upper might relax a bit once it gets to know you (just keep that in mind for shoe sizing). The P3 (Permanent Power Platform) keeps this shoe on point and helps it maintain its aggressive downturned silhouette. A robust rubber toe cap keeps your digits dancing, and the whiff of lining up there doesn't dampen sensitivity. Hook your heel on just about anything with the combination of a molded 3-D heel cup and Lock Harness System. With this much power from your heel, your arms won't feel like overcooked spaghetti at the end of the day.
The Vibram XS Grip2 sole takes rigid and sticky to new heights. The 1.1mm LaspoFlex midsole only lives under your toes for an extra hit of torsional rigidity when you need a firm footing to continue your upward trajectory. The Fast Lacing System combines thin webbing and a solo hook-and-loop closure flap to hasten the time it takes to get ready to rock. From overhung boulders to steep sport routes, the Solution addresses most issues before they turn into full-blown problems.

Synthetic Lorica leather upper
Women-specific, narrower, straighter, lower overall volume
Hook-and-loop Fast Lacing System
Downturned toe, P3 Permanent Power Platform
Lock Harness, 3-D heel cup
Slip-lasted, less stiff sole
Vibram XS Grip2 sole, 4mm
Lined in toe box and arch area only
Low profile
High asymmetry
1.1mm LaspoFlex midsole in toe only
Too bad they're gone forever
Familiarity:

I've put it through the wringer
With the new remodel dies a very briefly minted edition that was the best this shoe ever was (for me). Sadness. Wish I bought 10 pairs.
Luke Dordai
Didn't know what I was missing
These shoes are fantastic. The fit of my velcro Katanas changed drastically (super uncomfortable now) after a recent resole so when I saw the solutions on sale I ordered a pair. Could not be happier. I sent my gym bouldering project the day I started breaking these in. I can't wait to take them on my outdoor project. I wear a 6.5-7 street shoe, a 35.5 in the Katana, 7 in 5.10 Anasazi and the 36 in the solutions is a good fit (the 36.5 felt amazing when I tried them on but downsized 1/2 a size to account for stretch..a struggle to get them on in the beginning but they're starting to fit well after a couple of gym sessions).
Jessica L.
Equipment failure
Familiarity:

I've used it several times
I bought these shoes less than 2 months ago, and have only climbed on them for less than a month and the strap has already failed making them useless on steep terrain requiring heel hooks or toe hooks. Being that they're a bouldering shoe for me, this renders them entirely useless. Disappointed in a glaring flaw in their design with the sharp grommit helping to wear away thin webbing. Won't buy again. Back to scarpa with me.
Blaise Thorpe
The solution!
Familiarity:

I've used it several times
I purchased these a little over a month ago and I LOVE THEM! They are well worth the price, especially if you catch them on sale. They do exceptionally well on smearing, overhang routes, small footholds, etc. Just an all around great shoe. I would definitely buy them again and recommend to everyone including beginner climbers.
Amanda W.
Love these Shoes!
Familiarity:

I've put it through the wringer
Amazing shoes if you are bouldering or sport climbing. I trust their ability to stick the smallest foot chips and also just smear well. Love these shoes and would buy them over and over again.
Talina Carlon
ups and downs 👀👀
Familiarity:

I've put it through the wringer
this was my first favorite climbing shoe. i first bought the solutions a few years ago, and since then i've gone through four pairs because i loved them so much.

PROS: the solutions have super sticky rubber, the stickiest you'll come across. they also have an insanely good toe. like i suck at toehooking but since there's so much rubber there (which is a small but excellent and very handy feature) they always manage to stick to anything i throw my foot at. the edging has also amazed me. these shoes are just as fantastic outdoors - in fact i got my first outdoors v6 in these. finally, i love how these shoes are so unspecialized - so you can crush on slab or on roofs or on powerful boulder problems or on techy sport climbs or at the gym or at the crag...it goes on.

CONS: however. i have pretty narrow feet and a small heel, so the fit isn't excellent for me. sometimes, the bulkiness can be fixed by going down a size. but no matter the size, my heel always slips out of the heel cup on heelhooks. it slips a little on every heelhook no matter how hard i'm pulling, and if i'm pulling a lot with my leg, my heel will slip right out of the shoe.

OVERVIEW: now that you're done reading this frickin novel, i'll just say that the solutions are great, especially for those hardcore boulder-ers out there. would definitely recommend. just beware, fellow small-heeled clan mates, and if the heel is a problem for you maybe do what i did and drop the solutions for the miura vs - which offers a much tighter, stiffer change.
Maddy
The Solutions are the solution
Familiarity:

I've put it through the wringer

Fit:

Runs small

Size Bought:

6
After getting hooked on climbing steeps and overhung boulder problems, I wanted a shoe that would help make even the tiniest of foot holds bomber. After a few days of research, I decided to go with the Solutions.
The Solutions are designed with a P3 Slingshot Rand, and it's aggressive downturn helps channel power into the climber's big toe, making it effortless to toe in and keep their feet on the wall. These shoes won't magically make you climb harder grades but it will improve footwork tremendously, as well as confidence in foot placement. The slipper with a strap combination allows for micro-adjustments, with a snug and secure fit.
The only issue I noticed was that the heel was a little roomy - my heels are more narrow than the ball of my feet, so at times I will notice my heel move around a bit, but not enough to make it an issue. The rubber is also softer than a more moderate shoe, so if you decide to climb in these 4 - 5 days a week you will need a resole after about 4 months of use (depending on how clean your footwork is).
Also, the color of the shoes closely matches the photo.
Overall, the Solutions will make a timid climber more confidence on tiny foot chips, and provide more stability and power in the toe.
Ana Stamenkovic
Height:
5'1"
Weight:
110lbs
Thank the Lord for Solutions!
I will credit these shoes for saving my ass quite a few times! I'm new to climbing but knew enough about the sport and what I was wanting out of it. I bought the Solutions with guidance from fellow climbers and I couldn't be happier. They're definitely not comfortable! But you never notice that when you're climbing. Mine are starting to break in after a few weeks of climbing. And I'm starting to love them more and more, if that's even possible!
Brittany B.
Hurts so Good
Familiarity:

I've used it several times

Fit:

True to size

Size Bought:

35.5
purchased size 35 1/2, my size in other la sportiva shoes and from other recommendations. my street size is 5.5... perfectly aggressive, however these have been tough to break in. Looking forward to using them more tho!
Cheryl K.
Height:
5'2"
Run Large
Familiarity:

I've used it once or twice and have initial impressions

Fit:

Runs large

Size Bought:

37.5
I loved these climbing shoes immediately as I tried them on. Unfortunately, they run large. I ordered my street size, which is what I have always done since I have been climbing. Although I am now an experienced climber, I don't believe climbing shoes should make you cry and lose your toe nails. So I keep ordering my street size. However, with this model my shoe size does not even fit tightly. I'm hoping to be able to return them and move a size or half size down.
Vassia V.
Height:
5'5"
Weight:
120lbs
Saucy
Familiarity:

I've put it through the wringer

Fit:

True to size
I'm a guy but I guess I have pretty low volume feet and I prefer my shoes to be really snug and these worked perfectly. I tried on the men's solutions and they were just a hair too loose in the toe box so I tried on the women's variant and have been super happy. The slightly softer rubber allows for great sensitivity and makes the shoe softer overall. These things weld to the wall on edges and smears, the heel is excellent and the toe rubber allows for strong toe hooks. Even for how aggressive these shoes are I find them to be very comfortable.
Will
Wife loves these things. Wear these if you want to send your 5.13 project, or if you want to look like a bad ass crushing 5.9's. They are a high performance shoe, and they work great for steep climbs. If you're a new climber, I'd recommend going w/ something cheaper. No need to destroy the shoes on easier stuff when a shoe half the price will do just as well. Only my opinion...
Mike Cushing
Great gift for a boulderer
Familiarity:

I gave it as a gift but have feedback to share

Fit:

True to size
I got these for my cousin who's getting into bouldering and this is what she had to say:
"I was given this pair of Solution for bouldering. They are amazing, super sticky and aggresive. Love them!"
Devin Peterson
Aggressive performance
Familiarity:

I gave it as a gift but have feedback to share
I got these as a Xmas gift for my sister who is a serious climber. She picked these out because of the aggressive shape of the toe (sorry, I'm not a climber so I don't know the terminology...). Anyway, she tells me that they hurt and she got blisters the first couple times she used them... but that this is normal, since she intentionally buys them on the small side for her feet. Once her feet got used to them she is loving these shoes. She still uses her older less pointy climbing shoes for certain climbs, but likes having both sets in her arsenal.
Jes Ford
Height:
5'5"
Weight:
130lbs
All time favorites
Familiarity:

I've put it through the wringer

Fit:

True to size
These are my all time favorite climbing shoes! They have been the best fit- tight and form fitting, yet still very comfortable. They fit true to size for me.
I am pretty sure my climbing skill went up a few notches the minute I switched to climbing in these.
Jenessa
The gift that keeps on climbing
Familiarity:

I gave it as a gift but have feedback to share

Fit:

Runs small

Size Bought:

N/A
My climbing partner ran through her pair of shoes and was so sad that I got her a pair so that she could keep climbing with me. Friends that climb together support each other <3
somethings she likes about the shoes are the toe box and how down turned they are. she climbs a lot of steep stuff and needs the extra talons to stay on the tiny foot jibs.
Jane Hwang
Height:
5'4"
Weight:
115lbs
Performance with comfort / Sport Climb
Familiarity:

I've put it through the wringer

Fit:

Runs small

Size Bought:

39.5
Perfect edging, not too aggressive - I could wear this on sport multi-pitches if I needed to. Great Maple Canyon shoe or sport climbing in Wild Iris. I've also used these in Rifle and Smith Rocks - very effective on every type of rock (Granite, Basalt, Tufts, Conglomerate, Limestone)
Suzy Williams
Height:
5'10"
Weight:
145lbs
The only shoe I boulder in!
Familiarity:

I've put it through the wringer

Fit:

Runs large

Size Bought:

38.5
Seriously I've burned through three pairs of these babies and every new pair I get is just as amazing as the one before! They fit my super narrow foot and very high arch and can heel hook anything! I did however have to downsize quite a bit (38.5) from the size that I wear in the Muiras(40) to get the aggressive fit I was looking for. Oh and they are super comfy in the toe box, a lot of other aggressive shoes kill my toes.
Lauryn Y.
Height:
5'8"
Weight:
123lbs
Awesome shoes
Familiarity:

I've used it once or twice and have initial impressions

Fit:

True to size

Size Bought:

37.5
Got to test drive these in a bouldering session for overhangs. I gotta say these are very precise and sensitive to small foot holds. It definitely allowed me to try harder problems that day. Unfortunately, the 37.5 seems to have a bit of room on the heel. Street size I'm 7.5. So I plan on getting 37.
Stella Lee
Height:
5'2"
Weight:
105lbs
A Better Solution
Familiarity:

I've put it through the wringer

Fit:

Runs small
These shoes take much from the classic, proven design of the standard Solution whilst reducing the overall volume and increasing the beauty of any male or female's feet (normally such a horrid, alien looking part of the body) by including the stylish and totally androgynous pink/magenta color.

The lower profile has made toe hooking much more secure for me. Previous iterations of the Solution didn't eliminate all the dead volume in the shoe which seemed fine for toe-ing down, but toe hooks suffered as a result. This concern has largely been addressed. Try these out if you have really skinny feet and know an aggressive profile works for you.
Zane Dordai