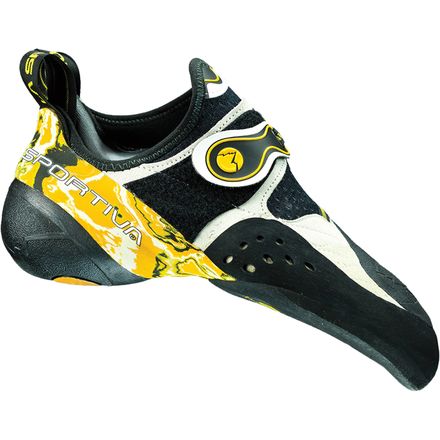 Colors

Detail Images
Solve your hardest problems.
Troubled by a tricky toe hold? Biffed a route because of a hard-to-set heel hook? La Sportiva has the Solution (Vibram XS Grip2 Climbing Shoe) to your problems. The aggressive downturned toe stays in place due to the P3 Permanent Power Platform, and a high degree of asymmetry makes it easy to sneak into tight toe hooks. While not an extreme edging specialist, this permanently downturned shoe helps your climbing shine on super steep walls, troubling boulders, and difficult bicycle moves.

Lorica, a synthetic leather, will stretch a bit from the initial fit, so keep that in mind with sizing. The P3 Permanent Power Platform helps this shoe stay on point and retain its aggressively downturned appearance. A whiff of lining in the toe box won't dramatically dampen sensitivity and serves as advanced notice that your shoes are wearing out. The one-two punch of the 3-D heel cup and lock harness system turns heel-hooking into hedonistic pleasure. Perhaps a bit thicker in back than the Muira, any of loss of sensitivity will be forgotten the minute you realize how much control you have when hooking on incuts.

The Vibram XS Grip2 sole takes rigid and sticky to those pin-sized that-can't-possibly-work foothold and makes them workable. Because your toes tackle steep sport routes and burly boulders, La Sportiva added the barely-there 1.1mm LaspoFlex midsole up front as an added touch of torsional rigidity. The Fast Lacing System gives you the capability to customize the fit and the simplicity of a single hook-and-loop closure to keep it all together.
Synthetic Lorica leather upper
Hook-and-loop Fast Lacing System
Downturned toe, P3 Permanent Power Platform
Lock Harness, 3-D heel cup
Slip-lasted, less tiff sole
Vibram XS Grip2 sole, 4mm
Lined in toe box and arch area only
Low profile
High asymmetry
1.1mm LaspoFlex midsole in toe only
Ultimate Performance
Familiarity:

I've put it through the wringer
The Solution is a rockstar of a shoe and will stick to almost anything. Placed correctly they will hold onto anything indoor and outdoor. Heel and toe hooks are solid and confident.
The slipper fit and single closure are good for on and off which is needed because these shoes are not comfortable and should not be walked around in. That is the downside to these weapons. The break in is pretty brutal and if you wear them tight expect toe pain, but the results are worth it. For overhangs and ceilings nothing works better in what I have tried.
Andy Rovito
On my 3rd pair and getting another
Familiarity:

I've put it through the wringer
I've been using these for about 4 years and absolutely love them. I boulder, sport, and I'm getting into trad climbing. These are great for bouldering and sport climbing but not ideal for trad but that's not what they're optimized for. I boulder in the gym a few times a week and get outside a decent bit and these are great for both. They are aggressive but once they get warmed up the rubber softens and they're a lot more comfortable. The first pair I bought felt a little tight when I bought them but they stretched out enough to where they were actually a little big so make sure to size down. You'll definitely be taking them off between climbs but once they're stretched out to fit your foot they're perfect. They're great for heel hooks, toe hooks, and edging small holds. They're not the best for slabs but they hold their own. If you're looking for something similar but do a bunch of slabs then look at the Skwamas. I've tried them and they're basically a whole lot softer version of these with a different type of heel. So the Skwamas won't last as long as the Solutions.
Matt D.
Great Sport Climbing and Bouldering
Familiarity:

I've put it through the wringer
This shoe is great, this is my 3rd pair of them and I can't complain. Great aggressive shoe, edges, toe hook, heel hooks. I prefer the Testarosa for sport climbing because it fits my foot better than the solution, but the solution has become my all arounder and preforms much better while bouldering.
Ryan Collins
Awesome shoe for someone else
Familiarity:

I've used it several times
I ended up not being able to wear these. The heel cup is a little too deep for my foot and ended up chafing my achilles to the point of not being able to climb. The female version of this shoe fits me better. Also, the Scarpa Instinct is like a more comfortable version of this shoe.
Nathan Witt
Great Bouldering shoe, Very sticky!
Familiarity:

I've used it several times
really love the support theses shoes offer even if i have my toe on a tiny crag. The heel of the shoe almost suctions to your heel allowing for strong heel hooks. Smearing on these shoes can be done with the sides, top of toe or base. The rubber is very sticky and I hardly slip. These shoes run very true to climbing shoe size. (one size smaller) I ordered a pair that was one European size too small and they were pretty painful to climb with. Once i went up a size (us half size) it was perfect. I wear a 10 street shoe 9(42) in la sportivas. Get them while you can, the new version of the solutions comes out next year and I was told the heel would be a new design more like the Otaka. (info from the REI co-op rep in my local climbing gym) Not necessarily a bad thing, i've just grown to like this type of heel.
Andy B.
Best bouldering shoe ever
Familiarity:

I've put it through the wringer
I just purchased my 4th pair of Solutions over the last 6 years. I rarely blow through the toe rubber, and end up having to buy a new pair when the entire shoe is literally falling apart and smelling (usually 1-1.5 years). They are both the most comfortable shoe and also the best performing shoe I have ever worn. They fit like a glove, and only take a couple sessions to break in. The full-rubber heel is awesome for hooking onto anything (slopers, crimps) although some people with small heels don't like it. I boulder around V8/9 outdoors, and these are my absolute favorite shoe. I am 5'6", 140 lbs. For sizing I am exactly a size 8 Mens measured on the floor scale, I wear a size 9 comfortable running shoe as my street shoe (Brooks, Asics, Nike), and I wear a size 8.5 in other shoes (Sperry, boots, dress shoes). I wear a size 38 in the Solutions, Futura, and Genius. And I wear a 39 in most rope climbing shoes for comfort like Nago, Mythos, and Finale. The 38 Solutions fit me perfectly, tight at first, but not too tight. I don't believe it destroying your toes for bouldering, you need some expansion room for warm days and occasional slab climbs. Best advice I can give for sizing would be to measure your exact foot size on a floor scale at any department store, then order the Solutions 2 sizes down (I am size 8, I wear 6 in Solutions). Free returns also help.
Bobby R
I wear size 9 street shoes, size 41 Miura VS, and size 40.5 Solutions for a very tight (toes curled) but not super painful fit. The Solution is a softer, more aggressive shoe than my all-time favorite Miura VS.

John S.
Sending Shoes
Familiarity:

I've put it through the wringer

Fit:

True to size

Size Bought:

43
I bought these shoes because of all the good things I was hearing about them. I can contest that they do not disappoint!

Like any aggressive climbing shoe they're very uncomfortable to break in but once they are they're sending weapons. They really hold up quite well. When I bought them I was slightly concerned with how they would do on slab climbs, since they are advertised for steep routes, but pleasantly surprised they do quite well. This I think has to do with the flexibility in the midsole. The heal is bulletproof for heal hooks as is the toe section for toe hooking.

Conclusion: If you're looking for a really aggressive project sending shoe, these in my opinion are the ones for you.
Kyle Ellefson
Height:
6'0"
Weight:
155lbs
Best bouldering shoes!!!!
Familiarity:

I've used it several times

Fit:

Runs small

Size Bought:

39.5
The best bouldeting shoes ever. Perfect for heel hooks and toe hooks. Down size half to a full size from Miura VS. It sticks to holds really well.
Hassan Y.
Height:
5'7"
Weight:
148lbs
Classics
Familiarity:

I've put it through the wringer
These shoes can officially be deemed classics! They've been around for a long time and are still one of the best shoes on the market. I've used them on steep boulder problems, and vertical sport climbs. Make sure you try them on before you buy, La Sportiva sizing can be a little wonky compared to other brands. I definitely recommend!
Griffin Whitesides
Height:
5'9"
Weight:
140lbs
ALL TIME FAVORITE!
Familiarity:

I've put it through the wringer

Fit:

True to size

Size Bought:

39.5
The La Sportiva Solution is one of my favorite aggressive climbing shoes ever. I'm currently on my third pair. The fit is excellent (for some), the bulbous heel allows for a secure fit & keeps the lock when heel hooking. This shoe is great for edging on micro size holds and keeping toes on steep overhung climbs. These are the go-to shoe for when you are pushing your limit and trying hard.
Cole Seaton
Height:
5'11"
Weight:
145lbs
I'm a Noob
Familiarity:

I've used it several times

Fit:

True to size
I have loved these shoes, used them a few times, they are quite aggressive but fit true to size. I was just getting started and these were highly favored by a friend of mine so I snagged them. Happy with my decision.
Forrest
Awesome aggressive shoe
Familiarity:

I've put it through the wringer

Fit:

True to size
I want to thank gearhead Kari Kallin for suggesting these badass shoes! She was really knowledgeable with figuring out the perfect shoe based upon my skill level and type of climbing I enjoy.

I climb indoor/outdoor primarily bouldering but occasional a little sport. This shoes have been a great all around shoe from sketchy slab with barely any chips to some solid overhung heel hooks. I've worn a number of other shoes including Miura VS, 5.10 hiangle, and Scarpa Instinct VS and these are my favorite. I wear 8-9 US street shoes and got 39.5 euro for a size and they are perfect...tight but perfect.

GET THEM or first talk to Kari then get them!!!!
Gregory J.
La Sportiva's best product by far
Familiarity:

I've put it through the wringer

Fit:

True to size
If you like any of La Sportiva's shoes, prepare to fall in love. These shoes are amazing to say the least. Its hard to find a shoe that can compete with them. If you look around at a climbing gym or any crag. You'll most likely find multiple pairs of solutions. They heel hook like no other shoe on the market. The aggressive down turn is great for overhung problems or very small toes. My solutions handle everything except for cracks and slab. As soon as a pair wears out, i get another on order cuz i love these shoes. I'm sure you will too. Feel free to email me with any questions about these shoes, i'd be happy to answer them. dchilds@backcountry.com
D Trent Childs
Height:
6'1"
Weight:
150lbs
Great aggressive shoe
Familiarity:

I've put it through the wringer

Size Bought:

41.5
Love these. Great for tiny foot holds. My go to for all tough routes, obviously not cracks. Going in for resole soon. For an aggressive shoes the rubbee lasted a lot time. Heal and toe hooks great. Sizing is always tough mail order especially for a shoe like this.

Street shoe 10 all day.
41.5 in solutions for a performance fit. Toes curls slightly.
Jeff A.
Height:
5'8"
Weight:
145lbs
Awesome shoes!
Familiarity:

I've put it through the wringer

Fit:

True to size
"These are extremely durable climbing shoes. I had my last pair for over two years and I'm an aggressive climber! The velcro makes it easy and quick to put them on and take them off. Also, a great shoe for precision climbing. Highly recommended!" - From my husband
Jenessa
Awesome shoe
Familiarity:

I've put it through the wringer

Fit:

True to size
I love this shoe. i have a morton toe, which means my second toe is much longer than my first toe, which with climbing shoes means i cant fit into almost any agressive shoe at all. So i was looking for an agressive shoe that was somewhat centered. This was perfect. It was agressive enough for what i was looking for, and it was centered enough to fit my toes. If you have a mortons toe i cannot recommend this enough. It is also overall a great shoe. The toe area is solid, giving you the flexiblity but stability for leveraging, and the heel allows for heel hooks.
Rebecka
The Solution to All of Your Problems
Familiarity:

I've put it through the wringer

Fit:

True to size

Size Bought:

44
This is definitely my go to bouldering shoe from La Sportiva. Great edging, super stiff, and a really aggressive profile make this the ideal shoe for hard, overhanging routes and problems. I wouldn't necessarily pick them for long routes, but for shorter more bouldery style climbs, they are fantastic.

If you're looking into climbing shoes and need a recommendation, feel free to reach out to me. I have climbed in most La Sportiva shoes on the market and many others as well!

I'm typically in the office Monday-Friday and would love to talk, but if you call and I'm not in, make sure to leave the best number to call you back at or your email address in the voicemail.

Contact information:

Email:dgoodman@backcountry.com

Phone: 801-204-4680
Daniel Goodman
Height:
6'0"
Weight:
160lbs
Great shoe!
Familiarity:

I've used it several times

Fit:

True to size
Very powerful shoe, love it! Majority of the use on this shoe as been at the gym with minimal usage outside. I wear a mens 8 and sized down to a 39. This shoe was very painful at first, but, after some usage the material stretched. The shoe is now perfect!
Mimi
Height:
5'7"
Weight:
120lbs
They're Solutions... just buy them
Familiarity:

I've put it through the wringer

Fit:

Runs small
11/11.5 normal shoe size/ 42.5 Solutions size. Fit is snug but not too painful. Probably could have gone down another half size if i really wanted to be in pain.
If you have long and narrow feet like me these shoes feel like they were custom-fit. The heel cup on the solutions fit like a suction cup on my feet. Heel hooking in these shoes feels more solid than any other aggressive climbing shoe i've used. The toe box fits just snug enough, and the rubber on top of the toe is actually in a logical place for toe hooks.
There's a reason these are the shoes you always see on the feet of professional sport climbers and boulderers. If you're looking to buy a pair of aggressive shoes and deciding between these and something else, just get the solutions.
Sam