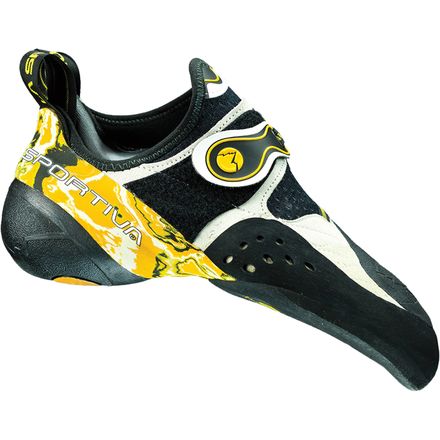 Colors

Detail Images
Solve your hardest problems.
Troubled by a tricky toe hold? Biffed a route because of a hard-to-set heel hook? La Sportiva has the Solution (Vibram XS Grip2 Climbing Shoe) to your problems. The aggressive downturned toe stays in place due to the P3 Permanent Power Platform, and a high degree of asymmetry makes it easy to sneak into tight toe hooks. While not an extreme edging specialist, this permanently downturned shoe helps your climbing shine on super steep walls, troubling boulders, and difficult bicycle moves.

Lorica, a synthetic leather, will stretch a bit from the initial fit, so keep that in mind with sizing. The P3 Permanent Power Platform helps this shoe stay on point and retain its aggressively downturned appearance. A whiff of lining in the toe box won't dramatically dampen sensitivity and serves as advanced notice that your shoes are wearing out. The one-two punch of the 3-D heel cup and lock harness system turns heel-hooking into hedonistic pleasure. Perhaps a bit thicker in back than the Muira, any of loss of sensitivity will be forgotten the minute you realize how much control you have when hooking on incuts.

The Vibram XS Grip2 sole takes rigid and sticky to those pin-sized that-can't-possibly-work foothold and makes them workable. Because your toes tackle steep sport routes and burly boulders, La Sportiva added the barely-there 1.1mm LaspoFlex midsole up front as an added touch of torsional rigidity. The Fast Lacing System gives you the capability to customize the fit and the simplicity of a single hook-and-loop closure to keep it all together.
Synthetic Lorica leather upper
Hook-and-loop Fast Lacing System
Downturned toe, P3 Permanent Power Platform
Lock Harness, 3-D heel cup
Slip-lasted, less tiff sole
Vibram XS Grip2 sole, 4mm
Lined in toe box and arch area only
Low profile
High asymmetry
1.1mm LaspoFlex midsole in toe only