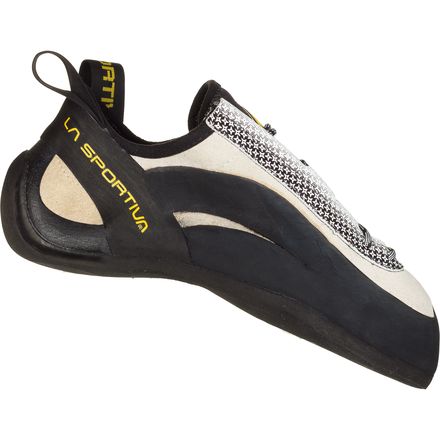 Colors

Detail Images
La Sportiva's edger.
Stick to the most crimp-tastic routes when you put on the La Sportiva Women's Miura Climbing Shoe and edge wart-sized footholds. The Miura's high curvature and downturned toe give you more friction on the smallest holds or smears with the sticky help of Vibram XS Grip2 rubber. Shaped forefoot edges let you rest on tiny ledges between overhanging pitches, while the LaspoFlex forefoot midsole keeps the toe stiff so you can stand on those edges easier. A synthetic Dentex lining prevents the leather upper from stretching, drastically reducing the necessary break-in time.
Lace-up version of La Sportiva's best edging climbing shoe
Slingshot rand maintains the shoe's downturn for life
High asymmetry increases precision for a technical performance
Vibram XS Grip 2 rubber focuses on friction for slippery stone
Lined leather upper reduces stretching overtime
Single Quiver Shoe
Familiarity:

I've put it through the wringer
From crimpy edges to off-set cracks, these shoes are so wonderful! Grip is excellent and they break-in like a dream.
Suzy Williams
Best Female Climbing Shoes in the Market
I have been climbing for a couple years now and these shoes are by far my favorite! They are perfect for all types of climbing and the overall fit is great and comfortable. A lot of my female friends recommended the Miura's and I am glad I listened to them!
Jenna Hoy
Ballet Shoe For Rock
Familiarity:

I've put it through the wringer
I love this shoe. This was my second pair of climbing shoes. I've bouldered and sport climbed in them and am super happy with how they feel and perform. I prefer them for sport climbing and bought some more downturned shoes for bouldering . These edge well and the pointy toe is great for pockets and they are stiff enough to support me if it's just the end of that pointy toe on a tiny hold. I think they excel for technical climbs. I feel like I can do some fancy foot work when I need to with grace and confidence on a route while wearing these. They do take some breaking in (they are leather) but feel better and better as time goes on. Stretched some, but not a ton. More like they conformed to my feet. I have no desire to seek out a different shoe for sport climbing, I will happily use these for awhile. In case it helps, my street shoe size is 7 (sometimes 7.5) and I wear a 37 in these. The fit is tight but not crazy uncomfortable or anything once broken in. I wore out the toe in my first pair but was lucky enough to find a gently used pair of the same size at a second hand shop in Carbondale, CO. I feel like the sizing of this new pair is the same as the first pair of 37's I bought. Climb on, ladies!
nihau
Perfect Fit & Great for Bouldering
Familiarity:

I've used it once or twice and have initial impressions

Fit:

Runs small

Size Bought:

38.5
I've tried on tons of different climbing shoes, but they all didn't quite fit the way they usually do with other people. These fit perfect (i wore them for the first time last night, and although they are tightttttt - i know they will stretch minimally). I tried these shoes on in several sizes at a local gym near me, and the fit is different with each shoe (ie: two of the same shoe sizes fit different ) . The 38.5 fit the best overall (just to note.. i wear a size womens US size 9 in anything besides climbing shoes ) . It is not as
Katie
Height:
5'2"
Weight:
112lbs
nice fit, maybe small
Familiarity:

I've used it once or twice and have initial impressions

Fit:

Runs small

Size Bought:

39.5
Bought for the outdoor season, planning to do edgy sport routes. I've been trying to break them in at the gym and they are snug! I would recommend ordering a size up from usual.
Laura
Height:
5'8"
Weight:
135lbs
Great all-around shoe
Familiarity:

I've put it through the wringer

Fit:

True to size

Size Bought:

37
These were my first pair of non-beginner shoes and I LOVE them. They helped me climb significantly harder grades, stay comfy through long multi-pitches (except for the occasional toe pain because I have 2 different sized feet), and are great for all around climbing. Not the best for roofs/super steep climbing, but that's why super aggressive shoes exist! Note: I don't like my shoes super tight because I am prone to stress fractures in my toes and the arch of my foot, but the 37 is just aggressive enough to provide support and work well on lots of different types of climbs.
Katie Allan
Height:
5'1"
Weight:
100lbs
Didn't fit me, but seemed solid
Familiarity:

I returned this product before using it

Fit:

Runs small

Size Bought:

40.5
First off, I have a ridiculously narrow heel that I have always struggled to find climbing shoes to fit (every heel hook rips them off). Unfortunately, these fell into that category as well. But, the shoes seemed to be classic La Sportiva awesomeness. The laces are nice since you can form the shoe more to your foot, so I was hoping I could wrangle them into working for me. Unfortunately, cinching them down to fit my heel meant it was pinching the top of my foot and made it hard for me to flex. It is hard to tighten only certain parts of the shoes via the laces like you can with other laced shoes. So, good shoes, but if you're trying to fit weird feet, maybe not the best option. Oh, and classic La Sportiva Sizing, I got a 40.5 in these (and fit fairly well if not a little too small), I normally wear a 8.5 in US Womens and my current pair of La Sportiva (Men's Miura Vs) is a 41.
Kira P.
Height:
5'3"
Weight:
130lbs
Amazing.
Familiarity:

I've used it several times

Fit:

Runs large

Size Bought:

37
I adore my new Miura's - I've stopped wearing anything else. They were my second pair of climbing shoes after starting with a super neutral beginner shoes, and I find that I can climb significantly harder with the Miura's. I know, the gear doesn't make the climber, but I experienced a notable improvement upon using these shoes. I am traditionally wear a women's 6.5 street shoe and found a full size down a bit too small (I had to take them off after every boulder problem the first day I tried them) and the 37 is perfect. Aggressive but not too aggressive that I can't wear them for a long day of climbing!
Katie Allan
Height:
5'1"
Weight:
100lbs
Not for a starter w/ a faint heart
Familiarity:

I've used it once or twice and have initial impressions

Size Bought:

37.5
These were my first climbing shoes but luckily I don't have a faint heart cause holy smokes these don't feel like a pair of sneakers!

I heard these are better for people with a bit narrower feet, which I don't have but I decided to tough it out anyway and I literally had to tough it out the first time I wore these. They almost put me to tears.

Thankfully after a few wears they are breaking in and don't starting hurting until I finish the climb (still definitely can't lounge around in them)
The good new is that these things grip awesome! I was able to stand on footholds that the rest of my group couldn't which made up for my serious lack in climbing skills.

The laces are bit of a pain but I think it's worth it for how much better the fit is. for reference I wear a 7 in street shoes and bought 37.5 in these.
Regina Ward
Unanswered Question
I wear size 37.5 in la sportiva tranchtulace (7.5-8 in street size shoe). It's a very very snug fit for me and I would definitely not like to go smaller. Pretty much the perfect size. Would you recommend this size 37.5 or 38 due to the arch? Is there a large significance between the two types of shoes on sizing?
Rachel N.
Great Versatile Shoes
Familiarity:

I've put it through the wringer

Fit:

True to size

Size Bought:

37.5
These are pretty great all-around shoes. I have only tried these indoors so I can't really give an opinion about climbing outdoors with these. Anyways, the Miura lace up was pretty good at edging and heel hooking on plastics. It's also great at smearing until the rubber started thinning out (also due to bad footwork). So I had to get them resoled recently. These aren't agressively turned down for bouldering or climbing overhangs/steep walls. I plan on getting the solution for climbing overhangs since the Miuras were a bit lacking when it comes to toe hooking. However I like the laces since it keeps the shoe tight and forms to my feet very well.

When I first started trying them on they were painful (of course) during the break-in process. My left big toe kept rubbing with the leather bending in near the toe where the rubber meets. I just bent the leather up in order to keep my toe from hurting. But after awhile you get used to it and the shoe becomes comfortable after awhile like any other climbing shoes. Street shoe I wear some 7, 7.5, and 8 depending on the brand of the shoe (just for reference I wear 7.5 in Toms). I ordered a 36 from reading other reviews but it was way too tight for me and went to 37.5. But I thought the heel had a bit of room and maybe should've gotten 36.5 or 37. Unfortunately, there are no stores near me to test out the shoes in person so it's all trial and error.
Stella Lee
Height:
5'2"
Weight:
105lbs
Unanswered Question
Does anyone out there have 2 pairs of Miuras, a smaller size for bouldering/some sport and a larger size for multi-pitch/when you want to wear them all day? I'm looking to do this and I'm not sure if I should go up a half size or a full size from my bouldering Miuras to achieve all day wearability.
Sarah Finger
Did not know what I was missing
Familiarity:

I've used it several times

Fit:

True to size

Size Bought:

37
Upgraded to the Miuras after I wore through the rand on my first pair of shoes, La Sportiva Mythos (bad footwork, shame on me). I love my Mythos, but the rubber on those was worn and slippery, and the lack of downturn and rounded toe was not ideal for harder routes. I was nervous about going for a shoe this aggressive, but my general strategy for expensive gear purchases is to go for the thing I'll want in a year rather than the thing that suits me now, because I know I will progress in whatever sport I'm doing. I'm so glad I went for these because I didn't realize until now how much edging power I was missing. I stick to things that I would have popped right off of before, especially on steep boulder problems, and I trust my feet on small edges 100x more.

I have medium-high arches, Morton's toe, and a relatively slim forefoot. The shoe is perfectly snug, and feels great around my foot, especially when the laces are pulled tight (albeit in that slightly painful climbing shoe way). At first I was worried that the high back would rub my Achilles, as it was a little tight in that area, but it hasn't actually been a problem. They're also breaking in beautifully.

I got a 37 in both the Mythos and the Mirua, and feel that this is the perfect size in both. My toes are slightly curled, but not debilitatingly painfully so. I need a break from the shoes after about an hour, but I don't mind walking or belaying in them, for the most part. I wear a size 7 street shoe (ex. my Chacos) and size 8 running shoe (Saucony).

Short of providing a plaster cast of my foot and/or x-rays I probably couldn't give a more thorough description of the fit on these shoes, but I hope this helps other people figure out what size to get if they don't have the opportunity to try them on in person!
cho
Height:
5'3"
Great Bouldering Shoe!
Familiarity:

I've put it through the wringer

Fit:

True to size

Size Bought:

36.5
I tried these on at my local gym and I was recommended a size 36 for the best fit. I'm a solid 7.5 in street shoes (38 in UK sizing) and had a pair of Tarantulace rock climbing shoes that were sized 37.5. The 36 were tight with no dead space, however, the pain was unbearable. I ended up going with a 36.5, which was tight enough but also roomy enough to allow me to actually step on my feet. The 37 were just slightly too roomy in the toe box and in the heel. My feet are a bit on the wider side and the shoes have broken my feet in as well (which sounds bad I know but they don't call them climber feet for nothing). It took me about a month to really break them in but it was totally worth it. They fit well and are great edging shoes!!
Eunice U.
Height:
5'4"
Weight:
118lbs
Ideal steep sport & mellow bouldering
Familiarity:

I gave it as a gift but have feedback to share

Fit:

True to size
These are my ideal steep sport & mellow bouldering shoe... this is my third pair of Miura's. They're aggressive enough to stick to tiny jibs, they edge wonderfully, and I don't feel like I need to rip them off of my feet as soon as I come down from a climb. Wouldn't suggest wearing them all day on a slabby multi-pitch, though. I wear a size 8/8.5 women's street shoe and purchased a 38.5 UK (7.5 women's), and I couldn't be happier with the fit.
Zak Nebeker
Sticky
Familiarity:

I've used it several times

Fit:

True to size
These shoes seems to be working really well for me. Its my first aggressive shoe after I busted through the toe of my Mythos and wanted something a bit stiffer for edging. I'm really excited about these shoes and feel like I can put a lot of trust in them. My only issue has been with a pain full break in and sizing wise. My Mythos fit like a glove and were a size 37. I wear a size 7-7.5 street shoe and after reading reviews bought a 36.5 in these. They were far to tight and I ended up sticking with a 37 in these as well. I'd recommend these for someone with a fairly high arch and narrow foot. Its a slim toe box, so don't get these if you have wider feet.
Alison M
The Best Shoe
Familiarity:

I gave it as a gift but have feedback to share

Fit:

True to size
I got these as a gift for someone who is an avid climber, and she says these are her go-to shoes. She has been climbing in these shoes for over 6 years, and she loves how they are good for everything. She can climb any type of rock, and she doesn't have to get them overly tight for them to stick. They are a great shoe!!!
Ashley Bowcutt
Versatile and comfortable.
Familiarity:

I've used it once or twice and have initial impressions

Fit:

True to size

Size Bought:

35.5
I used the shoes a few times so far, and i really enjoyed them. I also own a pair of solutions & mythos(i love those as well).

Relative to the solutions, the fit is a little bit more forgiving, they run a little bit larger, and the laces, while adding a bit of time to do up, create a more custom fit to your individual foot, therefore being more comfortable. The toe in the miuras is not as turned down as the solutions, and so they are a bit more versatile for walls too. Awesome shoe for training in the gym with a variety of walls, boulders and caves.

Sizing wise, i own:
solutions in a size 36
miura in a size 35.5
mythos at 35
My street shoes are US 6-6.5; European 36-36.5 and my foot is a little wide, but low volume.
Sole Riley
Height:
5'4"
Weight:
108lbs
Get across the roof with these on!
Familiarity:

I've put it through the wringer

Fit:

True to size

Size Bought:

34.5
These are my second pair of climbing shoes, and I'm so happy with them! Much more aggressive than my other pair (La Sportiva Nago), but not too much -- just right. These edge like nobody's business, and you can smear to your heart's desire.
I went down 1/2 size from the Nago's, since the Nago's now feel like street shoes in comfort. The break in period was painful, but worth it. If you're edging and working some good toe and heel hooks, you want to fill the shoe in, especially the toe box. Walking around in these is not fun, but when I point my toes, my feet are in perfect position, and I think that's what you're going after for roof routes and serious overhangs.
mina C.