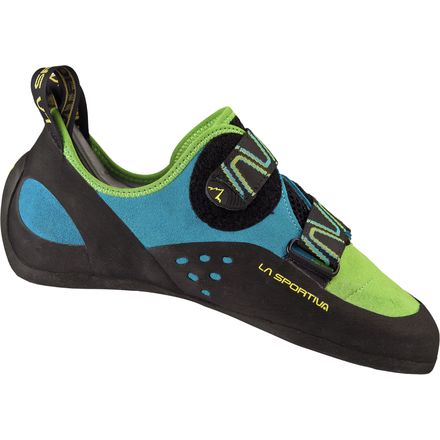 Colors

Detail Images

Videos

Community Images
Performance without the pain.
The La Sportiva Katana Vibram XS Edge Climbing Shoe uses an aggressive design to give you performance on moderately overhanging routes without going so overboard that it makes you shed toe-pain tears. This, combined with the ultra-sticky soles and hook-and-loop closures, makes the Katana a versatile shoe for every type of climbing.
Get 'em while you can—this style was discontinued
Slingshot rand maintains lateral support without making this shoe too stiff
Powerhinge technology combines with the slingshot rand to make sure that, when you're weighted on an edge, the back half of the shoe stretches while the toes stay in place for grip
Vibram XS Edge keeps you stuck to the tinniest holds, won't creep when you're smearing, and is resistant to deformation on super-sharp edges
Pacific lining in the forefoot adds toe-knuckle comfort while Dentex in the back helps wick moisture
1.1mm LaspoFlex at the forefoot uses a super-lightweight, super-thin synthetic laminate for torsional rigidity
Hook-and-loop closure for quick and easy on and off
The climbing moccasin!!!
Familiarity:

I've put it through the wringer

Fit:

True to size
These shoes break in relatively fast and become part of your foot. They feel a lot like a sock when you put them on, once they are broken in. I absolutely loved my katana's, until i started using Solutions anyway.
D Trent Childs
Height:
6'1"
Weight:
155lbs
Great Sport Shoe
Familiarity:

I've used it several times

Fit:

Runs large
Bought these to replace a worn pair of Miura lace ups; which I loved but wanted something just slightly more aggressive and with velcro specifically for edging on single pitch sport climbs. This was a perfect option and I was lucky enough to get them on sale. They require a bit more precision than the miura did - but this improves my footwork. I downsized a half size from my Miura, which were very comfortable and these are tight, but not painful. I find la sportiva to lack durability but performance is second to none. Definitely have to deal with the price tag, but I personally think it is worth it.
Dan Nelson
Sole need better glue!
Fit:

True to size

Size Bought:

39.5
I used them for the last 10 years, using on average 1 pair a year (mostly gym). Shoes are very comfortable and sticky. Unfortunately, my last two pairs only lasted ~ 2 months. Major concern: the sole and the rand split right at the tip of the big toe. Really disappointing...
Olivier C.
Height:
5'8"
Weight:
145lbs
Great for narrow feet!
Familiarity:

I've put it through the wringer

Fit:

True to size

Size Bought:

37.5
I have incredibly narrow feet, and these shoes have been great! I usually wear a 8.5 shoe size (womens) and purchased a 37.5 in these shoes. I love them so far, the rubber is great for edging, they do definitely take a while to get sticky.

My one complaint with the velcro system is that is leaves some dead space near the top by the velcro, and the velcro straps also seem quite long for how much they need to be tightened. If they could make a three strap system I think it would be improved. I could also see how the rubber near the toe could delam, but hoping for the best!

Long term shoe update:

Toe has definitely delamed after only 3 months of use. I tried to contact La Sportiva and they informed me they "make high quality shoes that need resoleing very frequently" Will probably not buy La Sportiva in the future if this is what I am supposed to expect.
Caroline
Good, but...
Familiarity:

I've put it through the wringer

Fit:

True to size
These things were really comfy and climbed pretty well, I'm just a bit bummed out on the durability. My footwork could always be better, but they sure didn't last long... Apart from that, these were great for mellow bouldering and easy to get on/off which is nice for hanging out at the crag all day.
Nick McNutt
FOOT WORK
Familiarity:

I've put it through the wringer

Fit:

True to size
Okay so they're great shoes but do not buy them if your footwork sucks or lacks in any way, they're super sensitive and the toe will break open very very quickly I would buy this shoe again only when my foot work becomes perfect and I just place it on holds I would not recommend for begginers.
Bryan Drake
Sole stich quality concerns
Familiarity:

I've put it through the wringer

Fit:

True to size
The shoes really great and comfortable both outdoor and campus climbing. Fills like your leg extention.
However i had to make a return, the toe sole peeled off on the left shoe in 2 months of campus climbing. I requested for the new pair of the same shoes, and now I observe the same problem, again the left shoe. This time I'll send it to coblers to fix it, hopefully they'll do it perfect :) don't want to buy another model or brand so far.
Dmytro S.
Jack of all Trades
Familiarity:

I've used it several times

Fit:

True to size

Size Bought:

40
These shoes are really great all around. I just recently swapped over from an old blown out pair of 5.10 spires.

The rubber on these shoes is a bit of an adjustment. They aren't as pliable as the C4 rubber I was used to and the Onyxx rubber is even superior to the C4. Where these don't necessarily have the same smear grip, they do quite well with good form just less forgiving. Where it makes up for this lack of ease when smearing is, edging of course. I found where my old shoes tended to have a hard time maintaining contact with micro features, the katanas lock right onto tiny crystals to give me bomber feet.

I was skeptical of the VCS system since I've only used laces before. I have all of the adjustment I need with the Velcro and they are extremely easy to take on and off, which is really handy at belay stations. The Velcro helps make these shoes extremely comfortable, almost slipper like. The straps come extra long, but I haven't bothered trimming them yet. So far they haven't gotten in the way while climbing, but I suspect they might in long cracks.

My only gripe and its something universal for all La Sportiva shoes is the heel pocket. Perhaps its my foot shape, but there always just seems to be a slightly awkward width fit in the heel, I go a half size down and they are way too tight in the toe, and the size I'm in broken in is as close to just right as I've ever had in a shoe. Perfect in the toe, slightly off in the heel.

Overall super happy with these and will likely be getting La Sportivas again.
Ryan Gibbs
Height:
5'8"
Weight:
135lbs
Great all around shoes
Familiarity:

I've put it through the wringer

Fit:

Runs small

Size Bought:

41.5
I've been wearing these as my miles shoe to save wear on my higher end shoes and I am really happy with them. They edge great and give me the sensitivity and power to climb pretty much at my limit, but these are not as good as the Muira VS. And they're not as expensive. They are very similar to the Muira's with a slightly more relaxed fit and less aggressive toe profile, but certainly enough to still climb hard overhung problems. Honestly, I love having these as my training shoes, they are occasionally on sale for super cheap and they keep my redpointing shoes from being wasted on gym walls.

There are some durability issues, especially if you have sloppy feet or tend to drag your toes, the rubber seems to wear there faster than other shoes I have tried. Speficially the left toe seems worse on my and several of my friend's shoes. Additionally, while these climb cracks really well because of the narrow toe profile, they really aren't designed for that, and the bulky velcro closure will quickly be chewed through by too much jamming in hand cracks.

Although very painful at first, they stretched enough that they are now pretty comfortable, it took perhaps a week of hard climbing. That being said, I still take them off after each pitch, but I could force myself to wear them for longer, I actually find these slightly less comfortable than the Muira's because the muira provides more room for my toe to curl. For reference, I wear a 10.5 street shoe and a 41.5 Muira, 41.5 Katana, 8.5 Anasazi and an 11 Atroman.
Ethan Chaleff
Height:
5'10"
Weight:
163lbs
Amazing Shoes
Familiarity:

I've used it several times

Fit:

True to size
These are great shoes they take a while to get grippy but once they do they really grip. they fit great, hurt a little before they broke in but there new shoes so its expected once they start conforming to your foot there comfy. they're a great all climbing style shoe.
Andrew A.
Loving the New Shoes
Familiarity:

I gave it as a gift but have feedback to share

Fit:

True to size
"Felt so good to have some new shoes. Mainly used at the gym.

Thus far they've been a huge upgrade over my previous shoe. Climbing like I never have before."
Trevor J
How much stretch do these shoes tend to...
How much stretch do these shoes tend to give? I wear a size 13 street shoe and fit toes slightly curled in a size 45.5 Katana.
yourDisplayName
Best Answer
If you have slight curl in these you will be fine. The leather in these will stretch out quite a bit. I feel if you sized up a half size, once the shoes broke in they would almost be too loose.
Skylar Davis
The stretch and fit should be about the same as the previous Katanas you have worn. If yo have warn the Katanas in a 45.5 in the past I suggest you stick with that for this version.
Wayne Christoffersen
First Pair of Sportivas - Rubber review
Familiarity:

I've used it several times

Fit:

True to size
I have been climbing for about 15 years and have always been a 5.10 fan. Since the 5.10s I was looking at were limited in the sizes available, I decided to try these. Good fit, edging and support, however the biggest difference for me was ... THE RUBBER. Wow!! 5.10's rubber (C4 and ONYXX) has XS Edge rubber beat hands down. Feet slipping off holds like never before. Also, durability! Used only 3 times in the gym and the toe on one side was wearing down and starting to peal.
Ted C.
Love Em!
Familiarity:

I've put it through the wringer

Fit:

Runs large
These are really comfy shoes. I primarily use these as an all day trad shoe. They are not the most aggressive shoe, but as primarily a granite trad climber, they work wonderful for me. I have gotten slack for liking velcro shoes, but it is easy to get them off on long multi-pitch climbs when you need to give your piggy's a break! I definitely recommend these shoes!


Doug
I think this shoe performs great, and sportiva rubber has good durability. I've had 3 or 4 pairs of these, and it's seems like the construction has slowly gotten a little sloppy. My two pairs ago, the leather around the leather started to tear and the velco straps would come undone. I do have a very wide foot, but it didn't used to happen.



Size way down for sportiva.
Chris Huntley
La Sportiva Katana Vibram XS Edge Shoe
Backcountry Video
Best ever.!
Familiarity:

I've put it through the wringer
I have been wearing this pair for around 3 month and are still in great condition, I use them 4 days a week and there still hanging in strong. Very comfortable I could walk up a mountain in katana's
luis farias