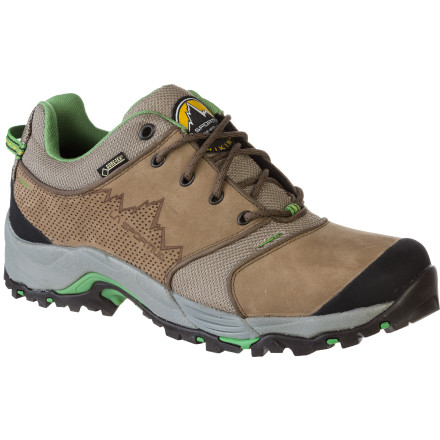 Colors

Detail Images
Check off your foot's wish list: waterproof, comfortable, and grippy.
The La Sportiva Men's Fc Eco 2.0 GTX Hiking Shoe takes on day hikes and light backpacking adventures with a casual look that works for everyday wear as well. Made with eco-friendly materials and a Gore-Tex insert, this low-cut shoe lets you cruise through puddles and slush while helping to even your score with Mother Nature.
Eco-friendly construction includes recycled materials in the upper mesh, laces, insole, and outsole
Breathable mesh in the upper improves ventilation to give sweaty toes some air
Vibram River sole absorbs shock and gives excellent traction
Impact Brake System means the lugs of the soles face opposing, slanting directions to increase your braking power and control
Very light and comfortable. Have taken a few hikes in these and am very satisfied. Fits true to size.
Edward M.
Great First Fit, Slightly Stiff Upper
Familiarity:

I've used it once or twice and have initial impressions

Fit:

True to size

Size Bought:

45.5
My feet measure at 4" to 4 1/8" at the widest point and I usually wear size 12-13. I ordered these at 45.5 (or 12 in the US), and the fit out of the box was slightly spacious (perfect for me). The toe box has a minute amount of wiggle room which has been filled nicely after a several hour walk with foot swelling, making the fit comfortable and secure-feeling. The leather upper around the ankle is a hair stiff, a fact I only noticed when walking sideways across steep grade. I predict the leather will soften and become a second skin shortly. The treads feel very grippy and secure (I just hope they have the durability that other reviewers have spoke of).
Paul W.
Height:
5'11"
Weight:
167lbs
I was extremely excited when I bought these shoes based on the excellent reviews. I bought this shoe in size 42.0, 41.5, and 41.0, which translates to 9.0, 8.5+, 8.5. I'm usually a size 9 or 8.5. Unfortunately, the 42 were more like a size 9.5 or 10, and the 41.5 and 41.0's were very small and far too tight. Length on the 41.5 was short, but the toebox was tiny and crushed by big toe. I've never had this problem before, but it is a rigid toebox and so it makes sense that there was no give, but again, it was just a very poor fit. I have very average feet, not wide, not narrow, etc.. I found the tread to be superb. Overall, the construction seemed very good, and I really liked the mesh at the top that eliminates the possibility of leather cracking. Again, the difference between the mesh in the 42 and 41.5 was huge here, where the 42 had ample mesh on top and the 41.5 was insufficient. The 41 was extremely small and is more like a size 8 than an 8.5. I can't select true to size or runs big or small because the 42 was very large and the 41.5 and 41's were small.
David O.
Height:
5'10"
Weight:
175lbs
very tough construction
Familiarity:

I've put it through the wringer

Fit:

True to size

Size Bought:

47
This shoe is strong enough to save my husband from losing his toe from a lawn mower accident. He did still need medical attention from impact . I do not recommend you try it, but we are replacing his shoes. Good shoes. Good for narrow feet. Look pretty decent even with work teacher clothes for nasty weather days.
AvisMerriWeather
Height:
6'8"
Weight:
185lbs
These are great looking shoes but run 1/2 size larger than all my other LaSportivas. Had to return them😕
Philip
Great shoe, great fit
Familiarity:

I've used it once or twice and have initial impressions

Fit:

True to size

Size Bought:

44.5 medium
After reviewing the ranking of best shoes from online sources I discovered the La Sportiva hiking shoe. The review that I found most helpful was that if foot support was a high priority (at 67 it is) and a hiking shoe that would feel as good at the end of the hike as it did at the beginning then La Sportiva was a great choice.
The construction looks solid. They are very comfortable.
I can't say enough about the excellent online chat I had when making the decision on the shoes. Also, I received two e-mails--one just as I placed the order offering any additional help with making my decision about which hiking shoe to buy and a second follow-up message. Great customer service. Thanks Zoe and Backcountry.
I'll be spending the summer at Scout camp. I will certainly do a follow-up after camp.
Henry Hall
Height:
5'9"
Weight:
225lbs
Perfect for narrow feet
Familiarity:

I've put it through the wringer

Fit:

True to size

Size Bought:

10.5
I got these shoes after reading some reviews about how these worked well for people with narrow feet and boy were they right! These fit perfectly! I had some Keens before this and while Keens make some incredibly durable shoes, they just never fit right. These appear to have very similar durability and they fir way better for me. I wear these everyday to work where I walk 5-8 miles a day and my feet rarely ever hurt.
David Nichols
Height:
6'0"
Weight:
305lbs
nice shoe but mind the size!
Familiarity:

I've used it once or twice and have initial impressions

Fit:

True to size
The shoes are great. Unfortunately the size is too big so I have to replace them. Double check the size since La Sportiva has somewhat different size chart.
Qian D.
Very comfy, great traction
Familiarity:

I've used it once or twice and have initial impressions

Fit:

True to size

Size Bought:

12.5+
This is my first pair of "real" hiking shoes. Some shoes you can tell from the minute you slip them on that they are going to be very comfortable. These shoes are that pair! Some reviews I had read said that the heel capture is good for slender heels, and I've found that to be true. I hate shoes that let the heel slide on and off your foot while walking. I just completed a hike yesterday in a nearby State Forest. The trail was mostly dirt, with some stone, mud, and lots of gnarly tree roots. I was surprised at how well these shoes maintained traction on all the different trail surfaces!
Overall, these are great shoes. I will be buying from La Sportiva again.
Sverre A.
Height:
6'2"
Weight:
190lbs
I love this shoe
Familiarity:

I've put it through the wringer

Fit:

True to size
Considering the abuse I put these shoes through, they hold up marvelously. I do a lot of of off-trail hiking in the desert and the sharp limestone that I come across on some desert peaks takes a toll on the shoes I wear. Shoes I've used in the past seem to wear out on the sides well before the tread is worn. These FC ECO 2.0 GTX shoes have held up quite well - the current pair I have worn to the point of wearing the soles almost smooth. They have always provided great grip/traction and been very comfortable. This has been the case on all types of terrain. My only suggestion for improvement would be to provide sturdier shoelaces. The ones that come with the shoes don't last well at all. The replacement laces I purchased at R.E.I. hold up much better/longer.
Lawrence F.
Great All-Around Shoe!
Familiarity:

I've put it through the wringer

Fit:

True to size
I searched for a pretty long time to find the perfect pair of all-around hiking, approach, work, comfort shoes. I had five ten guide tennies, some Zamberlan shoes, Merrells, and none of them seemed to match up to the FC Eco shoes. La sportiva uses some premium quality Vibram rubber, Gortex lining, and supportive construction to make a shoe that can tackle pretty much anything. I have done ten day back packing trips with these babies, long single day approaches, some construction work, and even a little mountain biking. My go to shoe. I will definitely be buying another pair when my current ones blow out. If your into more ankle support, I imagine that the FC eco boot is an equally great option!
Susan R.
Very comfortable shoe
Familiarity:

I've put it through the wringer

Fit:

True to size
I bought these for a 2 day hike, and started out wearing them just to break them in. I have now made these my "go-to" shoes. They are very comfortable, and look pretty casual. My feet felt great after the 2 day hike, and they barely looked like they had been worn.
Raymond U.
Light weight robust shoe
Familiarity:

I've put it through the wringer

Fit:

True to size
I was relatively new to hiking in the desert 2 months ago when it was well over 100 degrees everyday here in AZ. I looked through many options for a shoe that would be light weight while keeping my feet dry and free of bruising. This shoe fit the bill, and after two months of non-stop abuse in the mountains their still going strong.
John R.
I have narrow heels and trouble finding hiking shoes which secure the heels. These are the best. Also, light and comfortable. Wore them on overnight with full pack plus a daypack peak of Mt. Wilson (LA area). After the hike, no pain or tiredness in the foot, either going up or down. Not only that, since I use gaiters, I didn't even notice that one side laces had come loose. Now that's a good fit to be able to hike up without any slippage.
Kelvin I.
La Sportiva FC Eco 2.0 GTX Hiking Shoe
Backcountry Video
Unanswered Question
Us guys with larger feet would like to buy...
Us guys with larger feet would like to buy La Sportiva shoes too. I ware size 13 La Sportiva. La Sportiva FC ECO 2.0 GTX is made in size 13 but you are only offering 12.5. Why not offer size 13?
Hayes
Anyone use these for backpacking?
Anyone use these for backpacking?
Darren
Best Answer
I have not used these particular Sportivas for backpacking but I have used many of their light hikers and trail runners for backpacking and found that the tread designs and rubber compounds give me a lot of support and confidence even with heavier loads. The place where you may find them lacking is if you are backpacking over a lot of sharp talus or rocky terrain where there are sharp rocks and roots because you will start to feel those poking the bottom of your feet due to the minimal amount of material in the shoe. Overall I would say that depending on how much weight you carrying and where, you'll find them comfortable and durable enough for your needs.
Artur D.
I've used these while carrying a large pack full of heavy climbing gear. They worked well on snow, talus and everything else. The sole is actually fairly thick and the lug pattern gives you an amazing amount of stability and control.
Evan Johnson
Fit well, flex well, and look good doing both. GoreTex is a nice touch as well. These shoes also help you get off the beaten path of the typical low toppers you see everywhere.
GJ
best low top hiking shoes ever. they are strong and sturdy, but they do not take much time to break in, get a half size bigger than you are used to.
Rob H.