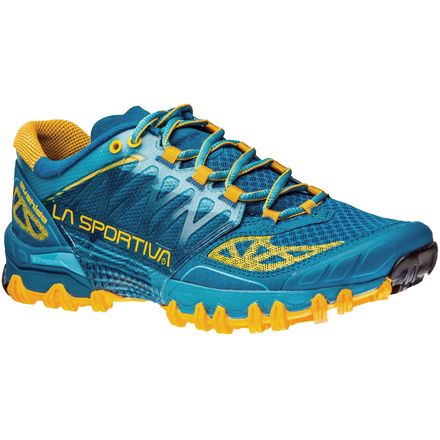 Colors
A trail-fighting shoe for your trail-warrior ways.
Supported by the La Sportiva Women's Bushido Trail Running Shoe, you are the ultimate modern woods warrior. You rip off 7-minute miles when trouncing technical terrain. This shoe grinds over jagged shards of boulders and hugs your foot so the only slipping you encounter is from a bit of spilled milk in the kitchen before your run. The unique lug design means every step you take moves you in the right direction with nary a hint of slippage.
A refreshing blend of air mesh, thermal microfiber, and gnarly ripstop make the upper a breath-giving experience. The TPU toe cap protects your digits from damaging encounters with brutal trail trash. STB Control construction wraps a TPU frame around your upper foot, creating sensational synergy between the midsole and the top of the shoe. This design firmly holds your foot in place for sure-footed stepping when you're tackling a steep mountain path. The compression-molded, dual-density EVA midsole softens the ride without interfering with ground communication.
The minimal 14.5mm stack height keeps your foot close to the earth, and a 6mm drop doesn't leave you tip-toeing above the tree line. Up front, a rock guard stands at attention to protect your foot from bruising tree limbs. The FriXion XT outsole redefines sticky grip. The Impact Brake System takes the grabby rubber and turns it into rounded lugs rising up and around the midsole. Friction increases on inclines, and your foot maintains continual contact with the ground.

Air mesh, microfiber, and ripstop upper
STB control construction (TPU frame on upper)
Mesh lining
Compression molded MEMIex EVA midsole
Dual-density compressed EVA forefoot rock guard
TPU shank, TPU toe cap
14.5mm stack height, 6mm drop
Impact Brake System
FriXion XT V-Groove 2 sole
Had to up one full size but overall very comfortable for all day wear.
angela snow
These have great traction! They are probably one of the top trail running shoes out there in my opinion. At first they felt a little tight and I was thinking I should go up a half size, but once I used them I was glad I stuck with my true size. I am normally a 6.5-7 depending on the type of shoes. In these I got a 7.
Breanna Price
My everyday shoe!
Familiarity:

I've put it through the wringer
Can I just say... I LOVE THESE.
I use these for everything. Obviously these are for trail running but they are also just so comfortable that I wear them just about everywhere. I have used them in the gym and outside and they have also held up amazing. Wish they came in more colors! I am usually a 7 but I purchased a 7.5 (38.5 European)
Fresh out of the box they do feel a bit tight in the heels but they end up fitting amazing as you use them.
Elise Morgan
I just got these to replace my Salomons after they stopped making the Fellraiser and I can't believe it took me that long to switch! These are great shoes, with minimal drop and excellent traction! I'm so excited to make these my go to sneakers!
Emery Gaylord
Thank you La Sportiva for making a shoe I can both trail run the steep terrain in the Wasatch and feel completely at ease on a technical scramble. These trail runners are comfortable. I've put them through the wringer and they have held up beautifully.
Lauren Moss
Killer trail shoes
Familiarity:

I've put it through the wringer

Size Bought:

40.5
I got these for my GF. These are her third pair of Bushidos. They are by far her favorite go to shoe for long and technical trail running and racing!
Duncan Britt
Height:
5'3"
Weight:
125lbs
Lightweight Runners
Familiarity:

I've used it several times

Fit:

Runs small

Size Bought:

37.0
I have owned La Sportiva running shoes before and have gotten a size 5.5 which I usually am, in most brands, but in these I went with a 37.0 = 6.0 and they fit great, a little room in the toe for the descent..lightweight with good traction. My foot is small , with a high arch and wide toe box..and these hug my foot in a great way.
Marla Bailey
Height:
5'1"
Weight:
100lbs
Great trail running and hiking shoe
Familiarity:

I've used it several times

Fit:

Runs small

Size Bought:

37.5
I've read about this La Sportiva shoe for years (including its previous iterations). It was recommended as a shoe to climb Grand Teton and I've been fascinated ever since. When it was pushed to me via email as on sale, I finally took the plunge and am so glad I did. It fits like a glove and holds my foot (prone to pronation) securely in all the right ways. The sizing was a little small for me; I'm a 6 or 6.5 in US sizes and even the 37.5 is cutting it close. For my next pair, I may try the 38 to see if it makes a difference, but I've been doing fine in this size. I've worn these rock scrambling, running, and even through some creeks and have been impressed by the grip both dry and wet. Can't wait to take them on a weekend backpacking trip to really test them out, but so far, so, so good.
Catherine K.
Height:
5'2"
Weight:
110lbs
Badass Shoe
Familiarity:

I've put it through the wringer

Fit:

True to size
I got these as a gift for my girlfriend, and she loves running in them. Super comfortable fit and they grip like mad on looser trail runs. Highly recommended by her.
Craig L
Best trail running shoe EVER!!
Familiarity:

I've put it through the wringer

Fit:

Runs small

Size Bought:

37.5
I am an avid trail runner and have tried a wide variety of shoes. I came upon a review of La Sportiva and it sounded good but this shoe has exceeded my expectations by far! The sole provides great support and keeps my foot stable which is great because I am prone to twisting my ankle. The toe protection is exceptional and believe me I have given this feature a thorough test. By far the most durable and comfortable trail running shoe I have ever had and I'm so glad I gave them a try. I will be buying more if this shoe ever wears out.
Danielle R.
Height:
5'2"
Weight:
110lbs
so comfortable!
Familiarity:

I've used it once or twice and have initial impressions

Fit:

True to size

Size Bought:

41/9.5
These shoes are fantastic. I took them on a couple mile run straight out of the box and was immediately impressed. They're light for trail running shoes, and have good arch support. I got a size 41/9.5 and it the fit is spot on. It doesn't hurt any that they look super cute ;)
Liat Ankonina
Height:
5'10"
Weight:
120lbs
Very comfortable, lightweight, and the soles are super grippy. The fit is also great and true to size. Bought these as a gift and she loves them.
Chad Cordell
Perfect!
Familiarity:

I've put it through the wringer

Fit:

True to size

Size Bought:

40
These shoes hug my feet in all the best ways. I feel like I've always struggled to find a shoe that fits my foot in both length and width, but these are them! They are very comfortable and grippy on the trail. I'm typically an 8.5 in running shoes and the size 40 is great.
Jacqueline M
Unparalleled trail shoe
Familiarity:

I've put it through the wringer

Fit:

True to size
OK, only kind of true. The La Sportiva Akasha definitely parallels this shoe. The Bushido is light (fairly), gripy, responsive, and extremely well built. I've used them on everything from east coast granite to PNW pine needles and they have not slipped.

They do run ever so slightly small in the toe box (or I just have fat feet!) but their quarter sizing, available in some stores, should solve that problem for most. In comparison to the Akashas they are slightly less padded. So I typically will use these in short to mid-length runs but favor the more cushy Akashas for longer, less forgiving outings.
Sam
Great Shoes
Familiarity:

I've used it several times

Fit:

Runs large
I bought these shoes for my wife to use as an every day hiking shoe. Not only to they fit and look great, but my wife can't stop mentioning how comfortable they are. She loves the traction and has said they are like no other shoe she has had in the past. It seems they fit my wife a little large, she usually wears a size 7 and she had to size up to a 7.5.
Landon B.
Amazing fit and durability!
Familiarity:

I've put it through the wringer

Fit:

True to size

Size Bought:

38
I bought these shoes when my friend convinced me to do the Snowbird Discrete Peak Series race - 8 miles out and back, 3600 feet of elevation gain/loss. I checked out the Solomon Speedcross shoes but they did not fit right on me and just seemed very clunky. These babies fit like a glove and felt comfortable the moment I put them on! Not only that, they offer enough protection on the sole and toe to avoid injury, but are still pretty minimalist. The inner 'half sock' keeps your foot feeling super secure, but isn't the slightest bit uncomfortable.

The day of my race, there was sun, rain, snow, and hail, and we ran on everything from dirt and thick mud to solid granite and large, loose rocks. These shoes never lost traction and gave me so much control. Even with only 2 weeks of training, I managed to take 3rd in my division, and I guarantee I wouldn't have done it without these shoes!

I now live in Arizona and go trail running and hiking on the sharp, jagged rocks here about 3 times a week. The breathability is great for those 100 degree days when you don't want anything more than you need. The traction on these is finally wearing out after a year of use and abuse. I just bought my 2nd pair, and I guarantee that I'll buy a 3rd and a 4th because these are just a great pair of shoes, and well worth the money! BUYYY THEMMM!!!
Danica P.
They do everything
Familiarity:

I've used it several times

Fit:

Runs small
If you're looking for an all-around hiking and trail running shoe, these are it! I got tired of stomping around in clunky boots for day hikes right around the time my current pair of trail runners needed replacing, and bought these hoping they'd work for both. They've exceeded my expectations so far, and every time I wear them they fit better around my feet. They're a lot more supportive on runs than the Altra Superior I was running in, but they're light enough not to feel clunky or slow me down on technical trails (love the 6mm drop). I've worn them for shorter hikes so far, just up to 8 miles or so, but I wouldn't hesitate to take them on something longer.

I do agree with other reviewers that they run on the smaller side, and compared to an Altra, they're noticeably narrower in the toe box, but they're amazingly streamlined through the instep and around the heel. I'm usually caught in between a 7 and 7.5 in running shoes, and these are no exception. The 7 makes me sometimes wish my toes had a bit more space, but not so much that I'm uncomfortable. If you're in between 2 sizes and have a wider forefoot, I'd size up.
Tara McGarry
The All-Mountain Shoe
Familiarity:

I've used it once or twice and have initial impressions

Fit:

Runs small

Size Bought:

39.5
Reserve your heavy hiking boots for the multi-day heavy backpacking trips. These are your new mountain shoes. No seriously. Light, breathable, and sticky. I was so excited to pull these out of the box and hike 7 miles right off the bat. 2700 feet elevation gain and super rocky terrain. Not only did these shoes hold up, there was no break-in, no rubbing, no blisters. Nothing. Just solid and comfortable. They do run a bit small. I wear a 7.5 and ordered these in 39.5 (US 8)

Best hiking/ running shoe I've ever owned. 5 Stars!

PS: I compared these to salmon crosstrek in the store, these were definitely more comfortable and should hold up better than the crosstrek.
Nicole Roundy
Height:
5'5"
Weight:
128lbs
I've been on the hunt for a new trail running and light hiking show for a while now and I'm happy my search ended with the Bushido. I love the style and colors - super low profile, get lots of compliments of these. They're also really comfortable, the tongue is nice and soft and doesn't rub. The tread is sturdy and prevents slipping on gravel when trail running. The fabric is breathable and quick drying as well. The sizing was hard to get right, tried to order a little down and they were too small. Ended up with a 39 and I'm normally a 7.5 in running shoes.
Nicole Sumner
Trail runners for sure.... hikers? TBD :
Familiarity:

I've used it once or twice and have initial impressions

Fit:

True to size
PHOTO: Wildcat 3 on the left, Bushido on the right.

I've always hiked in boots, but my cousin did the PCT in trail runners... so I wanted to give these a try. I also tried the LaSportiva Wildcat 3 for women (see that review / photo also)

SIZE: I wear a 9/41.3 in my Salomon hiking boots (my dress shoes are 39.5). I liked the W in 41.0, but the 41.5 for the B due to the narrower toe box. Find the EU size of shoes you like and you'll be fine. The Bushidos (B) have a narrow instep and heel with a wide-enough toe box. Wildcats (W) are much roomier than B in toe box, height from sole to laces, midfoot and heel.

SUPPORT: There are reinforcements over the mesh to protect from sticks/thorns. I took them for a 5mile hike with 25# pack. The heel cup is deep and feels good. If I get blisters hiking it's always on the instep where it joins the heel area... so I really loved the slim fit thru the waist of the shoe. I had no heel slip with these due to the narrow heel cup and ankle padding. I'd replace the insole for extra arch support .

GRIP: No slipping on an eastern woodland trail (uneven, lots of roots, some gravel, dry & wet granite, ... no mud or wet roots that day). I love feeling like the entire sole is in contact with the ground.

OTHER: The W is a 12mm (standard) drop, while the B is only 6mm. If you're carrying a heavier load or worried about stone bruises try the W. If you like to really feel the trail, or you're easing into barefoot shoes try the B.
BonnieLass
Height:
5'7"
Weight:
155lbs