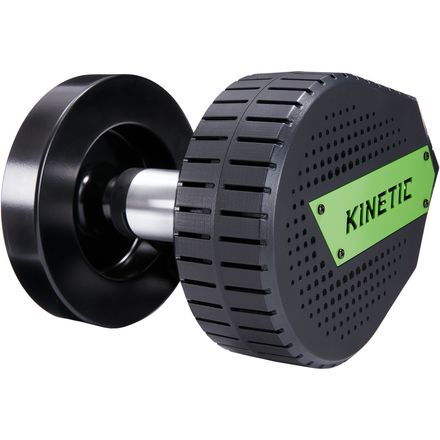 Colors
What do you say?
Say you're an aspiring racer. Say this last season has been your most lucrative, results-wise, and you're looking to carry your best-ever form over into next season. By adding the Smart Control Power Unit to your standard Kinetic Rock and Roll or Road Machine trainer, you'll be adding a powerful tool to your winter trainer sessions. Namely, the ability to measure power, which pairs with Bluetooth Smart connectivity to more effectively translate the gradients of pre-mapped training plans and virtual cycling apps into resistance, which in turn will help better translate your winter training sessions to spring results.
Though it's compatible with a range of training apps, the Smart Control Power Unit ships with a complimentary six-month subscription to Kinetic's own Kinetic Fit app. You'll be able to take advantage of this almost immediately, as the unit is self-contained and just bolts onto the trainer frame, so you won't have to ask your engineer cousin to help you mount the damned thing. The Kinetic Smart software is available for both Apple and Android devices.
Upgrade your indoor trainer with power-tracking resistance
More accurately simulates changes in virtual terrain
Connects via Bluetooth Smart wireless protocol
Compatible with Kinetic Fit and third party training apps
Disappointed with the KK Smart Unit
Familiarity:

I've used it several times
I've been using a 'dumb' trainer for several years and finally convinced myself to pony up and go 'smart' so I could ramp up my off-season training. I certainly did my homework regarding smart trainers and ended up with 2 caveats to my purchase: 1. Don't break the bank, 2. A wheel-on trainer was a must (vs. direct drive). I settled with the KK smart unit control add-on because I already owned the KK Rock & Roll dumb trainer; the purchase seemed logical even tho the reviews were not glowing (I was hoping for the best).
The trainer: The setup, firmware update, calibration, and the initial ride were very easy (good job Kinetic!). Pairing with Zwift was very easy as well (Bluetooth only tho).
The problems: The ERG mode was poor! The KK smart unit was fine at the beginning, but after riding for 20 min the resistance would stick at the last resistance % you were at - which is not good! I had to reset the connection each time after segments of the training mode. And yes KK if you're reading this, I did update my firmware to the latest and greatest. Next the power readings (watts): after the pre-ride calibration the power was very close to being real, but then after riding for 20-30 min the watts would slowly creep up. The consistency was not there which made it difficult to keep riding at the same perceived effort from start to finish. Next the 'road feel': The giant 14+lb flywheel was nice at the beginning, but coasting down took forever - not road like at all! The giant flywheel also made the quick ramp-ups very difficult when in a training mode. If the mode called for a quick 500w effort for 20 sec., by the time you got it to 500w the 20 sec. were over.

Kurt Kinetic makes some great products, but unfortunately they have not dialed it in enough with their smart trainer product line, at least in my experience.

Michael Ashton